Bright Colors Are Invading Golf Fashion
You may putt for dough but it's time you dress for show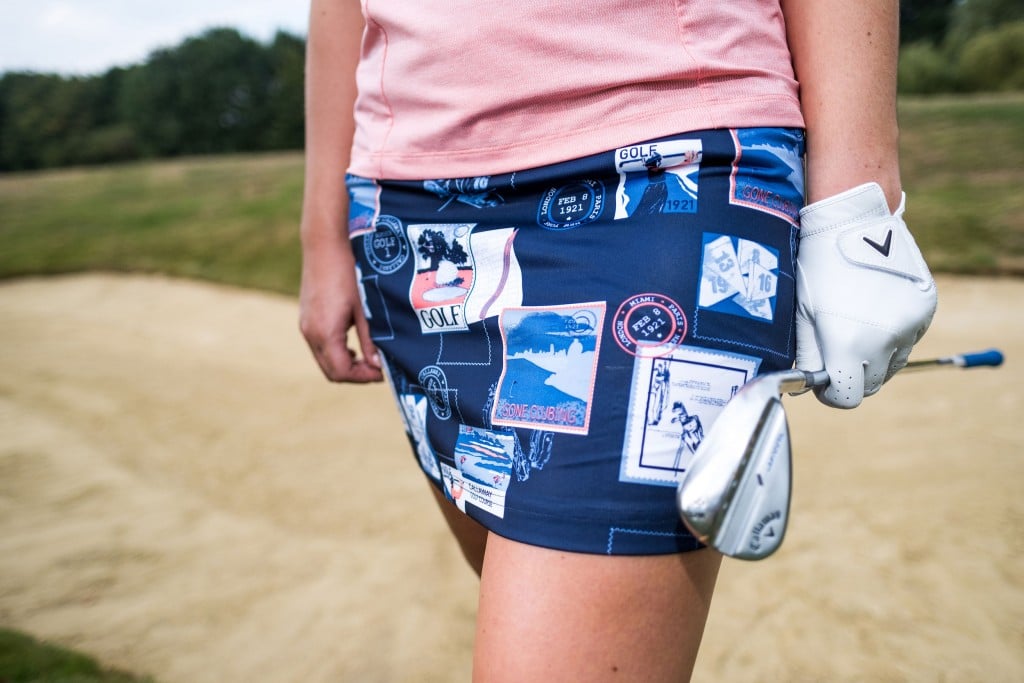 Teeing up at the final hole of the 2020 Master's Tournament with a five-shot lead, Dustin Johnson, clad in fitted navy Adidas performance wear, looked as sure as his short game.
Johnson's style, he said in a recent interview with Golf Digest Magazine, can be the difference between a good day and bad day on the links.
Clashing colors make him "feel all messed up" and unable to focus on his game. A scuffed shoe is unacceptable. "Black, white, grey, blue — that's about the extent of the color palette in my closet," Johnson said. "I'll wear a little bit of color every once in a while, but I always have to match."
Though his new Masters green jacket will offer a welcome pop to his wardrobe, Johnson's penchant for the monochromatic has long been consistent with much of the apparel available at your local pro shop. But with the new year comes a new wave of tee time trends.
"What used to be a conservative game with conservative apparel in solids and stripes has changed into one with more colorful prints and whacky designs," said Jason Bench, general manager of Capital City Country Club. "Apparel has become way more vibrant. Things we would buy as a draw-in piece for a line we're trying to sell is all people want now."
Still, golfers should be mindful that "a little goes a long way." Think Tiger Woods' signature red Nike polo, which the golfer typically pairs with a solid black pant, cap and shoes. All-over print polos and sweaters, no matter their hue, can be dressed down with traditional khaki, grey and black neutrals for a modern, sophisticated look.
At Edwin Watts in Tallahassee, store manager J.P. Raymer, too, has seen a surge in flamboyant designs.
"We're selling anything from floral and geometric patterns to conversation pieces. Prints such as mini golf clubs and other designs have become more widely accepted," Raymer said.
So, while the loud patterns of argyle sweater vests and tweed knickerbockers may be making a comeback, heavy fabrics and knitted creations are not.
"I don't think I've bought a cotton shirt to sell in about six years," said Bench. "Nearly all of our apparel is a tech fabric. A lot of people like a performance blend that is 95 percent polyester and spandex and 5 percent cotton. You want a material that keeps you cool and dry." Performance fabric has even made its way to shorts, skirts and pants. Stretchy, sweat-wicking material provides easy ventilation, while sticky, silicone-lined waistbands keep shirts tucked in and secure through even the most powerful tee shots.
There has also been significant demand for zipper-fronted tops for both men and women, as they allow for the easy adjustment of air circulation throughout the game. Puma, Travis Matthew and FootJoy apparel, Raymer said, are among Edwin Watts' best-selling brands and incorporate the latest active-wear technology in their apparel.
Bench also counts FootJoy among his favorite suppliers at the Capital City Country Club Pro Shop. In recent years, golf shoes have taken on the sporty, comfortable feel of running shoes. The FootJoy Flex shoe, for example, is lightweight, supportive and wearable both on and off the course.
Not limited by the multi-year deal that Johnson has with Adidas, we do have the freedom to mix and match brands that best suit our body and play. Find which lines work for you, and don't worry about committing any fashion fouls with clashing logos.
"Younger brands such as johnnie-O offer a tighter, more athletic fit and are more fashion-forward," said Bench. "But Clutter and Buck styles come with a larger fit to the shoulder, cater to different body types and are more of a classic design."
Raymer advises those new to the game simply to find their style through experimentation.
"Come in and try stuff on to find what's most comfortable for you. You've got to look good to play good."