Bradfordville Through the Eyes of Yesterday
Cotton, Then Quail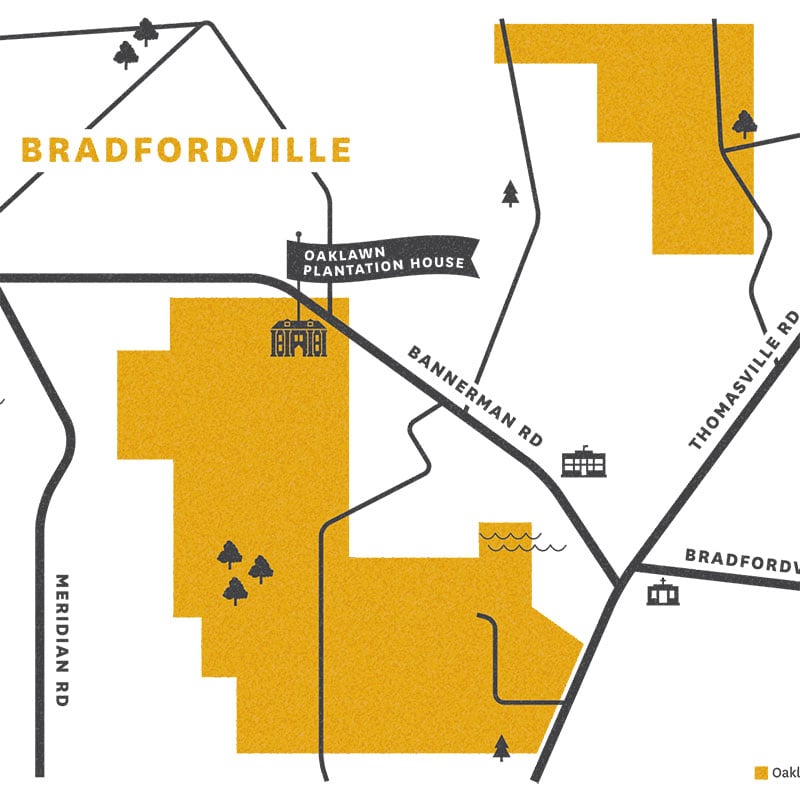 From cotton to quail to upscale living — each of these in turn has typified Bradfordville, the north Leon county community where 150 years of history lie just beneath the surface of daily life.
Not much of this history is written. It lives in the names, memories and possessions of today's residents. It appears in the casual talk about ancestors who first tamed the wildlands after the Florida Territory was bought by the United States in 1821.
Each era left its indelible mark on the community; they are still there for today's residents to see and remember.
Dr. Edward Bradford came in 1832, and soon was followed by his three brothers, Thomas, Henry and Richard. All were well-educated North Carolinians, descended from the Mayflower Bradfords of Massachusetts. The community became their namesake and monument.
Remaining today from the cotton era that began in the 1830s is the Pine Hill cemetery where Dr. Bradford and many of his descendants and related families are buried. A three-story manor house, from which he ran his self-sufficient plantations, stood in front of the cemetery. The house passed into the ownership of Bradford's daughter, Susan, and his son-in-law, Nicholas Eppes, but it was abandoned after Eppes was murdered in 1904. The house slowly disintegrated but, according to family members, not before trespassing Tallahasseeans removed Dr. Bradford's books and other valuables.
One original cotton plantation house — Oaklawn — still stands sturdily beside Bannerman Road. The home was built by Capt. William Lester more than 150 years ago when he established his plantation there. Pine timbers and boards, held by wooden pegs and square nails, show marks of hand tools throughout. Two giant magnolias as old as the house shade the front. It is now the home of Mrs. John Lauder, whose late husband was manager of Water Oak Plantation when it was owned by Miss Frances Griscom as a quail preserve.
Early in the present century, Bradfordville had three large mercantile stores. One stood where Chesley Rehberg, the unofficial "mayor," ran his store 23 years prior to selling it last year. The others were across Thomasville Road, and the largest was that of "Judge" J.E. Whitehead, whose title stemmed from his Justice of the Peace office. He held court in a room adjoining the store, and elsewhere in the building a post office was operated. In recent years, the Rehbergs also ran a mail receiving office, though they did not distribute the mail. Three of Judge Whitehead's children still are living in the Tallahassee area and are the great-grandchildren of Dr. Edward Bradford. They are Ruth Whitehead Roberts, Margaret Whitehead Laird and James Whitehead. Another brother, Richard, also is represented by three living great-grandchildren — Martha Bradford Roberts, Emma Bradford Parker and Richard Henry Bradford.
Other tangible history from early this century includes two schoolhouses. One was the one-room school now standing near the Moby Dick restaurant; in it, the Whiteheads and many other children learned to read. The little white building now serves as a community meeting place and voting precinct. The other is Lake McBride School, which closed in the 1960s. Pisgah Methodist Church, established in 1830 and one of the county's oldest, always has served some Bradfordville members. The Wickery, a gift shop in a converted barn, was the place where illegal cockfights were quietly held in the 1940s for betting visitors.
Fortunately for Bradfordville, the quail plantations began developing before cotton was obliterated by the boll weevil. In the 1890s, rich Northerners came to hunt the abundant quail thriving amid the primitive agriculture practiced by the sharecroppers. Soon the visitors began buying up huge acreages for themselves. Most of the land in Bradfordville was purchased beginning in 1901 by C.A. Griscom, a Philadelphia industrialist and father of Miss Frances Griscom. Eventually, he owned thousands of acres south of Lake Iamonia. Other quail planters located nearby, and only now are their recreational enterprises giving way to other land uses.
While some quail plantations remain, the land increasingly is being developed for real estate of a very high type. Killearn Lakes Plantation showed the way with its vast operation, every inch of which was carefully planned and well maintained. There are miles of paved roads and many hundreds of fine homes among the pines and oaks of these beautiful hills.
Commercial development at the crossroads includes the restaurant and gift shops but also a shopping center, convenience store and a veterinarian. Further commercial development is just around the corner. Hundreds of residents travel daily to jobs in Tallahassee. Everywhere, there is the look and atmosphere of pleasant, relaxed and healthy country living.
Amid so many visible relics of past eras, it is not difficult for today's residents to remember that their lawns were yesterday's quail reservation or cattle pasture and yesteryear's cotton plantation.