Dr. Reginald Ellis Was Born A Rattler
FAMU history professor shares his love for his university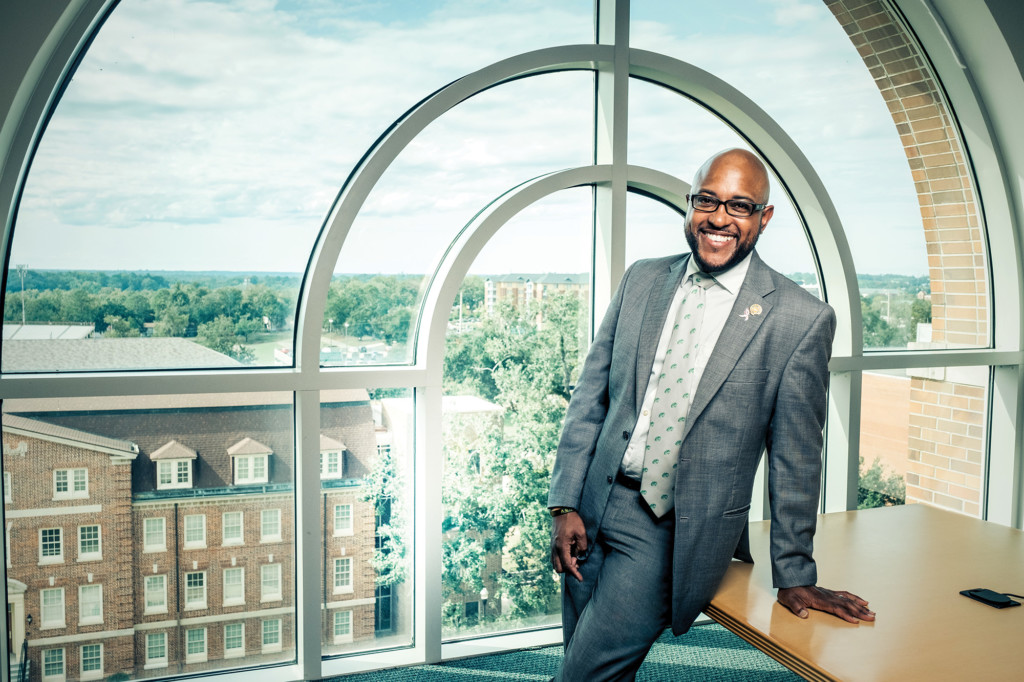 Erma Jean Ellis was on the Florida Agricultural and Mechanical University campus for a bridal shower when she felt her contractions. She drove about 30 miles to Cairo, Georgia, and gave birth to Reggie.
"The story is that I was almost born on campus," Reginald K. Ellis said with a laugh.
He might as well have been. He's home there as a professor of history and assistant dean of the School of Graduate Studies & Research, and he talks about the 133-year-old institution with pride and honor.
As a child, he often joined his mother on her 40-minute commute to FAMU, where she worked as an office manager for the Department of History.
As he grew up, he would encounter role models in the history department, and he would see family everywhere. That was always the spirit of FAMU, he said.
Everything about the university made an impression, from the goosebumps he got from first watching FAMU's Marching 100 to the inspiration he got from an Intro to African American history course.
That prompted him to change his major from physical therapy to African American studies.
"I feel so much has been poured into me by the university," Dr. Ellis said.
He's giving back, saying he wants his students to feel the same inspiration he felt at FAMU. He wants every one of them to know that they too can get a Ph.D., in anything that moves them.
Ellis earned his Ph.D. at the University of Memphis in 2011 and made black education during the Jim Crow era a focus of his dissertation.
At FAMU, he teaches more than a dozen courses, including the History of Florida.
The state had a unique relationship with African slaves, Ellis said, citing a book called "Rebels and Runaways" by FAMU professor Dr. Larry Rivers, whom Ellis frequently cites as a mentor.
For many escaped slaves, Florida was a route to freedom. Many lived within native groups, settled in southern Florida and the Everglades or set sail to the Bahamas, Ellis said.
Yet Florida was a slave state, with a concentration of slaves in northern Florida, and that history affects Tallahassee culture. The city continues to address residual tensions from Tallahassee's history.
"Maybe because we're in the state's capital, and we're in a college town, we're more aware of race relations," Ellis said. "The people of Tallahassee have a sense of not wanting to be Old Tallahassee."
Ellis said he notices less racial hostility and closer racial interaction in Tallahassee than when he was growing up.
"Twenty years ago," he said, "you would have never seen the white community this close to FAMU."
He refers to CollegeTown, Railroad Square and South Monroe Street. Developments in these areas raise concerns over gentrification in African American communities.
Ellis said he holds out hope that those developments are part of a "good faith effort from the city of Tallahassee to put money into the South Side of Tallahassee in ways that we haven't historically."
"It will be interesting to see what that looks like in five to 10 years," he said.
He expressed excitement over increased respect for FAMU.
The development of CollegeTown, located between FAMU and Florida State University, speaks to the way in which Tallahassee values both universities, he said. He noted that this was not always the case.
When he was growing up, he said, African American folks he knew in southern Georgia didn't feel a connection to Florida State.
He said attitudes in those communities began to change when Thomasville's Charlie Ward attended FSU and led the football team to its first national championship, in 1993.
"You can see that shift," he said. "Florida State has embraced the black community, and the black community has embraced them back. I look forward to the day where Florida A&M is embraced in the same way that Florida State has been embraced."
Ellis said FAMU continues to stand as a beacon of hope to many.
He poses a powerful hypothetical question that reflects FAMU's cultural and historical impact:
"What does this community, this part of the city, look like without Florida A&M University?"