Books With a Tallahassee Hook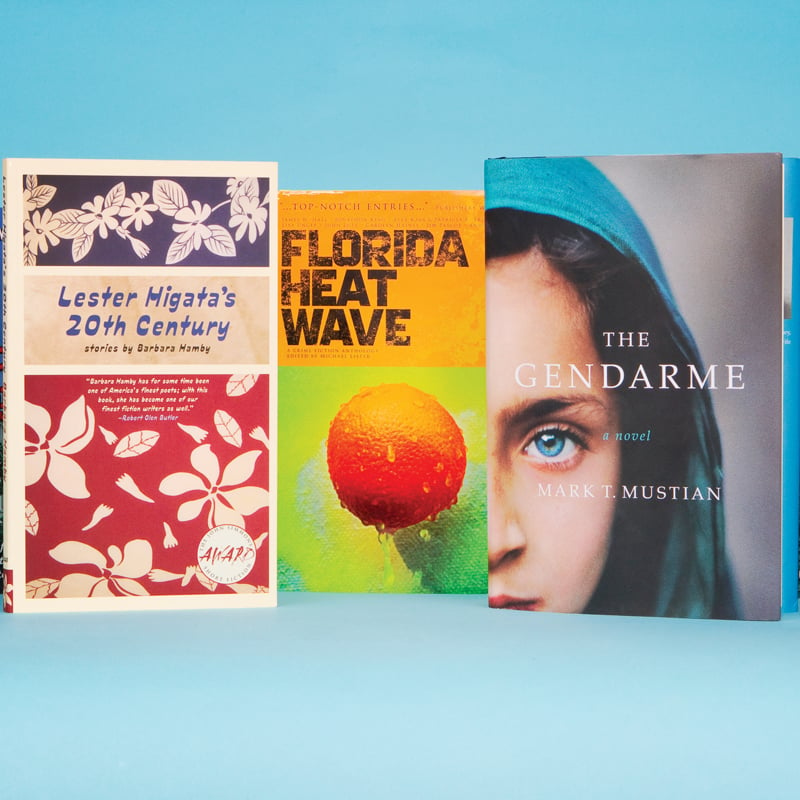 When searching for holiday inspiration, our shopping quests often lead to the nearest bookstore, where it's possible to find something for just about anybody on the gift list.
If you're contemplating the possibilities, consider giving a literary gift with a local twist. Such books can give faraway friends a taste of the area. And for those who already live here, it's always fun to read about local landmarks or to parse who the fictionalized people are in real life and where the places being described actually might be.
We've compiled a listing of prose possibilities with ties to Tallahassee or Florida — books either set in the Sunshine State or written by authors who are from around these parts.
The Gendarme
by Mark Mustian
"I want to hold her, help her, climb up the side of the building and carry her, smother her, feed her, warm her, comfort her. I want to put my head against her chest and listen to the sound of her breathing. But I watch her instead, watch as she unwinds herself from her perch and slides along the edge of the building, as she drops down the opposite side, her legs dangling and twisting, arms wide, then thin — a kelebek on a branch. A butterfly."
I can't help but be jealous a local Tallahassee attorney and city commissioner found the spare time to write this exquisitely beautiful tale of an old man who suddenly remembers a dark past in which he assisted in the horrific and gruesome deportation of Armenians from Turkey that occurred in the early 20th century. That he also managed to weave in a beautiful love story amidst the bleak tragedy of war and the sad weariness of a man at the end of his life is astounding.
Mustian has written a novel that has a timeless, universal appeal. For a first-time novelist, he holds a remarkable understanding of how to build an intricate but fast-moving plot, with many heart-pounding moments in which I wanted to cover my eyes but couldn't because I was also dying to read what happens next.
If you want a sophisticated, but not unapproachable, read that will cause you to ponder your own long-forgotten memories and fast-approaching mortality, read "The Gendarme." I say this for selfish reasons – my hope is the book is so successful that Mustian abandons his Tallahassee law practice to focus on his obvious talent for writing. $25.95 — Lilly Rockwell
Florida Heat Wave
A Crime Fiction Anthology
"The suffocating heat makes you do desperate things — it seeps in through your pores and sucks the life right out of you. Like the bloody smear of a swatted mosquito on sweat-soaked skin, violence erupts suddenly, but the damage it does lingers long after."
Michael Lister, who edited this collection of not-so-Sunshine State noir describes it the best, saying the book is "a sun-drenched, sweat-soaked collection of crime stories set in the peninsula pistol state by Florida's foremost crime writers."
The book includes 18 stories populated by grifters, murderers, meth-heads, crooks, whack jobs, seductresses and the other habitués of society's underbelly.
Lister asked popular crime fiction writers to contribute to the anthology and bestsellers James W. Hall, Lisa Unger and Alex Kava were among those who answered the call with stories like "Low-Budget Monster Flick" by Mary Anna Evans. Set in post-World War II North Florida, it's the story of a murder at "Glitter Springs" during the filming of a horror flick featuring a monster from the deep. Sound like a familiar scenario?
The tales range from the Florida/Alabama state line ("Escambia Counties" by Raven McMillian) to Florida City, which appears in "Personal Experience," by Carolina Garcia-Aguliera. It's the story of an author with writer's block who comes up with a novel way to research the murders in her book.
Set closer to home is Lister's contribution to the collection, "Ultima Forsan," a lyrical love story with a sad, sad ending. $27.95 — Rosanne Dunkelberger
Lester Higata's 20th Century stories
by Barbara Hamby
She had never figured out if haole was an insult or simply a description. She's heard it used both ways, and when Lester said, "Come here, haole girl," he usually had hanky panky on his mind. Like a lot of Hawaiian words it meant different things at different times.
No Tallahassee in this one, but Hamby is writer-in-residence at Florida State University's Creative Writing Program. Her previous books have been poetry, but this is a collection of short stories that starts at the end of her protagonist's life and works backward through the last half of the 20th century. The tales aren't all about Lester Higata himself, but also his wife, children, neighbors, friends, parents — but most especially the 50th state in the union, where Hamby grew up. Whether it's her expressive talents, or the exotic and heady atmosphere of Hawaii, the stories are magical and enlightening. $16 — Rosanne Dunkelberger
The Path Secrets to Permanent Weight Loss
by Freddy Kaye
Begin by doing what I suggest for one month … for one lousy, "stinkin" month. If you do, you will see results, I promise. The key is to focus on thinking before you eat. You will begin the process of consciously changing your eating habits, changing your awareness, your attitude and above all — your lifestyle. And you will begin to feel great.
OK, in the interest of not offending your mother-in-law, maybe this is one book you're going to want to buy for yourself. But with gentle good humor, Tallahassee's "Dr. Freddy" shares his simple strategies for losing weight and keeping it off, without dramatic diets or deprivation. His methods assume from the start that you will occasionally stray from "the path," but he counsels that — and here's his big secret — having a routine and getting right back to it after a misstep are what lead to weight loss success.
Kaye earned his master's and doctorate degrees from Florida State University and has been in private practice as a clinical nutritionist in Tallahassee for 28 years.
His suggested eating program is balanced and healthful, with many of the food choices similar to those found in Weight Watchers, American Heart Association and American Diabetes Association diets. It features nine breakfast alternatives, 10 lunches and mix-and-match dinner menus.
But his years of one-on-one experience with counseling overweight individuals have led him to develop many practical strategies for eating properly in a variety of everyday situations including eating out and holiday festivities.
The book also includes a chapter on the pros and cons of gastric bypass surgery, several recipes and one that makes the case for walking as the perfect weight-loss exercise. $19.95 — Rosanne Dunkelberger
Accidental Ambition
by Rhett DeVane and Robert W. McKnight
"I'm afraid I have some rather sad news, Russ. Brad Silver is dead….I think it's appropriate that we send the proper condolences to his family … schedule a press release to say how the country has lost a great statesman."
"Of course. I'll make it sound like I lost my best friend."
"Between you and me, Russ. You know what this means, don't you?"
"It's our turn Mr. President. And nobody is going to stand in our way now."
He's a former state senator who wrote a well-received recounting of the heyday of Florida politics. She's a storyteller whose novels are steeped in the South. Both live in Tallahassee and together, they've created a political thriller with a little sex, lots of scandal, a pinch of international intrigue — and murder.
In the novel, Florida's popular Republican senator dies in a mysterious plane crash and the plotting and jostling for power begins.
The stakes are high as both political parties consider the Sunshine State seat to be one that could tip the balance of power in the upper chamber of Congress. The scenario is particularly prescient as Democrats and Republicans duked it out for each seat in real life during the runup to this year's midterm elections.
The story travels from Washington, D.C. to Miami to Destin, but the climactic election night is set mostly in Tallahassee, where readers are sure to recognize several local landmarks. $18.95 — Rosanne Dunkelberger