Bobby Bowden Knows the End of His Unparalleled Career is Near, But He is Driven to Go Out a Winner 
Snubbed to replace a legend at Alabama, Bobby Bowden became one instead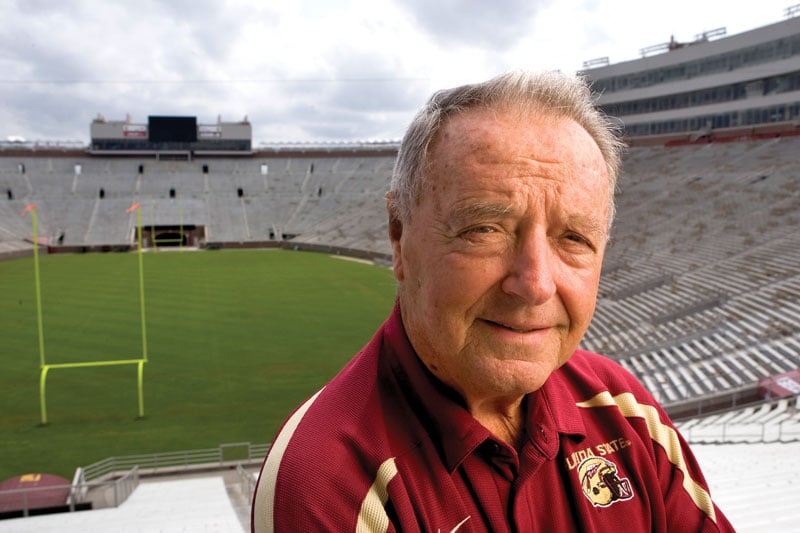 Taking detours is a regular part of life for a big-time college football coach. Sometimes the bypass takes you down a one-lane country road searching for that diamond-in-the-rough recruit in the middle of nowhere.
Sometimes it's exiting through a side door at a public event so you can avoid an endless stream of autograph seekers and make it home in time for dinner. And sometimes a detour comes gift-wrapped, like a police escort through another overcrowded college town full of hostile fans on a fall Saturday afternoon.
Bobby Bowden has taken them all during his legendary coaching career. But the detour Bowden cherishes most is the one he took in 1976 – a move he thought would eventually take him back home. After a while, he didn't want to leave. Bowden discovered where home really was.
When Bowden and wife Ann arrived in Tallahassee 32 years ago so he could take over Florida State's struggling football program, they had already called Florida's capital city home once before. A young Bowden served as FSU's receivers coach from 1963 to 1965, a job in which he established an important friendship with a Seminole receiver named T.K. Wetherell.
Looking to move up the coaching ladder, Bowden left FSU to become offensive coordinator at West Virginia, where he spent a decade, including the final six seasons as head coach of the Mountaineers. Life was good for the Bowdens. Four of their six kids were students at West Virginia, and the Mountaineers were successful on the field, winning nine games and going to the Peach Bowl in 1975.
Still, as is the case with all seven coaching positions Bowden has had during his Hall of Fame career – he got his first job in 1954 as an assistant football/head track coach at his alma mater, Howard College (now Samford University) – he didn't apply for the Florida State job when FSU looked to replace Darrell Mudra. And when the job was offered, it wasn't an easy decision to return to Tallahassee's oak-lined streets.
In the end, he said yes for more reasons than the opportunity to build FSU into a winner. Bowden could move back to Tallahassee and take over the Seminoles, be closer to his elderly mother in Alabama, and if everything went as planned,  FSU would serve as that one final detour on the way to his dream job: head coach at the University of Alabama, where his idol, Bear Bryant, once roamed the sidelines so successfully.
During a recent chat in his office overlooking Bobby Bowden Field at Doak Campbell Stadium, Bowden talked about the move he made that ended up being his road to home.
"When I came in '76, Ann and I, we nearly didn't come," Bowden says. "I mean, I had a better job. West Virginia was going to bowl games, and Florida State was struggling. We finally decided this is where we wanted to go, but it wasn't with the idea of staying. It was with the idea of coming here and getting my contacts back and moving back to Alabama where we both were from. Of course, the longer I stayed here, the more I liked it. I realized this is where I ought to be."
The garnet and gold masses have been thankful ever since.
A Stepping Stone Becomes Home
Before Bowden planted roots in Killearn Estates – the Bowdens live in the same house today that they bought when they first moved here – FSU football was in the dumps. The Seminoles were so bad that they won only four games in the three seasons before Bowden took over to rejuvenate a football team and a university.
"He brought the program back from the dead," says Barry Smith, a Tampa businessman and FSU receiver in the early 1970s. "Bobby Bowden turned FSU into a nationally known program where kids from all over the country wanted to play. That's not something that is easy to do."
As Bowden built the Seminoles one win at a time for a decade, he still expected to use his time in Tallahassee as a stepping stone to Tuscaloosa, home of Bear Bryant Drive and the University of Alabama.
Alabama's campus also is just an hour from Bowden's hometown of Birmingham, where he was a star quarterback at Woodlawn High in the late 1940s.
Bowden thought the time had finally arrived in 1986 when Florida State was in Birmingham to play Indiana in the All-American Bowl at Legion Field. Alabama coach Ray Perkins, the man who replaced Bryant on the sideline, had resigned amid constant criticism from the Alabama faithful still clinging to Bryant's memory.
Following FSU's 27-13 victory over Indiana on New Year's Eve, the team returned to Tallahassee – but Bowden remained behind to meet with Alabama officials. He figured that after 11 years in Tallahassee, and at age 57, the time to move home and take his dream job had finally arrived.
Of course, life doesn't always turn out as you expect, something Bowden quickly realized when he walked into a room full of Alabama officials waiting to pepper him with questions. Bowden expected to meet with a couple of school officials, maybe a high-powered booster or two, and be offered a one-way ticket to Bama.
"That wasn't in the works," he says.
Alabama never offered Bowden the job and later hired Bill Curry. But instead of making the drive back to Tallahassee with Ann and a large chip on his shoulder, Bowden felt totally at peace. When he pulled back into the driveway to their home, he knew exactly where home was.
Starting the next season, FSU began an unprecedented run of 14 consecutive 10-win seasons, including winning national championships in 1993 and 1999, establishing Bowden as one of the game's all-time greats.
"It's funny how life is," Bowden says. "As I look back, the best thing I did was stay here. Those folks won't ever get over Bear Bryant."
Facing 'The Question'
Indeed, it's strange how life can throw you off-course and somehow sort it all out without any input from you. Twenty-two years after Bowden flirted with the idea of leaving FSU and returning home to walk in Bryant's footsteps, a similar scenario is playing out in Tallahassee.
Bowden now is the legend nearing the end of a great run. And Jimbo Fisher is the man who already has been named Bowden's successor. Fisher, named FSU's head-coach-in-waiting last December, shakes his head at the thought of trying to replace Bowden.
"There is only one Bobby Bowden," Fisher says. "You can't replace a legend. You can just learn from him and hope you can have the same kind of success. Coach Bowden is one of a kind. There will never be another Bobby Bowden."
To understand how much Bowden has meant to FSU and the Tallahassee community for more than three decades, all you need to do is look around. Bowden's image is everywhere, from Coke machines and billboards to that larger-than-life bronze statue outside Moore Athletic Center on campus.
Bowden entered the 2008 season as major college football's all-time winningest coach, posting 300 of his 373 career wins during his 32 seasons at FSU. He has led FSU to 31 consecutive winning seasons. He won his 300th game at FSU last season, joining Penn State's Joe Paterno as the only coach in history to win 300 games at one school.
With the finish line of his career in sight, no matter where Bowden goes these days, he nearly always has to answer The Question. He hears it over and over – from fans, the media and people he bumps into in airports:
How much longer does he plan to coach?
At the Florida Sports Writers Association's football media days in Tampa in late July, Bowden responded much the way he has the past few years.
"I'll just have to feel when it's time," says Bowden, who turns 79 on Nov. 8 when the Seminoles host Clemson in what was to be a showdown with son, Tommy, who resigned under pressure as Clemson's coach after a disappointing 3-3 start this season. "I have to be sure it's not decided by 'their' time. I'd like for it to be 'my' time.
"It's getting close. It's getting close."
The thought of Bowden not roaming the sideline at Doak Campbell Stadium on fall Saturdays, or not standing watch over FSU's practices from his coaching tower as traffic passes by in the background on Stadium Drive, is a difficult one to imagine for those closest to the program.
"It definitely won't be the same," says senior quarterback Drew Weatherford, who grew up a huge FSU and Bowden fan. "I can't really imagine FSU without Coach Bowden. He is so popular and represents the university in such a positive way."
For some perspective on how much of an impact Bowden has made during his time in Tallahassee, consider this: He has coached the Seminoles eight seasons longer than Bryant did the Crimson Tide. When Bowden was hired by FSU, the school had fewer than 20,000 students and the athletic facilities were average at best.
Today, FSU has more than 40,000 full-time students and boasts some of the finest athletic facilities in the nation – due in large part to Bowden's ability as a fundraiser and service as the most visible face of the university. His former pupil Wetherell, who has been FSU's president since 2003, is thankful Bowden didn't get offered that Alabama job.
"He may be a saint among the boosters, (but) he's actually a bigger saint amongst our faculty," Wetherell says. "If it weren't for Bobby Bowden and that 14-year top-five run, I'm not sure we would be where we are as an institution. There's no doubt in my mind about that."
That run is what keeps Bowden going in so many ways.
"That's when Florida State became a powerhouse on a national level," says former FSU and NFL running back William Floyd, in his first season as the team's radio color analyst. "That's where we're trying to get back to."
The Succession Plan
While the majority of Bowden's time in Tallahassee has been spent living like a humble king serving an appreciative and adoring fan base, the last few years have tested Bowden in ways he never expected.
The low point came on Nov. 10, 2006, when FSU was shut out at home by Wake Forest, 30-0, during the first of back-to-back 7-6 seasons that prompted the largest overhaul of Bowden's coaching staff in his career.
After the dismal performance against Wake Forest before a national television audience, FSU offensive coordinator Jeff Bowden, the youngest of Bobby and Ann's six kids, visited their home to announce he was resigning at the end of the season.
Bobby tried to talk Jeff out of quitting, but in the end, Jeff Bowden's departure opened the door for Fisher's arrival and set in motion the succession plan that will be put into action once Bowden finally decides to call it a career.
Bowden, after several heart-to-heart conversations with Wetherell, is content with the transition plan Wetherell has established.
"It's unusual what we did in regards to naming a successor," Bowden says. "I like it. I didn't plan it. I couldn't have thought it up, but once our president suggested it and the more I looked into it, it helps me. When you're a head football coach and you know your day is coming, sooner or later you've got to resign.
"It's not as easy as it sounds. I can step out now when I want to and everything is in good hands."
Wetherell says broaching the subject with one of the people he most admires wasn't easy to do.
"I'm blessed to have him because he's like everybody's grandfather and you can't get mad at him," Wetherell says. "He and Florida State, in my mind, at least while I'm there, are forever tied together. You almost can't say Florida State University without saying Bobby Bowden."
As the 2008 season approached, many pundits believed this would be Bowden's final season. Others say 2009 will be the year he steps away for good. Whenever that time does come, Bowden maintains that he'll move back home to Alabama, spending his retirement years hanging out with childhood friends and speaking at churches and other motivational events.
As long as good health remains a friend, Bowden plans to golf and be a pillar in his community. It just won't be Tallahassee any longer.
"I don't want to stay," he says. "I just never thought it was wise for a coach to leave and then sit there and second-guess the other guy the whole time he's there. I don't want to be in a position to do that. I think the best thing for me to do is get out of town."
Whether that happens remains to be seen. If Tallahasseeans have their way, Ann and Bobby Bowden's address will remain in Killearn Estates.
Swimming in the Small Pond
As Bowden prepared for his 33rd season at FSU, he remained perhaps the city's most famous person and respected citizen. At FSU's annual football kickoff in late August, Bowden used his trademark folksy charm to entertain a packed room at the Tallahassee-Leon County Civic Center.
As usual, Ann was a favorite subject during Bowden's warm- up act.
In sharing a story about the first time he met Ann, Bowden reflected on a dance both attended 60 years ago. Bowden is four years older, so at the time, he was in high school and his future wife in junior high. Still, he wanted to know who this beautiful girl he had never seen before was as she stood across the room.
So he walked over and introduced himself.
"Where have you been all my life?'' Bowden recalled asking her. "I wasn't born for half of it," she replied.
The crowd erupted, and Bowden settled into another hit performance behind the dais. Those who know Bowden best – his Birmingham buddies – say Bowden is as down-to-earth nowadays as he was when no one knew his name.
"Bobby hasn't changed a bit," says Hugh "Deacon'' Jones, a childhood friend who still makes sure to set aside two weeks in June when Bowden comes back to Birmingham for reunions and golf. "He is the most open coach I have ever known. The thing people don't know about Bobby is how smart he is. He has a mind like a steel bear trap."
Bowden is clearly at home amongst the crowd of Seminole supporters on this August afternoon. While his fame stretches well beyond city and state lines, Bowden can move around Tallahassee like the guy next door.
He and Ann eat out most nights, usually receiving little attention whether they stop in at the Silver Slipper, Bonefish Grill or a sandwich shop.
"I never cared to be a big fish in a little pond, but I'd rather be in a little pond than a big pond," Bowden says. "In town, I can walk into a place and eat and not a single person will speak to me. Sometimes they will, they might say hi. Everybody knows you. Now, if I go up to Georgia or somewhere, then people will come up for autographs. It's a lot more difficult out of town than it is in town."
Where is his favorite place in town to eat?
"I hate to say because I eat at so many of them," he quickly shoots back. "I have always favored Italian food."
Bowden's love affair with Tallahassee remains unique compared to the gated-home lifestyles of most of his peers. The white-brick home he and Ann live in is the kind of upper-class house any family would be proud to call home, but certainly not over-the-top luxury.
Considering Bowden's first contract at FSU paid him an annual salary of $37,500 and he now makes more than $2 million per year, why hasn't he moved?
"We've probably added a third to the house," he says. "I just like it there. I'm happy there. Ann probably wouldn't mind moving out and having more land."
Another unique aspect of Bowden's down-home personality is that he is one of the most famous people in Florida whose home phone number is still listed in the phone book.
He says he'll get an occasional crank call, but nothing like his days at West Virginia when angry fans once burned him in effigy in the family's front yard and dialed in regularly to voice complaints and threats.
"I get kidded about that a lot," Bowden says of keeping his home number listed. "But, you know, it's never been a problem. When I was at West Virginia, I got hate calls. I don't know if I've gotten one of those since I've been here. What will happen, it's usually a bunch of guys around a bar drinking, and they will call me to have some fun. I might get one or two a year.
"The reason I left it in there is because Ann and I always felt that if some of our friends came to town, they could call us."
Bowden's reputation as one of college football's most humble ambassadors is not lost on his peers. While many of the game's top coaches limit interaction with fans and the media, Bowden understands that it is as much a part of the job as calling a third-down play on Saturday.
Speaking on a panel earlier this year at the Football Writers Association of America's football forum, Texas Christian coach Gary Patterson echoed a familiar sentiment among Bowden's peers.
"There are coaches out there who want to mean more to the university than just wins and losses," Patterson says. "We do want to be like Bobby Bowden."
'The Last Surge'
With the curtain on his career close to closing, Bowden remains intent on going out on top. Despite critics who say he is too old or too detached from the modern-day player to relate effectively, those closest to him scoff at that notion.
"Coach Bowden is fired up more this year than any time since I've been here," junior defensive end Everette Brown says. "You can tell he wants to win and get this program back to where it belongs. I don't see him quitting anytime soon."
With Penn State's strong start this year, Bowden's one-game lead over Paterno for most career wins has turned into a deficit. While neither coach will say publicly that it's important to finish as the game's winningest coach, it's obvious that the record is a factor in both continuing to coach.
Whether it's Bowden or Paterno finishing with the most wins, one of the schools can hype the accomplishment for years to come, since no one is expected to challenge the record any time soon. What drives Bowden most at this point in his career is finishing on his own terms and going out a winner. He is working on a one-year contract for the first time at FSU and knows the "R-word" is a favorite subject of his detractors. Still, he coaches on.
"When you get my age, everything is behind you nearly," he says. "I'd love to win a national championship again. Will it happen? I don't know, but we're sure going to try. You still want that last surge."