Bob Shacochis and Barbara Peterson Blend Literature and Law
They love, work and persist at the top of their fields but what makes their relationship work is something utterly special.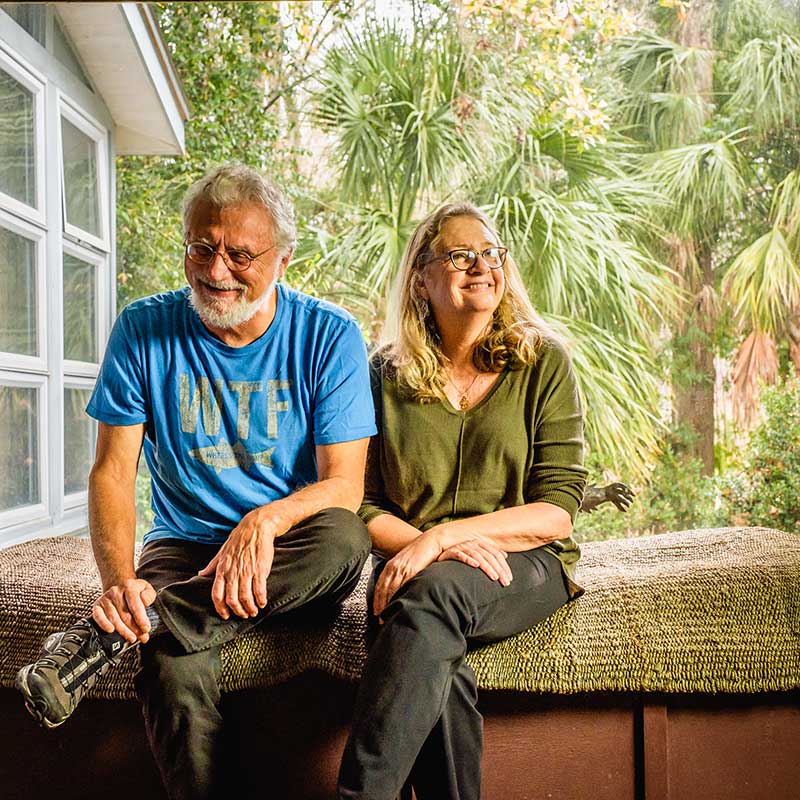 A visitor to the Shacochis-Peterson house, tucked against an aging city park, is met with a fusillade of barking and body blocks from the couple's two photogenic Irish setters.
Barbara Peterson offers assurances they'll settle down even as she gets their attention with a spritz of aromatic doggie spray.
In casual pants, sweater and fuzzy bunny slippers, Peterson is fitting some neighborly cookie baking into her nearly 60-hour work week as the prime mover of the First Amendment Foundation, a nonprofit that seeks transparency in government. Yet, the Peterson-Shacochis home doesn't fit the template of high-powered attorney and blockbuster author.
Instead, its dark walls, Persian-rugged floors and aged furniture whose antique damask has mellowed to meerschaum remind one of an 18th-century Spanish house, perhaps of a sea captain who has covered his walls and shelves with exotic tapestries, amulets and crumbling idols. Or a Parisian flat … a Left Bank address … where salons are held on Thursdays and Gertrude Stein hobbles up the stairs.
Indeed, it is to this house that the literati of Tallahassee come — the intelligentsia from academia and government, thinkers and doers from afar. It is a place where acclaimed literature has been created and high-minded concepts discussed. Here, the evidence of life and experience is examined, as an author and a lawyer would do.
Peterson and Shacochis were born near McLean, Virginia. Admitting to their humble upbringing, Peterson's lineage nevertheless included three presidents, and Shacochis' father went on to a notable government career and was eventually elected supervisor of Fairfax County.
While Shacochis describes himself as a "nerdy boy," a clean-cut surfer and editor of the high school paper, Peterson's image was in flux. "She was trying to be a bad girl," quips Shacochis, who as interpreter, spin doctor and one-line comic irreverently captions the conversation.
"She had a shaved head, one long pony-tail to her (waist) and a short skirt up to here. She was ridiculous." Peterson smiles up at her husband. She's used to his charm. It's part of what she loves about him now — but it was not so at first.
Shacochis was intrigued, but there were things to do first. He finished school at the University of Missouri, took three years off to travel to Columbia, Europe and the West Indies, ran public relations for his father's campaign, then worked in the Peace Corps in the Grenadines. When he returned, he found the intriguing girl was about to marry someone else.
Just back from Europe herself, Peterson equivocated on man No. 1. "It was his intelligence," she says of her husband. "His desire to broaden his life. He was funny and generous and difficult to get along with. I didn't want a 'yes' man."
She didn't get one. But she did embark on a life saga that was by turns full and empty, joyous and sad. The couple moved to Iowa, where Shacochis was accepted into a graduate school program, the prestigious Iowa Writer's Workshop. At first, living in a tent in a friend's backyard, Shacochis wrote and Peterson worked as a bookkeeper to keep them afloat.
It paid off. By the time of his graduation, Shacochis was writing for high-flying literary magazines such as Harper's, Outside and GQ and had published his first book, Easy in the Islands, a collection of short stories based on his tenure in the Peace Corps that would win the National Book Award. Meanwhile, Peterson's path forward was less obvious.
Shacochis was ambitious, curious, riding high on his new reputation and writing that was sought by literature purveyors all over the world. Peterson had told him early on she wasn't interested in having children.
Nor did she seem interested in a career of her own. "Being and happiness" are what she needed in life, she'd said, a quasi-hippie philosophy that didn't resonate with her husband.
And then one day Peterson came home with an announcement: She wanted to go to law school. She could make beautiful pottery; she was passionate about literature. But law school it would be, although there was a caveat.
She didn't want to work as a lawyer. It was when she graduated summa cum laude and still didn't want to take the bar that Shacochis, in a bout of ire, left for Argentina.
By the time he returned, Peterson had passed the bar and would begin working in state government on First Amendment issues. "Bob had a talent that shaped his life," she says. "Most of us have to work to shape it."
And just as with the epiphany Peterson had experienced with career goals, she now began to long for a child. She was nearing 40, but the couple was determined. The decision for parenthood coincided with Shacochis' increasing assignments abroad. "All through the 1990s, he was gone … Nicaragua, Haiti, the Far East.
Of those 10 years, he was home for an aggregate of five," Peterson says. Infertility tests, donor eggs, inseminations and trials resulted in one pregnancy. It lasted for three months. Shacochis was away at the time. For him, he would write, the pregnancy's end was manifested as a star in the Himalayas, the "missing person in our life."
Despite their great disappointment, they persisted in growing. The years brought more awards for Shacochis: the Dayton Literary Peace Prize, finalist for another National Book Award, and Pulitzer Prize finalist.
Peterson now heads the First Amendment Foundation and recently received an invitation from Sandra Day O'Conner to attend Supreme Court deliberation in a case she worked on in Tallahassee. She is regaled as a champion of government transparency and the public's right to know.
A recent award came from the American Library Association, honoring the First Amendment Foundation with the 2018 Eileen Cooke Award for individuals and organizations that champion, protect and promote public access to government information.
ALA President Jim Neal described Peterson as "a tireless powerhouse of information" helping the public and journalists hold government accountable.
Over time, Peterson and Shacochis have traveled together, mourned the "child of our shared imagination," and stayed together in the face of what life was still doling out.
"When my sister died of a rare disease which I too have, we helped raise her two daughters," says Peterson. "Recently both young women died, one of illness, the other from an overdose." And life wasn't done.
"I have a hard time writing now … a hard time even reading," says Shacochis, who despite his own severe health problems looks as fit as a younger man. Peterson runs her arm around his waist. "We don't hold hands," he says. "I only hold her hand when we're crossing suspension bridges."
Yet he glances at her, incongruously blushing, perhaps taking comfort in their marital schtick, knowing that they're still in the game, still in the serious business of shaping their lives and impacting the lives of others. Still persisting.