Blogger Shamika George Is Living Out a Dream
Founder of FroPlusFashion.com focuses on beautifying her environment and beyond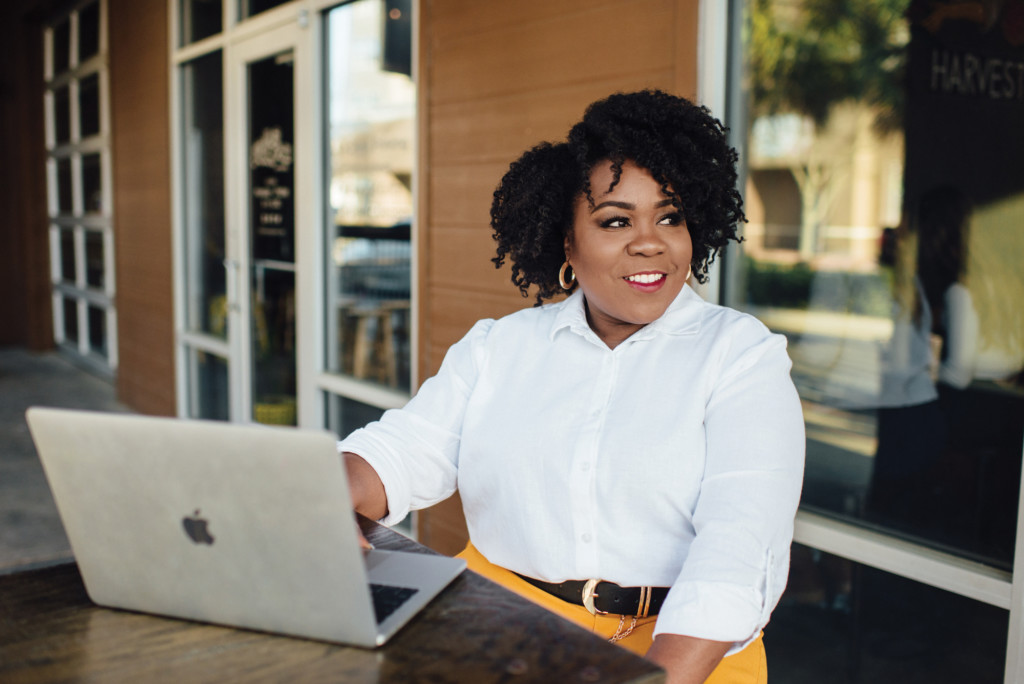 It takes a particularly strong person to leave behind everything she knows. But Shamika George, 34, wasn't following any trends when she decided to depart her native island of St. Thomas in pursuit of her "best life."
The single mother and environmentalist-turned-social-media-fashion-guru was chasing a dream she had for her family.
"My son Kemal is on the autism spectrum," said George, who moved to Tallahassee with her then 8-year-old son in 2016.
"I wanted a better setup for him so he could have an educational plan that suited his needs. After we had decided to relocate and I was looking for jobs, a huge factor in that search was the schools in the area. I went from having a very rough time with him in the school system to it being like a dream in Tallahassee."
George's story would have been inspiring enough if she had stopped there: moving to a new place, and a new job, in order to give her son a better life.
But she didn't.
As the founder of FroPlusFashion.com, George has taken to the streets of Florida's Capital City and the corridors of social media to champion causes she believes in, including helping women everywhere feel beautiful in their skin.
A quick gander at her online life and any Tallahassean will instantly recognize many of her backdrops as their favorite downtown spots.
"I wanted to be the change I needed to see," said George, who consistently celebrates her curves and curls in style via her various platforms. "That's really what compelled me to start sharing myself and serving as representation for the things that I wanted to see more of on social media."
Through her digital persona, George connects with her audience as not only an authority on beauty but also a gal pal they can go to for advice.
Comment exchanges in her latest post read like quick text messages, laughingly fired off between old friends.
Her appeal couldn't be more genuine either.
George is practicing what she preaches, and the confidence she's found shines through.
Her videos are true to her followers, taking them with her wherever she goes — from her natural hair morning beauty rituals and in-depth tutorials, to the dressing room as she works with brands such as Target and Lane Bryant that share a similar vision for accessible fashion.
About 7,000 YouTube users have connected and subscribed to George's messaging.
"I don't need to rely on others to see myself as beautiful," said George. "And neither do they. I think as a society we've made a lot of progress, but there's obviously still a lot of work to be done on both fronts pertaining to the natural hair community as well as the plus size.
"I feel in each community there's a pinnacle for the ideal image of what someone from that community should look like. In the natural hair community, I feel like looser curls are more accepted versus someone with a kinkier texture, like the hair that I have. In the plus-size world, it's still the classic hourglass shape. But those aren't the only ways people can be beautiful."
Beautiful and busy — and maybe brilliant — are the only labels George is allowing attached to her brand. In addition to sharing her message daily with the masses, she somehow still manages to excel at her 9-to-5 as an environmental specialist with Florida Department of Agriculture. And as Super Mom.
After nearly three years in Tallahassee, George is still exploring all that the region has to offer, along with her two favorite gentlemen (she's blessed with an "Instagram Boyfriend" who dutifully takes photos for her on the fly) at her side.
"I'm loving it," added George. "We have so many trees here, which reminds me of home. It's very quiet, not too much hustle and bustle like in bigger cities. It's a slow-going, relaxed, family-friendly place to be." 
Interested in hearing more of Shamika George's story?

Visit her website at FroPlusFashion.com, and follow her on Instagram at @froplusfashion.