Blazing a Firefighting Trail for Women
Wendi Hollister Wilson reflects on a 28-year career as a Tallahassee firefighter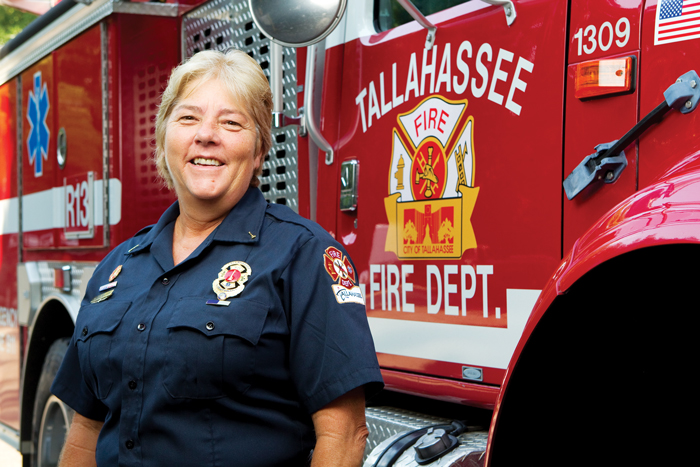 After a 28-year-career that began with her battle to win acceptance in an all-male workplace, Wendi Hollister Wilson in February will become the first female firefighter to retire from the Leon County Fire Department.
"I've never been out on worker's comp or on leave to have a baby," says the 55-year-old. "Believe it or not, even the guys that are my age can't handle it anymore; it just gets to be too much with all the heavy gear and everything."
Coming from a close-knit family with three siblings, Wilson's late mother was the one who motivated her to join the fire department.
"It all started 32 years ago," she says. "I love to help people and animals, and I never could be a secretary; I like an exciting job."
But, at the time, many obstacles stood in the way of Wilson's career path.
"When I came to the fire department in 1979, they told me they didn't hire women," she says. But Wilson didn't let that stop her from completing firefighter training classes at Daytona Beach Community College while doing construction work with an old boyfriend.
Wilson wasn't the city's first female firefighter. In fact, a problem with the woman who was first (Wilson's roommate) almost ruined her chances of being hired. Nonetheless, she began work on July 1, 1983.
"When I first started, it was really rough. The guys weren't used to women being here," says Wilson, who had to adjust to sharing bathrooms with men and protested against co-ed rooms. "I got a lot of flack from the men, captains and chiefs; all of them had a good old boy system going."
Her male peers eventually put aside their chauvinistic opinions and accepted her as a hard worker with a personality that exuded a strong sense of humor.
During Wilson's journey from engineer to lieutenant, she earned certifications in various fields, only some related to her firefighting position. She was one of the first of five people in the Leon County department to get emergency medical training before it was a mandate for all firefighters to complete. In addition, she became a professional locksmith, a private investigator and a mold inspector.
While Wilson is upbeat and audacious, there is a dark side of her chosen career that is very sobering.
"We went to a call where somebody fell, (but) they neglected to tell us the guy fell from 500 feet. We had to dig his body out and weren't able to find one of his feet," she remembers. It was one of many sights Wilson says haunted her for weeks afterwards.
Many of her crew members were also victims of tragedies. "We've lost a bunch of people," she says. One co-worker set himself on fire after dealing with a lot of personal family issues. "We've felt quite a bit of loss."
In the midst of it all, in 1994 she met her husband of 14 years, Ed Wilson.
The couple has been operating Automatic Gates of the Big Bend, a gate installation and fabrication business, for two years. "We wanted something to do after we retired," says Wilson, whose family also includes three cats and three dogs. "It's turned out really good even with the way economy is; we stay pretty busy."
Lt. Wilson will retire on Valentine's Day 2012.