Blake Kandzer Takes a DIY Approach to His Career as a Graphic Artist and Comic Book Creator
A Dork's Life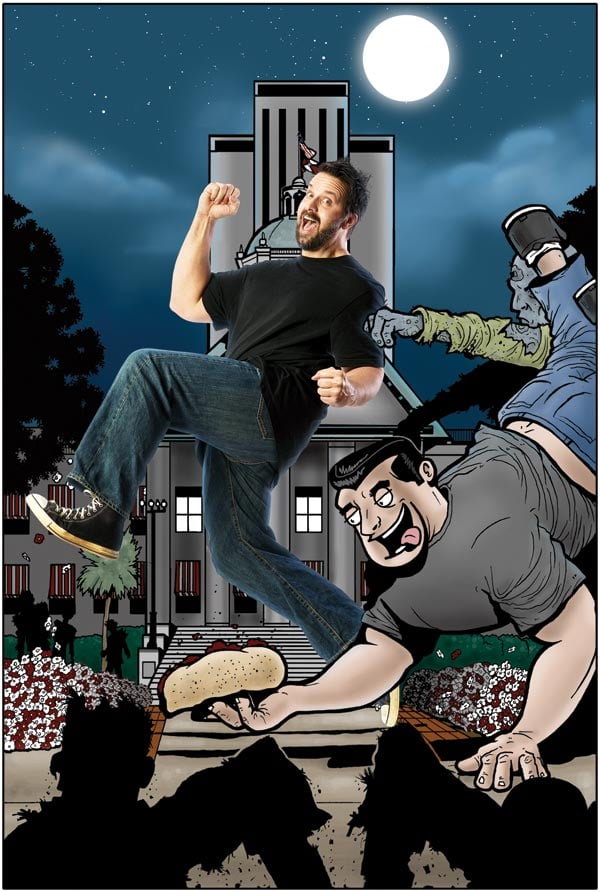 Even if you didn't know that Tallahassee artist Blake Kandzer illustrates comic books, a glance at his home studio would reveal that he likes the medium. A lot.
There's a classic Batman illustration signed by none other than one of the Dark Knight's creators, Bob Kane. Then there's the Hellboy lunchbox autographed by Ron Perlman, who played the character on the big screen. And that's without getting to the many graphic novels that line his bookshelves or the thousands of comics he's stored away.
To put it simply, Kandzer, 40, is a professional geek — or as he puts it, dork. And he's happy to explain the difference.
"Nerds are very into things like Dungeons and Dragons, and dorks are into video games and comics," Kandzer said. "Geeks are all programmers and web developers — and my friends who are programmers pick at me for using a Mac."
As a self-employed graphic artist, Kandzer has put his dork status to good use. He's the man behind Kandzer Design LLC, and he has done illustrations, branding and art direction for clients nationally and as far away as the U.K. and Spain. He's also been involved in a number of independent comic book projects, including his own self-published "RAZE," the in-the-works zombie-tinged comic "Meat and Potatoes," and the supernatural "Elysia." Not bad for a guy who started collecting comics at 13 and can still remember the first time he laid eyes on "Uncanny X-Men."
"When I saw that, I said, 'That's what I wanna do.'"
The Artist as a Young Man
The youngest of three children, Kandzer grew up in Winter Haven and shared a passion for drawing with his brother, Brett.
"He was an amazing artist in high school, but he stopped," said Kandzer, who was raised by his educator father and sociologist/stay-at-home mother. "I just never stopped."
Given his size (Kandzer's an athletic 6-foot, 5-inches tall), he was a shoo-in to play football. However, his mother nixed the idea because she didn't want him to put his art in jeopardy by hurting his hands. He was voted "Most Talented" of his senior year, but the self-deprecating Kandzer said, "It was basically because I was in art class."
With both parents fully supporting his plans to become a professional artist, Kandzer came to Tallahassee in 1988 to attend Florida State University, where he graduated in 1992 with a bachelor's degree in liberal arts and a minor in art history. Evidence of his classical art training abounds in his Buck Lake home, where his original oil paintings share space with Star Wars action figures and science fiction posters.
After graduation, Kandzer went to work as a T-shirt designer at Russell Athletic Corp. in Alexander City, Ala. Though he stayed for five years, he never quite took to the surroundings.
"It was a city with a McDonald's and a Walmart," he said. "The (Russell) plant was their whole city."
Armed with some lithograph prints in his portfolio, Kandzer returned to Tallahassee and landed a design job with the T-shirt business Mr. Tees. That was where he met his future friend and "Meat and Potatoes" collaborator Vince Labolito, who is now art director for T-Formation.
"When I first met Vince, he didn't talk a lot," Kandzer recalled. "Later, he said, 'I knew you were cool when you walked in and you had a Wolverine shirt on the first day of work.'"
Going DIY
Like many illustrators, Kandzer dreamed of working for one of the two big comic book publishers, DC or Marvel Comics, as an artist. But when that didn't pan out — and with the do-it-yourself rise of the Internet — he decided to go the self-publishing route.
In 2001, he began writing and illustrating "RAZE," which was inspired by a documentary about the brain and how it can be literally touched and manipulated. The concept is that a villain named Ten-Man kidnaps five people and alters their brains to make them impervious to injury, and therefore invulnerable, for 24 hours. After learning the truth, one victim sets out to bring down those responsible.
Though he no longer sells "RAZE," Kandzer learned plenty about creating a book from scratch. He can do it all, from writing to coloring, but inking is his favorite part of the process.
"I would say 'RAZE' also taught me how much it actually takes to make a comic book, especially when you are writing it, penciling it, inking it and coloring it," said Kandzer, who has done signings of the comic at local comic book shop Cosmic Cat. "It was an awesome, very worthwhile adventure."
Kandzer can create a comic from soup to nuts, including scriptwriting, illustration, inking and digital coloring. On a collaborative project like "Elysia," he shows the rough sketches to the writer for approval before tightening the pencil work and inking the images by hand. He then scans the images into the computer and colors them digitally.
"There's no coloring by brush, even though I could do that," he said. "Even though you're doing it on the computer, you're still painting."
He's still working on the script for "Meat and Potatoes," which he says will be a humorous comic set in Tallahassee and based on real experiences he and Labilito had while working together. "Elysia" takes place in a future where angels rule the land, and the project's existence is a testament to the power of social networking. The writer, Serena Obrhai, lives in England, but she struck up a friendship with Kandzer via Twitter before asking him to collaborate with her on the comic book.
Some would call that a stroke of luck, but Kandzer, a devout Lutheran, often credits the divine for any professional and personal success. He puts it in simple, straightforward terms: "It was God."
Family Man
Kandzer's local art career continued to move forward over the years, and he went on to become a senior designer for T-Formation and Compass Marketing and Consulting. Along the way, he did work for international clients such as Coca-Cola and McDonald's, and he racked up regional and national Addy Awards. But in 2009, he made the decision to launch his own business, largely so he could spend more time with his 10-year-old daughter, Emma.
Kandzer, who is divorced, said working from home allows him to be an involved parent who can take her to school and extracurricular activities. Though she isn't into comic books, his daughter shares his affection for all things Star Wars. On a table in Kandzer's home, Emma has arranged a sizable collection of action figures into groups of good and bad — Jedi and Rebel Alliance on one side, Sith and Empire on the other.
Working from home took some getting used to, but his tweets (his Twitter handle is kandzerdesign), makes it abundantly clear that he loves his job. Kandzer's days are filled with a variety of creative projects, meetings with clients, activities with his daughter and his church, comics and a whole lot of coffee.
"It was all about Emma," Kandzer said of going the self-employment route. "I know I'm blessed, and we're happy."
Get Your Geek On With four independently owned comic shops, Tallahassee is rich territory for lovers of comics, graphic novels and role-playing games.
The Bookshelf
Comic books, graphic novels, collectibles, toys and apparel,
as well as used paperbacks.
1303 S. Monroe St.
(850) 224-269, bookshelf-tally.com
Cosmic Cat
Comic books, graphic novels and collectibles, plus an online comic bookstore and subscription service. Store adjoins an art gallery.
625-A Industrial Drive
(850) 224-5554, cosmiccatcomics.com
Fallout Comics
Comic books, graphic novels and games.
2312 Apalachee Parkway, Unit 9
(850) 298-4263
Secret Headquarters Comics and Games
Comic books, graphic novels, collectibles, games and a kids' area.
2418 N. Monroe St., Suite 210
(850) 385-2736, shqcomicsandgames.com