Black History In Your Own Backyard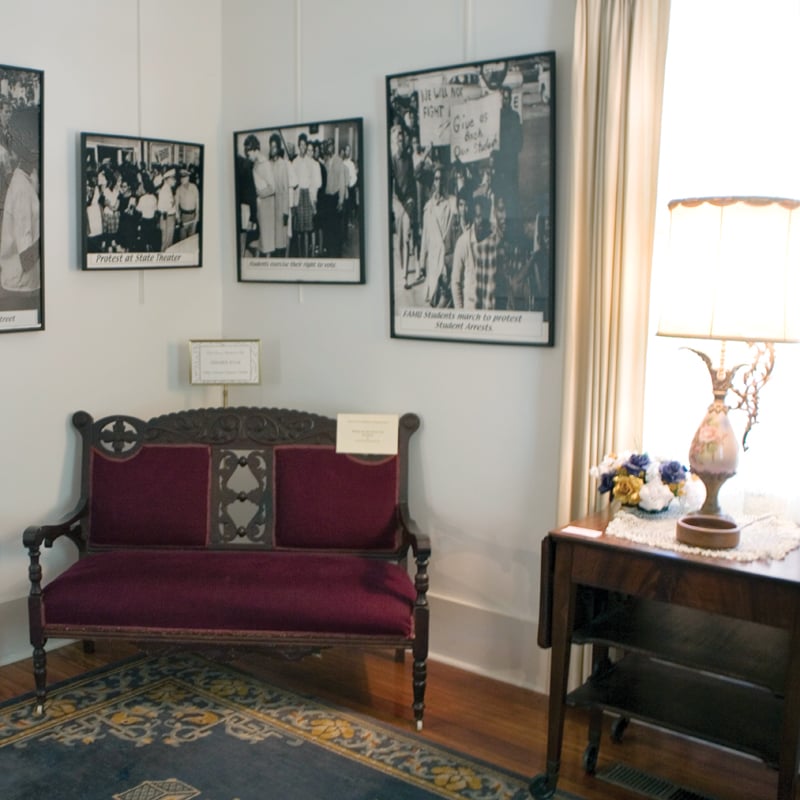 John G. Riley greets guests entering his two-story family home in downtown Tallahassee. Wearing a tailored suit and seated behind a wooden desk, a book in his hand, the former principal of Lincoln Academy, Leon County's first black high school, enlightens visitors with short anecdotes about his life. Riley's memory is superb — especially for a 143-year-old.
What visitors are actually listening to is a lifelike representation of Riley. The animatronic character, seated in the home's east room near the entrance, awes visitors with its natural head nods and roaming eyes as it politely addresses them.
The venerable educator and community leader died in 1954 at the age of 97. His home was later refurbished, eventually opening to the public as the John G. Riley House and Museum in 1996.
Victorian furniture, photographs of black Union soldiers, and old currency kept behind glass are found in the museum's first room. In fact, each room of the museum features a theme centered around a specific time period, telling a chronological story of black history and culture primarily focused between 1865 and 1968.
Historic stances like the Tallahassee bus boycott of 1956 — which later resolved the issue of segregated public transportation — was publicized at the time and is remembered because it was part of a national movement. However, this event represents only a fraction of initiatives and achievements made by blacks that helped to improve and shift racial relations and equality in Florida's capital.
Althemese Barnes, the founding executive director of the John G. Riley House Museum, has been on the bandwagon to preserve African-American history and culture for nearly 24 years.
She believes there is much more history waiting to be unearthed.
"I'm talking about everyday African-Americans who built communities," Barnes says. "We need to identify and bring it out of the boxes. We need to illuminate this history."
The Riley house is one of several Tallahassee sites focusing on blacks' contributions and accomplishments. Together, these facilities are helping to document a portion of the area's rich history that many local residents are unaware of. For a long period of time, black history wasn't considered worthy of official documentation, so blacks kept track of their own history.
Deborah Mack, an independent-museum operations specialist from Savannah, Ga., refers to this era as FUBU — "for us, by us."
"Much of our history was not in public culture, was not in the textbook," she says. "There was a need and a response to document that — to tell those stories."
Area residents are encouraged to embrace Tallahassee's African-American experience "to help tell the fuller story, the shared history of the community," says Barnes. This can be done through a self or guided excursion of historical landmarks and sites. Here are a few such sites, each with an entry fee of no more than $2.
"Unlike regular tourism, cultural tourism allows visitors to experience the places and activities that authentically represent the stories and people of the present and past," says Mack.
So, with "staycations" as the current trend, Tallahasseeans are encouraged to set aside a day to explore the history that surrounds us.
"I think there's value in having a sense of place of where you are," says Barnes.
The Riley House Museum
Blended into what used to be a flourishing, predominantly black Tallahassee neighborhood starting in the 1890s is John G. Riley's house, now transformed into a museum. However, its décor of green window shutters and red banisters makes it stand out at the corner of Meridian and East Jefferson streets.
Despite being born into slavery in Leon County, Riley became an inspired educator, property owner and notary. His resilient personality, as well as his active membership in organizations such as Florida State Business League, the National Negro Business League and the NAACP, made him a popular leader within his community.
According to Barnes, Riley held strong to three principles he felt were key for African-Americans to follow: maintaining a high standard of education, investing wisely and caring for the poor.
A $2 entry fee to the museum allows visitors to not only learn about and "meet" Riley but to explore rooms themed around local African-American history. The authentic home is one of only a few left in its downtown neighborhood following urban renewal in the 1960s.
For more information, call (850) 681-7881.
The Knott House Museum
Just a few minutes' walk from the Riley House Museum stands what used to be a temporary Union army headquarters after the Civil War.
On one day each year, drummers dressed as Union soldiers stand on the front steps of the historic Knott House and strike their snares to a rhythmic beat, easily capturing the attention of running kids and seated adults scattered in Lewis Park, directly across from the Knott House. The reading of the Emancipation Proclamation is about to begin.
The document, read by Gen. Edward McCook on May 20, 1865, officially freed slaves in Florida's Panhandle by order of President Abraham Lincoln. The reenactment annually takes place there, along with other events such as a summer poetry reading.
A freed black man named George Proctor built the Knott House, located at 301 E. Park Ave. Multiple homeowners resided there afterward, including Dr. George Betton, who trained his buggy driver, William Gunn, to be Florida's first African-American physician. The house is named after its last homeowners, state treasurer and poet William Knott and his wife, Luella.
With preserved antique furniture, grand mirrors, self-painted wallpaper and handwritten poems placed throughout the home, Luella Knott's eclectic decorative style gives the residence an elegant but homey feel. At no charge, visitors can get a sense of what life in Tallahassee was like around the year 1928.
Call (850) 922-2459 for more information.
The Union Bank Building
A satellite branch of Florida A&M University's Black Archives Research Center and Museum is housed in Florida's oldest bank building. The 1841 Federal structure, formerly located off Adams Street, now stands at the corner of Apalachee Parkway and Calhoun Street. It originally opened as a bank to finance cotton plantations.
With an Antebellum South layout and colossal columns, the blue-colored building has been home to multiple businesses and organizations since then, including a church and a cobbler's shop. However, the brick landmark was perhaps best known as the Freedman's Saving and Trust Company for emancipated slaves for six years starting in 1869. It became a permanent archive for black history in 1984.
At no cost and with a scheduled appointment, guests can freely roam the archive. Its latest exhibit, "News of Freedom," focuses on the Emancipation Proclamation and features historical information on President Abraham Lincoln as well as muskets, bullets and cannons from the Civil War and World War II.
Call (850) 599-3020 to schedule a tour.
The 'Old' Capitol
Just one block west of the Union Bank Building stands the centerpiece of Tallahassee, the Historic Capitol Building at 400 S. Monroe St. Matching its exterior as a focal point is its grand staircase, located in the main rotunda and suggested as the perfect place for a memorable group picture.
Restored to its 1902 blueprint, the Historic Capitol Building stores the political history of Florida from its territorial era to the present. With more than 21 rooms, including the governor's private office, Cabinet meeting room and Supreme Court chamber, the building's recollection of Florida's evolving government can be experienced through historical documents, audiovisual displays and video clips. A white-only women's bathroom door and poll tax receipts used to keep blacks from voting are just some of the distinctive artifacts, says exhibit project manager Andrew Edel.
Visitors can also gain insights on black figures such as Josiah Walls, Florida's first black congressman, and Harry Moore, a prominent civil rights leader.
There is no cost to tour the building. Call (850) 487-1902 for more information.
Old Lincoln High School
Within Frenchtown stands the Old Lincoln High School, now a neighborhood community center. It currently serves as a day care center, health center, home for after-school programs and a boxing club.
The old school first made its mark as the primary institution for newly freed slaves in Leon County in 1869, educating black students from first through 12th grade. (The original structure was located south of the Florida State University campus but burned down in 1872.) With the finalization of integration, the high school closed in 1969.
Within the facility is the Lincoln Room, which houses artifacts from its time as a high school. Former teachers and students donated memorabilia, including photographs, sports trophies and old yearbooks, to adorn the room.
Call (850) 891-6552 to learn more.
Black Archives Research Center and Museum
On the highest of Tallahassee's seven hills is the nationally recognized, historically black college Florida A&M University. On the campus stands the historic Carnegie Library, which houses not only FAMU's histories of the Marching 100, student movements and prominent graduates such as NFL Hall of Famer Bob Hayes, but also the history of blacks and their descendants.
There's something for everyone, including the kids. The museum's children's room includes a science, technology and sports collection.
Some highlight exhibits include "Black Like Me," a doll collection of women's history, and "Comic, Coon, and Klan," a display that includes advertisements, products, comics and toys used to depict (and often caricaturize) blacks' physical features and lifestyle. Slavery and blacks in the military are showcased as well through photographs and memorabilia.
The Carnegie Library is open weekdays; there is no charge for admission. Find out more at (850) 599-3020.