Bites of Bliss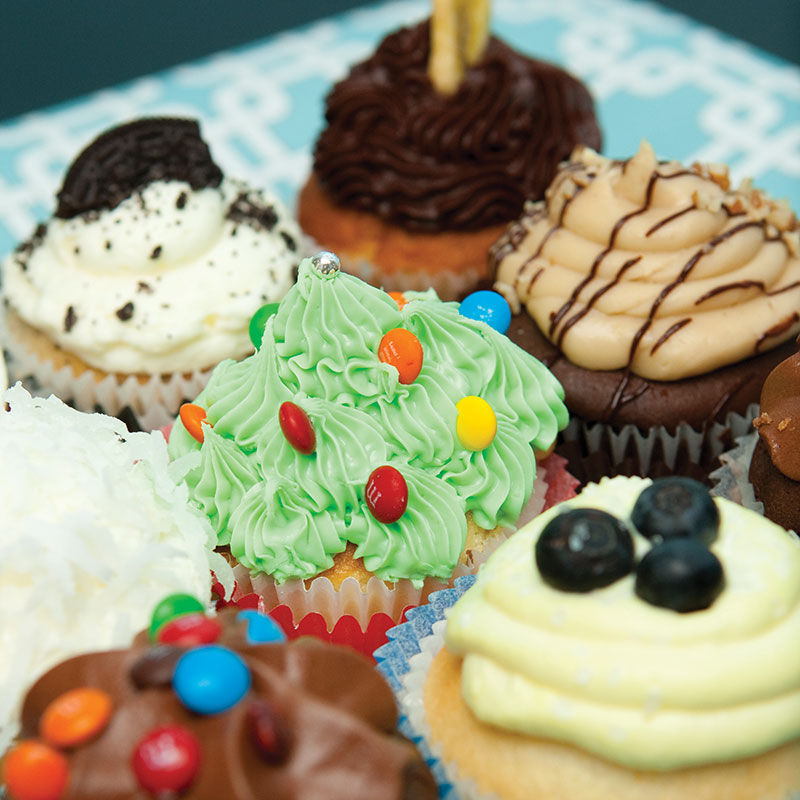 Lucy and Leo's Cupcakery owners Jean Bates and Paula Lucas have a simple recipe for success: open the only "cupcakery" in town, bake unique and delicious flavors in every paper cup, then generously frost and decorate each with an overload of tasty confections.
scott holstein
"Our most popular cupcakes are the Red Velvet (red velvet cake piled with soft cream-cheese frosting and sugar sprinkles), Monkey Biz (banana cake with peanut butter frosting and topped with chocolate chips), Blue Sky (lemon cake with lemon whipped icing, topped with fresh blueberries) and anything new, fun and funky that we can think of, which we try to do daily," Lucas says. "On the opening day of the sixth Harry Potter movie, we did a 'Slughorn' cupcake with dried pineapple on it. We've also experimented with a chocolate and bacon cupcake, and we want to try out new cakes with savory flavors, such as chipotle and zucchini."
Lucy and Leo's also caters to a variety of diets, offering vegan cupcakes on Wednesdays, gluten-free cupcakes on Thursdays and sugar-free cupcakes on Saturdays. Happy Hour cupcakes are served from 7 to 9 p.m. on Fridays, including Guinness cupcakes, cosmopolitan cupcakes and margarita cupcakes iced with lime frosting and "salted" with sugar sprinkles.
Lucas takes a shot at explaining why people love these delicious gems so much: "They are easy, simple and make people happy. Cupcakes cheer you up," she says. "It's like having your own personal, inexpensive party."
Located in Midtown at 1123 Thomasville Road, Lucy and Leo's Cupcakery is open Tuesday through Saturday. For more information, visit lucyandleoscupcakery.com or call (850) 765-0374.