Billy Dean and His Doctor Friends Rock The Moon
An inside look at the trio playing together on stage for the first time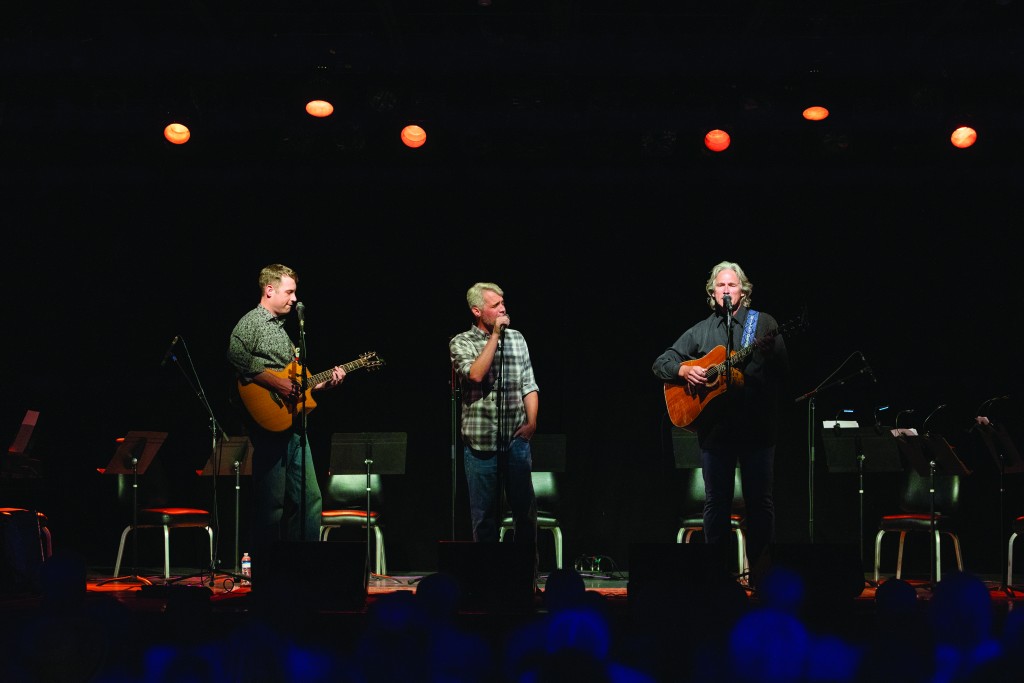 Jeanella Alls, pastor at the Open Door Church in Sawdust, Florida, took the stage at the invitation of country performer and all-Americana troubadour Billy Dean.
Leading off a concert at The Moon in June, Pastor Alls sang Amazing Grace, and if she was not supremely mellifluous, that mattered not a whit. Folks did not come out this night looking to experience the likes of Mahalia Jackson.
They came for real, and Alls was all of that. Dean was gracious and grateful, crediting her with supplying the evening with a kind of spiritual prophylactic, ensuring that any step toward sinfulness would be forgiven.
I might be forgiven then, too, if my eye were to linger on the woman in a micro-dress with a peekaboo front seated to my immediate left and her friend — cowboy boots, daisy dukes and cropped top. Both were hotter than pistols. Here were assembled everything from suits to slits, Vineyard Vines to big belt buckles. All could feel free to be themselves.
"An Evening with Billy Dean," a title too formal for the folksiness that unfolded, concluded the 2020–2021 FSU Opening Nights events calendar or, as Michael Blachly put it, the "chaotic COVID concert series."
Opening Nights director Blachly and his team managed to stage 15 live performances beginning Dec. 5 in addition to two more that were streamed. Blachly and Jay Smith, representing concert sponsor Ajax Building Company, introduced Dean following the presentation of a video highlight reel that included Dean's make-out session with Dolly Parton from a 1999 made-for-TV movie, Blue Valley Songbird.
Dean confessed that he "never lets the truth get in the way of a good story." About the Songbird scene, Dean, who is a tall drink at 6-4, said he was to begin with his back to Ms. Parton, then turn and kiss her and lower her to a bed.
But when he made his move, Dean said, he found that the stage crew had so miscalculated the height of a box that they had given Parton to stand on that he was not face to face with her, but eyeball to balcony. Parton was unflustered. When the film crew told her the scene was going to have to be recalibrated and reshot, Parton, according to Dean, said, "This is my movie and we're gonna shoot this scene one more time, just like that."
Dean, without objection, knew from whom to take direction.
Dean, who now lives on St. George Island, grew up in Quincy, the son of a World War II veteran who was a part of the kind of band that frequents VFW posts. He played with his dad from a young age. He was a basketball star at the Robert F. Munroe School and received an athletic scholarship from a small school in Mississippi but found he wasn't college material. Successes on star search programs propelled him to Nashville where he went to work as a songwriter for EMI Music.
It was a tough hustle, but Dean broke through with a song, Somewhere in My Broken Heart, that he co-wrote with an already accomplished songwriter, Richard Leigh. Dean wowed Leigh, especially when he contributed the line, "I think there's enough pieces of forgiveness somewhere in my broken heart." The song was inspired by Dean's departure from Florida and the girl he left behind. Randy Travis recorded it. Somewhere was the Academy of Country Music "Song of the Year" for 1992.
Down the road, Parton would advise Dean, "You better love the songs you write; you might have to sing them 30 years from now." Sung at The Moon 29 years after it was written, Somewhere played very well.
Dean's hard-earned commercial success put him in a position to turn to his mother-in-law, who had never thought he had much in the way of earnings potential, and ask her what she would like to have for Christmas.
Recalled Dean: "She said, 'I'd like to have something silver that can go from 0 to 250 in three seconds; you think your budget can handle that?'"
Dean paused for effect, then delivered the punch line.
"I bought her a bathroom scale."
The sellout crowd at The Moon roared, not caring how true the story may have been.
Dean's opening number, Gadsden County Line, from his 2020 EP by the same name, represents a collaboration with fellow Gadsden natives Cody and Hugh Vanlandingham, brothers who are both family practice physicians in Tallahassee.
The idea for the song emerged when Cody and Hugh, slurping shellfish at the Acme Oyster Bar in Destin, resolved to write a story about home. To date, the brothers and Dean have combined on some 30 songs, and Dean is producing the Vanlandinghams' first album.
"When we get to write with Billy, it's like giving a kid who likes a moped a Harley-Davidson," Cody Vanlandingham said. "Billy is like an instrument in himself — a guitar, a piano and Billy Dean rolled into one."
Writing a song about home gave Vanlandingham the opportunity to get specific about place with references, for example, to Highway 12.
"There are only so many concepts," Vanlandingham said. "The key is to write them with a different perspective in a different way."
The brothers joined Dean at The Moon, playing together on stage for the first time in their lives. They present a Smothers Brothers vibe, with the garrulous Hugh as Tom and Cody as Dick, the more reserved conversational sniper. They expressed their gratitude to Dean for making it possible for them to play in Nashville at the storied Bluebird Café, where their performance of Bourbon Vacation — "I pour them tall / On my bourbon vacation / I don't think of you at all" — went over big.
"Other than the Bluebird, of all the places I would want to play, growing up where I did, it was The Moon," Vanlandingham said. "I don't really care about playing Madison Square Garden or Red Rocks. Playing with Billy was one of the great nights of my life."
At The Moon, Gadsden County Line, performed before an audience made up substantially of Gadsden residents, couldn't miss …
"Take me back in time/
When I laid you down/
Under that longleaf pine/
On the banks of the Telogia/
Where I used to hold ya/
That favorite spot of mine/
Just inside that Gadsden County line."
For all his wanderings, Dean knows it's not a bad place to be.