Big Band Bravado
The Thursday Night Music Club thrives on passion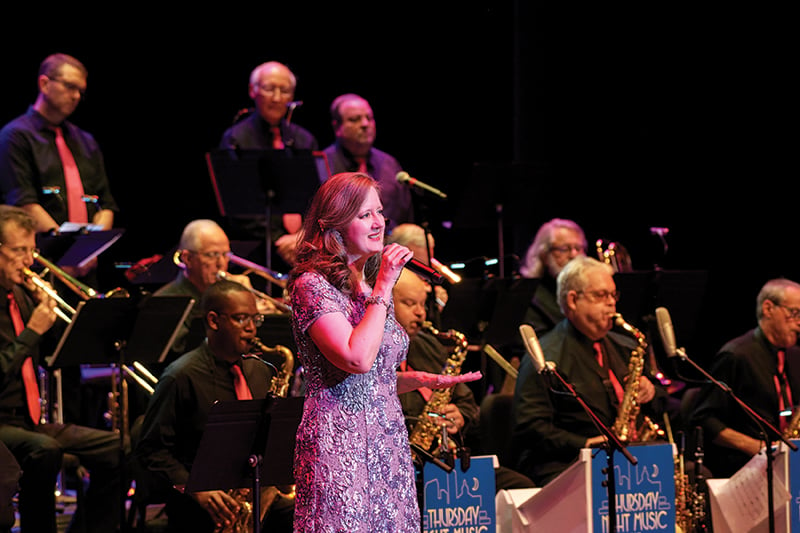 Vocalist Lisa Foltz stared at the Ruby Diamond Concert Hall's red velvet curtain with trepidation. As musicians shuffled into position, readied their instruments and thumbed through charts, Foltz wondered what lay on the other side.
With mere minutes until showtime, she stole a peek.
"It was thrilling," Foltz said in recalling the Thursday Night Music Club's 10th annual Jazz Showcase in 2017. "The Ruby Diamond was nearly full."
Trombonist Greg Akridge said he approached that evening with confidence. The Thursday Night Music Club had sold out FSU's Opperman Music Hall annually for some five or six years, and he saw no reason the band couldn't bridge the gap between Opperman's 475 seats and Ruby Diamond's nearly 1,200.
The Thursday Night Music Club's more than 20 active performers are a mix of professional and amateur musicians, all with a penchant for exploring the limits of their musical prowess. Nearly every Thursday night for the last 17 years, the club has taken on unruly jazz melodies, romantic ballads, raucous samba, lighthearted swing music, adaptations of modern R&B, rock 'n' roll and original compositions.
The club holds performances large and small throughout the year, from dances at the Wakulla County Public Library to sets at the Tallahassee Jazz & Blues Festival. Impressing audiences is exciting, but the band judges itself, too, on how well it does justice to the music it plays.
"There can be a thrill to it," Akridge said. "If everything is right, the band is clicking, everybody is doing great solos, the band is on time, you get chill bumps."
The Thursday Night Music Club is a big band that started small. For many of the band's original members, their involvement started with a call from the band's current chair, Trisha Moynihan.
"I am an amateur musician," said trumpet player Joe McGlothlin. "I played through high school and in college. Then I put the horn away to make a living for a long time. It stayed in the closet until I realized I badly needed an outlet away from work. I started joining a few community groups and was very fortunate to become acquainted with Trisha Moynihan who had the idea of forming a group to read swing music."
When Akridge got the call, he didn't hesitate to join the group. He is a longstanding member of several bands in town. In college, he was part of the FSU Marching Chiefs' first international excursions, performing in Syria and Jordan in 1974.
Like Akridge and McGlothlin, Foltz has music in her blood, but she did not join the band until auditions were held after the 2014 Jazz Showcase.
Today, she is the group's assistant director and its vocalist. She otherwise employs her musical talents as the director of bands at Tallahassee Community College, the organist at First Baptist Church of Tallahassee, a voice instructor at the Baptist College of Florida and an elementary strings teacher.
McGlothlin and Akridge remember jamming at Moynihan's townhouse before the band moved to its current practice space. Back then, it was just a group of disparate musicians combining to learn whatever music they could get their hands on.
Within a year and a half, Dr. Patrick Dunnigan, FSU's director of bands, joined the Thursday Night Music Club as musical director and guitarist, and the band booked its first show. Dunnigan pushed the band to attempt challenging music.
"He made the conscious decision to, in his words, stretch the band, by broadening the repertoire," McGlothlin said. "After a period of time, we are able to select from several genres — everything from bossa nova to Stevie Wonder to Billy Joel. You name it."
Thursday Night Music Club musicians are rarely paid. Payment for gigs is funneled back into the band to pay for music and supplies. But the band runs well on the strength of its camaraderie. Even in the midst of the COVID-19 pandemic, most members continued to perform while wearing masks and practicing social distancing.
"It's iron sharpening iron when everybody is really working at their best and highest level," Foltz said. "We aren't always perfect in rehearsal. That's why we rehearse! You have to work at it. We sometimes laugh at each other's mistakes, but we can do that because we are a family. We all have an appreciation for others' talents, and it's a lot of fun. That's the bottom line."
---
On With The Show
The Thursday Night Music Club will hold its 15th annual Jazz Showcase at the Ruby Diamond Concert Hall on Aug. 10, 2023.
---
---