Bibliophiles Share Reading Experiences in Local Book Clubs
On the Same Page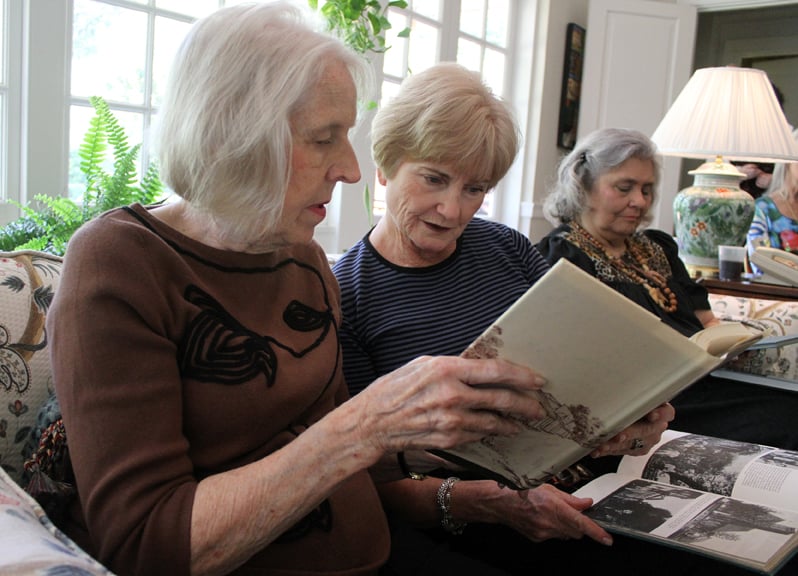 For some readers, there's nothing more enjoyable than curling up alone with a good book. But once they're done, they yearn to find people to share insights about what they've just read.
And that's where the book club comes in.
The clubs are a great way to make friends, engage in lively discussions and read more books. And though there is no central registry, Tallahassee is home to dozens.
There are clubs for young and old, men and women, and genres galore. Some clubs read a broad spectrum of books and others focus on definite genres, such as mysteries, fiction or nonfiction, detective, paranormal, religion — you name it. Public libraries, churches, country clubs, senior citizen groups, educational entities, neighborhoods, subdivisions, special interest organizations and many private groups host reading clubs.
While the selected book is at the heart of book club discussions, the libations, snacks, hors d'oeuvres, sweet treats and assorted finger food delights are often just as memorable.
The phenomenon has become a near ubiquitous part of life today — and it's clearly about more than reading.
Tamara Osterchuk is a 20-something who says she searched unsuccessfully for a book club in Tallahassee before finally deciding to just start one herself. Her "Women of Substance" book club has weekly meetings and is open to all women. "There are no restrictions on the genres or types of books we read and suggestions are always welcome," she says. "I say, 'Let's get reading, ladies!'"
It is apropos that she addresses her statements to ladies, as it seems the vast majority of book clubs are composed of women. There are a few couples' books clubs and some mixed men/women book clubs in town, but not many.
"There are just as many voracious men readers as women," says librarian Kaleigh Clemons of the Leon County public library. "However, women like to get together to give their opinions, and discuss their feelings and ideas with each other. Men tend to read a book, put it down and be done with it."
According to the New York Times Book Review, some of the biggest sellers of recent years — "Eat, Pray, Love" by Elizabeth Gilbert, "The Kite Runner" by Khaled Hosseini and "The Help" by Kathryn Stockett
— were propelled by word of mouth. Book clubs, blogs and customer reviews on Amazon.com all help foment a feeling that if you wanted to be part of the "it" culture, you should be reading these books.
Here are some clubs representative of those in this vicinity. Some are open to the public. Some are privately organized, and do not accept new members. One has been operating for just over a year, while another is approaching its 50th anniversary.
Governor's Mansion Book Club
In 2006, the Florida Governor's Mansion Foundation used private funds to construct a room specifically designed as a library in tribute to Gov. and Mrs. Jeb Bush's commitment to literacy. This library primarily contains books about various topics related to Florida and/or written by Florida authors.
Under the guidance of Mansion Curator Carol Beck, docents who volunteer to conduct tours through the public rooms of the Mansion read one of the Mansion library books, then get together to hear the author or an expert on the subject speak about the book, followed by discussion.
In celebration of the Mansion's 50th anniversary, a commemorative book about the Mansion is displayed in the library, "First Families in Residence: Life at the Florida Governor's Mansion" by Coral Gables author and historian Ellen J. Uguccioni.
No Name, No Stress Book Club
This group is so casual and laid back it doesn't even have a name! Its 20 or so members meet monthly at Uptown Midtown Café for lunch to discuss books agreed upon by the club members.
About 20 years ago, four women got together to form the club, including Linda Jessen, who is still a member.
Kitty Hoffman, FSU professor emeriti of chemistry whose extraordinary relationship at FSU stretches seven decades from the Great Depression to the 21st century, is a member. Cora Ann Chapman has deep ties within the membership as do her longtime friends Nancy Sheridan and Bridget Chandler.
Another member, Erica Clark, is a local historian who has been involved with Goodwood in various roles, and who wrote "The Croom Family and Goodwood Plantation; Land, Litigation and Southern Lives" with historian William W. Rogers in 1999.
Sheridan notes that the club has a couple of nice traditions: Mary Louise Bachman invites members to her home at Christmas time for homemade soup and Jimmy and Betty Lou Joanos invite them to their beach cottage in July.
Golden Eagle Book Club
The Ladies Book Club of Golden Eagle (members must belong to the Golden Eagle Ladies Club) meets at noon on the fourth Thursday of the month for lunch in the Country Club Grille. They choose books to read every few months, making selections from recommendations that come from the membership and have been voted on by the entire group.
The club favors local authors and invites them to speak at the luncheon meetings. Tallahassee author Mark Mustian was a recent guest speaker to present his book, "The Gendarme."
SouthWood Book Club
The SouthWood Book Club was organized approximately five years ago to encourage residents to get to know each other. About 10 to 15 women get together on the third Thursday of each month, and the group welcomes new members.
"I enjoy being in a book club because it allows me to read books that I might not select on my own," says the group's facilitator, Patsy Robshaw. She says the club selects books to read in the spring prior to starting each new book club year. At the same time, members sign up to host meetings, providing their home, wine and tea.
She said her favorite book this year was "A Land Remembered" by Patrick D. Smith. "Rather than e-books, I prefer a book in hand to read and I get all my books from the library, "she said.
3R's Book Club
3 R's stands for "Relaxed Retired Readers," a crossection of 13 educators — retired principals, former school district employees and teachers from elementary, middle and high schools in Leon County — that has been meeting in each others' homes for four years.
Marsha Walper, who retired from Godby High School, says this group likes to read serious books, just finishing "Team of Rivals" by Doris Kearns Goodwin. They are not bound by any restrictions and read fiction, nonfiction and memoirs. Each year, they choose a classic book to read. This year's selection was William Faulkner's "The Sound and the Fury."
Our Book Club
Dr. Frances Prevatt, professor of educational psychology at FSU, established this club in just over a year ago and a recent discussion was about "The Island" by Victoria Hislop, a story about the loves, lives and losses of four generations of Greeks from the fishing village of Plaka.
The club selects two books in advance. They purchase books or borrow them from the library, with several choosing to download from Kindle or Nook. She says they get suggestions from NPR, the Internet, friends, the New York Times book list and each other. Her favorites the group has read are "Hotel on the Corner of Bitter and Sweet" by Jamie Ford, "The Immortal Life of Henrietta Lacks" by Rebecca Skloot and "Cleopatra: A Life" by Stacy Schiff.
The Last Word Book Club
Forty nine years ago, a group of friends that included current member Walli Beall joined with Betty Lou Joanos and several other friends to form a book club with the goal of reading and discussing interesting, thought-provoking books. The new club was quickly expanded by still-current members Nella Schomberger, Jackie Harvey and Noanne Gwynne. Many of the members have been participating in the club for decades, including Pep Culpepper, who has been a member since 1970. Almena Pettit is the current president.
The program format is traditional, encompassing socializing, the book review of the month and discussion. "The discussions are lively," according to Beall, "because our members read the books, then want to express diverse viewpoints. If a book isn't liked, it's voiced by the membership!" Most members usually read more than the designated book, and may have two or three books going at a time. A classic book is always included, along with current publications.
"Many of us have been friends for many years, since we were young mothers," says Culpepper, "and we have seen many changes in our lives over time: deaths, divorces, family catastrophes. It has been a bonding experience that has brought us closely together over the years."

First Christian Church Women's Book Club
Facilitator Sherry Hart leads this group of churchwomen and their friends, with members from ages 19 to 85. The club meets on the third Thursday each month at 6:30 p.m. in members' homes for a light supper, then the book club meeting.
Books for the programs are selected three months in advance. Most have a religious tone, such as "In the Company of Others" by Jan Karon, featuring Father Timothy Kavanagh, the moral center of the beloved Mitford series.
However, the group also reads books making statements with moral overtones, such as "The Help" and "A Thousand Splendid Suns" by Khaled Hossemi ("This last one made us happy we were married to our American husbands," said Hart). Most of their selections are fiction, but the group did read Denver Moore's biography, "Same Kind of Different as Me."
Djhuty Book Review
Founded in 1997, Djhuty (taken from the name of the Ethiopian god of knowledge and learning) is a group of African American women readers. The group meets monthly "to discuss selected books and celebrate sisterhood." Also, as an outreach program, the club has started a Djhuty Youth Reading Circle to instill a love for reading in younger children.
Leroy Collins Leon County Public Library Book Clubs
The LeRoy Collins Leon County Public Library System sponsors a variety of book discussion groups which meet monthly, according to Library Director Cay Hohmeister. There are currently seven active groups, with more to be established when the Woodville and Eastside branches open. Each book discussion group is open to the general public.
There are no formal membership requirements and readers are welcome to drop in and participate as regularly — or occasionally — as they like. Book selections for the month are listed in calendar entries on the Library's website, along with the meeting times at each branch at leoncountyfl.gov/LIBRARY/calendars/event.asp.
Collins Main Library club reads both fiction and non-fiction, meeting the first Monday of the month at 1:30 p.m.
Dr. B.L. Perry, Jr. Branch Library is a paranormal-oriented club, meeting the second Tuesday of the month at 6:30 p.m. The club has been meeting for less than a year, sparked by current interest from young people in books such as Stephenie Meyer's vampire "Twilight" series or Sherrilyn Kenyon's "Dark Hunter." Members are interested in science fiction, fantasy, supernatural, psychic, romance and other genres out of the norm.
Ft. Braden Branch Library group meets the last Thursday of the month at 6:30 p.m. They are currently reading "The Sweetness at the Bottom of the Pie" by Alan Bradley.
Lake Jackson Branch Library hosts two clubs. The Popular Author Book Club meets the first Tuesday of the month at 6:30 p.m. The Adult Book Club meets the third Tuesday of the month at 6:30 p.m.
The Popular Author Club is currently reading the non-fiction humor book, "The Year of Living Biblically: One Man's Humble Quest to Follow the Bible as Literally as Possible" by A.J. Jacobs.
The Adult Club reads a variety of genres, and is currently perusing "The Girl with the Dragon Tattoo" by Stieg Larrson.
Northeast Branch Library has two clubs, the Fiction/Nonfiction Book Club and the Mystery Book Club.
The Fiction/Non-Fiction Book Club meets the first Tuesday of the month at 6:30 p.m. About a dozen members, both men and women, have been meeting for 10 years. They do not have a review as such, just discussion. "We don't always agree, but diverse viewpoints make for lively and interesting meetings," says discussion leader Pamela Lovell.
The Mystery Book Club meets the third Tuesday of the month at 6:30 p.m. The club generally selects Florida authors. Interestingly, one of the most active members is Flynn Marsh Alam, a Tallahassee author who is herself a mystery writer.