Beyond the Big Dinner
Tallahassee — and some simple, can't-miss recipes — are the stars of a new lifestyle/entertaining book. Friends Laura Johnson and Susie Murray encourage us to find joy not just during the holidays, but all the other days of the year too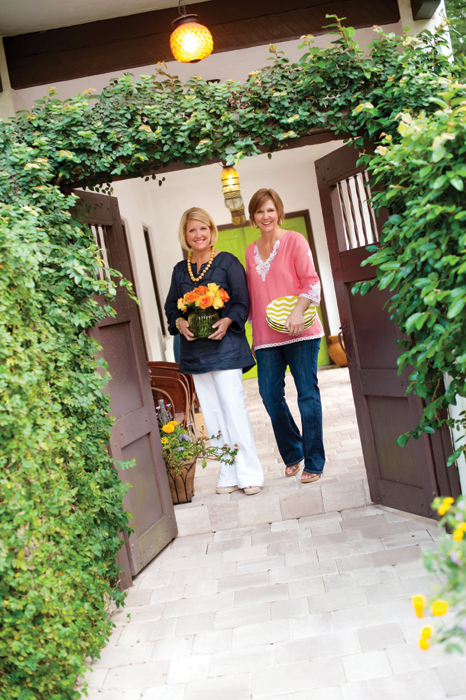 When we think "lifestyle" throughout the holidays, oh-so-perfect menus and elaborate settings a la Martha Stewart and Southern Living are the visions that dance in our heads.
Local authors Laura Johnson and Susan "Susie" Murray advise us to forget about seeking perfection and ramping up for the big show on Thanksgiving or Christmas day. When it comes to the lifestyle espoused in their newly released "The Happy Everything Cookbook," the pair encourages us keep it simple, get friends and family to pitch in, and focus on the fun of holidays — and every other day of the year.
"Like many others, young married life and early parenthood found both Susie and I making the mistake of working entirely too hard to impress. We were chronic overachievers and the desire to have everything 'done right' was paralyzing at times," Laura wrote in the book's foreword. "When you look back on your life one day, all that matters is that you enjoyed every day, whether your home was perfect, or not!"
Laura is the founder of the locally based giftware company, Coton Colors, and the book's name is derived from her best-selling product and favorite creation, the Happy Everything platter. This whacking big (16-inch diameter) plate is covered in cheery bright polka dots, and you can buy 50-plus attachments — including birthday cakes and party hats, Santas and snowmen, footballs and tennis racquets, pumpkins and Easter bunnies, and even a write-it-yourself chalkboard — that can be changed out depending on the occasion or the season.
Laura and Susie have known each other since the 1980s, when both studied at Florida State University and were Pi Beta Phi sorority sisters. They married best friends, settled in Tallahassee, raised children together and socialized with each other — a lot. When her company decided to branch out into publishing about the Coton Colors contemporary casual lifestyle, Laura called on her long-time friend to provide recipes and entertaining advice.
"If you get an invitation to Susie's house for dinner, you cancel any other plans you had," says Laura. "You don't go on your trip you planned for years; you go to her house for dinner. She and her husband, Ed, put on a great party."
Susie says she loves developing menus and shopping, and usually will whip up a dessert when she's having people over for a meal. But after she washes up the produce and does some prep work, her guests are assigned cooking tasks and make the meal.
"It works for me," Susie says. "People love it and it takes the pressure off … because everybody's involved. If you do simple enough recipes that have fresh produce, it's going to be good."
And if you are cooking for family or friends, don't be afraid of the occasional culinary failure. "People know that you're making an effort to cook for them; in our society it's love," Susie says.
"It's showing somebody that you love 'em when you cook for them."
The book's chapters are devoted to special occasion get-togethers, although none are traditional holiday meals. Most people have those menus covered with dishes that are family favorites, says Laura. Their "Tidings from a Christmas Kitchen," chapter revolves around gathering a group together — in this case, mothers and daughters — to make Buttery Poundcake with Nutella Swirl and Sugared Ginger Cookies to give as holiday gifts. It's a two-fer, says Laura. The girls get a chance to socialize and another task is checked off the to-do list.
Most of us will decorate a Christmas tree, says Susie, so "make kind of an event out of it … . Even if you order a pizza, (say that) you're going to do (it on a particular) night. Then, you get it done. It's not like it sits in the stand for days and on Christmas Eve you're plopping some ornaments on the tree."
They've created a New Year's Eve party with a Chinese theme, with menu items that include Steamed Pork Dumplings and Asian Sticky Ribs along with super-sized Grand Fortune Cookies. The party plan also suggests having guests write their wishes for the New Year on paper Kongming Lanterns, which are then lit and sent floating away in the sky.
Don't feel like you have to copy an event or an entire menu from the book, says Susie. "You're going to find … there are go-to recipes that you're going to use over and over and over," she says. "It may be the potato soup, it may be the tortilla, it may be the pecans. There are lots of good recipes. I don't expect everybody to make the whole menu." Although, she suggests, if a group of friends were to divvy up the recipes from a chapter and make one or two each — you'd have a party!
While it is does have plenty of recipes, the other star of "The Happy Everything Cookbook" is Tallahassee itself.
"What people have told us and what I love about a cookbook is to get a sense of the person and the place that they are in," says Laura. "The cookbooks that appeal to me most are the ones where they tell the story of their lives."
The duo has spent their adult life here, and much of the book is dedicated to stories and memories based in and around the capital city. One chapter revolves around an Alligator Point Beach Weekend, and photos in the Tailgating Traditions section feature fans decked out in FSU garnet and gold. Laura and Susie tell of some of their favorite local haunts, including Tomatoland, Lucy & Leo's Cupcakery, Sweet Grass Dairy, Bradley's Country Store and The Black Fig.
Each recipe is pictured and the chapters are loaded with photographs of festivities in progress, so don't be surprised to find a few friends and neighbors immortalized in the book.
"This is going to ground us to my hometown, what my lifestyle is and what we enjoy doing and trying to story tell that, so they get a sense of who we are," Laura says.
Want to live the Happy Everything life?
"The Happy Everything Cookbook" retails for $34.95 and can be purchased at the Coton Colors retail store, coton-colors.com, amazon.com and local bookstores and gift shops.
Nov. 3-5, the store is hosting a "Get Happy Holiday Party" during business hours with tastes from the cookbook, special gifts with purchase and value-added incentives (an attachment with platter purchase).
Meet Laura JohnsonShe's Turned Touches of Whimsy Into a Multi-Million-Dollar Business
Click to enlarge
So, where do you begin the story of Laura Johnson, the "clever designer" half of the pair that authored "The Happy Everything Cookbook"?
Perhaps with her mother Dee Black, a creative woman who recognized her younger daughter needed a niche and steered Laura toward artistic endeavors. Maybe when a teenaged Laura sold her homemade T-shirts "up and down Kendall Drive" in her Miami hometown. How about when she graduated with a Studio Art degree from Florida State University? Or the times she and friend Katrice Howell strapped babies to their backs and spatter painted and tie-dyed cute mommy/daughter clothes in the backyard.
All are good starting points, but let's begin here and have her tell the story: After her third daughter was born in 1995, Laura continued a tradition and pressed little Sarah Parker's handprints into some clay. "I drove over to the old timey pottery studio on Tharpe Street and had her fire them for me," Laura recalls. "While I was in there, I saw these plates — greenware — and I thought, 'I can make plates.' I bought six and I took them home, sat in my dining room and painted my three daughters' names. My sister has three girls and I painted their names on (the other three). And I took them back, fired 'em and gave (the plates) to them for Christmas."
A girlfriend who saw her holiday table set with the cheerful, colorful plates with names hand-painted in a funky font told Laura she wanted to order three. "I said, 'I'm not even making them yet.' She said, 'Just make them, I'll buy them.'"
At the time, Laura was already selling dyed and painted clothing — a line she called Coton Colors — at a local store, so she just added the plates to her offerings. Painting pottery in her garage, Laura also sold pieces in other stores in the region. Within a year, Laura dropped the clothing line, opened a studio, recruited her family — mother, father and sister — and, with their help, went to market in Atlanta and sold 'em like crazy.
And so, the polka dot pottery juggernaut that is Coton Colors began.
From those half dozen personalized plates, Laura's Tallahassee-based business has grown to a line that includes about 1,100 different items sold in 3,000 outlets. Pottery pieces — platters, plates, bowls, plaques — and painted glass ornaments are the heart of the line, but she has branched out and put her whimsical touch on wood, melamine and resin figurines too. Coton Colors is licensed to create products with the insignias of 43 different colleges and has just launched a line of sorority items.
Coton Colors sells products from its own website as well as two retail storefronts. One is run by Laura's sister in Tampa, where most of the company's ornaments are shipped from. The other, on Market Street here in Tallahassee, is run by her mother. Even friends who have known her for years don't realize that the bulk of the company's operations are based in a pair of warehouses off Hartsfield Road. "They'll walk in the store and ask, 'Is Laura in the back?'," she says with a smile.
From 2008 to 2010, the company's sales doubled to $6.5 million. The plan, she says, is to top $10 million in two years. "When CPAs look at that, they freak out; they're amazed," by the company's success in the midst of recession, says Laura.
What drove that explosive growth, she says, was a decision made in the mid-2000s to move the production operation to China. In the beginning, the pottery making and painting was done in Tallahassee — by a slew of high school and college girls over the years, some of whom continue to work in Coton Colors headquarters today.
"The production (process) was aging, it just wasn't my love," she says. "I picked the hardest product in the world to make well. Plus, to get the price right and to get the quality good; it's very difficult." Even adding the cost of shipping products halfway around the world, the price of a similar product created here would be double that of a Chinese-made one.
Her Chinese manufacturers call her creations "easy, not-so easy" to make. "It's very unforgiving because it is very solidly painted, it's very handpainted. Although it's very simple … if you have any problem with the background, it shows, and if there's anything off it's very difficult to cover it once it goes through the firing."
To assure herself of the working conditions and the quality of the Coton Colors products, Laura, her sister and staffers travel to China twice a year and visit about a dozen factories, some in far-flung locales.
Before her first trip, "I expected it to be machines producing things. But take a picture of their factory and take a picture of our factory and it's very similar; people working around the table painting by hand, kilns — much larger than we have — more people, but it's all based on (being) handmade. They talk in Chinese and I talk in English and we commiserate about the same problems: easy, not-so-easy."
Coton Colors has its imitators — "Which is the ultimate compliment, right?," she says with a touch of chagrin. She admits copycats are "a little frustrating," but believes her work stands out because of the continuously changing designs and the quality of the products. "We've never succumbed to the cheap," she says. "When we source, we only source with the finest and they are trained well by us and they do a fine job for us. We could do this a whole lot cheaper, but we can't bring ourselves to do it. We never compromise."
Coton Colors products are found mostly in stores throughout the Southeast (although the company's No. 1 wholesaler is in Ohio). "We are growing organically. What we have found is that … if we concentrate somewhere, we are going to sell it," she says. "We do have our eyes on expansion," into new markets, as well as creating a Coton Colors lifestyle, with the new cookbook — three more are planned — an interactive website and additional products. In January, the company will be launching a new line of kitchenware, including dinner plates, mixing bowls, measuring spoons and utensils.
"This brand can expand to a little bit more contemporary flair, a little bit more muted flair and you'll see as we mature that … we're just holding back," she says.
In many ways, "The Happy Everything Cookbook" is an introduction to Laura's philosophies and her family. In it, we learn her husband, Milton, is a "huge lover of the holidays" who's "picky, really picky" about getting the perfect Christmas tree. And that her daughters, Kyle, Sara Kate and Mary Parker, spent many of their pre-holidays working at the studio painting and packing — and they just might end up in the family business.
"This cookbook is really wrapping the whole company up — this is who we are, this is how we create stuff. We like to entertain, we love to have friends over, we love to do décor items, we love the seasonal tie in, we love the holidays," Laura says. — By Rosanne Dunkelberger
Eat, Drink and Be Happy!
Enjoy Black Friday, gift-wrapping, tree trimming, returning college students, out-of-town guests arriving, college football playoff games … just about any day during the holiday season can be a cause for celebration! Here are just a few of the recipes you'll find in Laura Johnson and Susie Murray's "The Happy Everything Cookbook." With 250 pages of recipes, along with entertaining tips, advice and Tallahassee tales, the cookbook — which retails for $34.95 — is the perfect addition to the kitchen shelf or a gift given with love.
Grilled Sausage with Arugula
Serves 8
8 fresh sausage links
1 bunch fresh arugula, washed and stems removed
1 (8 ounce) package feta or goat cheese crumbles
Splash of balsamic vinegar

Prepare and light the grill.
Poke a few holes in each sausage so that they won't burst when grilling. Grill sausages on medium-high heat for 12–15 minutes or until thoroughly cooked.
Remove cooked sausages from the grill and allow them to cool a minute or two before cutting them into bite-size pieces. Place sausage pieces on platter or in bowl.
Sprinkle with arugula, feta and a splash of balsamic vinegar. Use fingers or toothpicks to eat!
With just four ingredients, this is an easy, flavorful appetizer. Susie and Laura recommend Bradley's fresh sausage, to give your guests a true taste of Tallahassee.
Click to enlarge
Buttery Pound Cake with Nutella Swirl
Serves 8
Non-stick baking spray with flour
4 eggs, room temperature
2 tsp pure vanilla extract
1 1/2 cups all-purpose flour
3/4 tsp baking powder
1/4 teaspoon salt
12 tbsp (1 1/2 sticks) unsalted butter, softened
1 1/3 cups sugar
1 cup Nutella
1 tbsp unsweetened natural cocoa

Preheat oven to 325 degrees and adjust oven rack to the middle position. Prepare loaf pan with non-stick baking spray with flour.
In a small bowl, whisk eggs with vanilla and set aside. Sift flour, baking powder and salt into medium bowl and set aside. Place butter and sugar in a large mixing bowl. Using an electric mixer, beat softened butter and sugar until blended. Reduce mixer speed to low and gradually add whisked eggs. Increase mixer speed and beat until creamy. Add flour mixture a little at a time and mix until just combined.
Pour 1/2 cup of cake batter into a medium bowl, add Nutella and cocoa, and stir until combined. Chocolate will look like thick brownie batter. Pour half of the cake batter into the prepared loaf pan. Crumble 1/3 the chocolate mixture on top of the cake batter in loaf pan.
Repeat with the 1/3 of the batter and the remaining chocolate. Swirl batter and chocolate with a wooden skewer, but do not over mix. Top with remaining batter.
Place in oven, and bake for 1 hour 15 minutes or until toothpick inserted in center of cake comes out clean.
Turn oven off, and allow cake to sit in oven for an additional 5 minutes. Remove from oven and place on rack to cool for at least 30 minutes. Remove cake from pan and allow it to cool right-side-up on rack for 1½ hours before serving.
Swirls of the creamy hazelnut spread Nutella make this pound cake deliciously unique. Make two — it's a great holiday gift.
Chipotle Pecans
Serves 12, Yields 8 cups
2 tbsp olive oil
1/3 cup 100 percent pure maple syrup
1/4 cup light brown sugar
1/4 cup fresh-squeezed orange juice (approx. 1/2 orange)
2 1/2 tsp chipotle powder
4-5 tbsp fresh rosemary leaves, minced & divided
1 tbsp kosher salt, divided
2 pounds shelled pecans
Vegetable oil
In a large bowl, mix olive oil, syrup, sugar, juice, chipotle powder, 2 tablespoons rosemary and 2 teaspoons salt. Add pecans and toss. Set aside.
Preheat oven to 350 degrees and adjust oven rack to middle position. Grease a large rimmed baking sheet with vegetable oil.
Spread the pecans on baking sheet and toast for 30 minutes, stirring twice. Bake 5 minutes longer or until they are nicely toasted and fragrant. Remove from oven and sprinkle with remaining rosemary and salt.
Allow to cool and toss occasionally to prevent pecans from sticking together. Store in airtight container.
The combination of sweet and savory make these nuts the perfect snack, says Susie.
At Coton Color's fall company gathering at a South Georgia farmstead, Susie's Vegetarian Chili won the most votes in a head-to-head contest with a meaty version made by Laura, which now goes by the name of "Second Place" Chili. The hearty stew is perfect when cooking for a crowd during cold weather. "It's a comforting meal, but it's not task heavy," says Susie.
Vegetarian Chili
Serves 12
1/2 cup olive oil
2 medium sweet onions, coarsely chopped
4 garlic cloves, minced
2 red peppers, cored and coarsely chopped
3 medium zucchini, cut into 1/2-inch chunks
2 pounds fresh plum tomatoes, seeded and coarsely chopped
2 (28 ounce) cans diced tomatoes
1 (15.5 ounce) can red kidney beans, drained and rinsed
1 (15.5 ounce) can chick peas, drained and rinsed
2 tbsp chili powder
1 tbsp dried basil
1 tbsp cumin
1 tbsp oregano
1 tsp fennel seeds
1 tsp salt
2 tsp black pepper
1 lemon, halved
1/2 cup fresh dill, chopped
1/2 cup fresh flat-leaf parsley, chopped

For garnish:
1/2 cup fresh dill, chopped
1/2 cup fresh flat-leaf parsley, chopped
2 cups sour cream
2 cups cheese, shredded
1 bunch green onions, chopped
In a large pot, heat olive oil over medium-high heat. Add onions and cook for 7-10 minutes until they are translucent. Reduce heat to medium. Add garlic, red peppers and zucchini, and sauté 7-10 minutes until vegetables are just tender. Do not overcook. Stir in tomatoes and beans.
In a small bowl, combine chili powder, basil, cumin, oregano, fennel, salt and pepper. Pour spice mixture into palm of your hand and rub hands together over pot of chili to release flavors or use a mortar and pestle to crush spices before adding them to chili.
Squeeze juice of one lemon into the pot and stir in fresh dill and parsley. Reduce heat to low and cook uncovered for 30-45 minutes only, stirring occasionally. This chili tastes best when the zucchini, tomatoes and beans are tender, but not mushy. It is important not to simmer the chili for a long period of time or overcook it.
Turn off heat to let flavors blend and then reheat when ready to serve. Season to taste with salt and more chili powder, if needed.
Offer sour cream, shredded cheese, green onions, chopped dill and parsley as garnishes.
Note: Keep the chili powder shaker close by in case someone wants extra spice. Some people like hot sauce too!
Pumpkin Seed Cornbread
Serves 12-16
Non-stick cooking spray with flour
1 cup cheddar cheese, shredded
1/2 cup buttermilk
2 (10 ounce) packages frozen cream-style corn, thawed
2 (8.5 ounce) packages corn muffin mix
1 (4.5 ounce) can chopped green chiles, drained
1 1/2 cups sweet onion (approx. 2 medium), chopped
1/2 cup sour cream
1/2 cup unsalted pumpkin seeds (pepitas)
Preheat oven to 400 degrees and adjust oven rack to middle position.
Prepare one 9 x 13-inch, or two 8 x 8-inch, baking pans using non-stick cooking spray with flour.
In a large bowl, combine cheese, buttermilk, cream-style corn, corn muffin mix, chiles, onion and sour cream. Stir until dry ingredients are moistened. Pour batter into prepared dish and sprinkle the top with pumpkin seeds. Bake for 20-30 minutes or until a toothpick inserted in the center comes out clean.
Susie made this version of cornbread for a dinner party. A friend who was there tweaked the recipe to make it even better. Susie doesn't mind, but declares "the pumpkin seeds are a must!" (You can find them at New Leaf Market.)
Potato Tortilla
Serves 12
1/2 cup olive oil, divided
2 1/2 pounds Yukon Gold or red potatoes, peeled and thinly sliced
1 1/2 cups onion (approx. 2 medium), thinly sliced
10 eggs
Kosher salt & black pepper, to taste
Extra-virgin olive oil

Place sliced potatoes in large bowl with cool water to prevent them from turning brown.
Heat 1/4 cup oil in a large cast iron skillet (10-inch or larger) or oven-safe, non-stick skillet over medium heat. Drain potatoes and place potatoes and onions in hot pan with oil. Generously season potato mixture with salt and pepper and sauté 20 minutes or more until potatoes and onions are soft and tender, but not brown.
In large bowl, whisk eggs and season them generously with salt and pepper. Pour cooked potato mixture in bowl and toss.
Adjust oven rack to the second from the top position and preheat the broiler to high.
Clean original skillet and heat 1/4 cup of olive oil over medium heat. Pour the potato and egg mixture into the hot skillet. Allow tortilla to cook for one minute before covering and adjusting the heat to low. Cook covered for 20 minutes until the tortilla is almost set. Remove from stove and place tortilla in oven and broil until golden. Remove from oven and allow tortilla to rest for at least 5 minutes. Use spatula to loosen edges and bottom. Use care when inverting tortilla on serving platter.
Susie discovered the Tortilla de Patatas on a trip to Spain. The thick egg-and-potato omelet is a crowd pleaser served hot for breakfast or at room temperature as an appetizer. Eat it straight from the skillet or turn it onto pretty plate for a beautiful presentation.