Beyond the Bare Bulb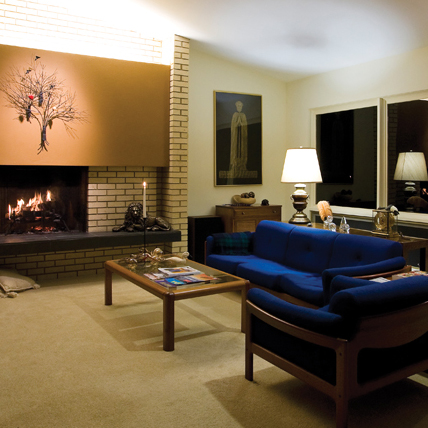 As the holiday season comes to a close, plastic Nativity scenes and strands of colorful bulbs begin migrating back into America's attics. For some, it's a time of joy – to (finally) say goodbye to the neighbors' Griswold-esque showcase of spirit. For others, the absence of glimmering icicle lights and glowing Homer Simpson inflatables leaves the neighborhood looking a little, well, dark. But, whether you're singing "Hallelujah" or battling the winter blues by leaving your yard ablaze until next year, it's the perfect time to start thinking about another breed of lights – the ones that go inside the house.
A critical component of interior design – lighting – shapes the mood, intimacy and functionality of a space. Yet "it's rare for people to give enough consideration to their lighting plan," says local expert lighting designer Jane Grosslight. "People's eyes are very adaptable and they don't realize or consider the importance of lighting unless they are inconvenienced."
Minimal lighting allowances for new construction also compromise the quality and amount of fixtures throughout a home. The single light fixture in the center of each room is an option that is neither good lighting nor practical.
"The bad habit of most homeowners is accepting an overly basic lighting plan," says interior designer Clay Sechrest.
Fortunately, there are many ways to overcome the pitfalls of these standard architectural plans, whether you're building, remodeling or just looking to brighten your space.
Light Bright
The first step to creating a well-designed lighting plan for your home is to adopt the simple design mantra "Consider the task." Envision the activities that will occur within each space, and tailor your lighting according to those needs. Usually, this requires a combination of multiple, strategically placed light sources throughout a room, including the natural sources of windows and skylights, overhead lights, lamps and accent lights. Using these different sources, known as "layering the light," allows you to transform the room according to your needs.
This is essential, as lighting not only affects our ability to engage in visually demanding tasks, such as sewing and cooking, but also dictates how we feel
in a room.
"Bright light gives us energy, while more dim light allows for internal reflection and calmness," says local feng shui specialist Brenda PanTango. "The most common mistake homeowners make in selecting their lighting options is forgetting to keep a balance of yin and yang."
In order to use this principle to your best advantage, opt for bright lighting in rooms where you will be working and collecting information and choose dimmer lights for spaces where you would like to relax. The texture of fabrics and furniture also has a role. Mirrors and reflective, shiny surfaces can help to increase the brightness of a room, whereas rougher surfaces will absorb light.
Putting light fixtures on dimmers is another simple way to create a balanced, task-appropriate lighting plan. This painless adaptation creates an array of options to suit the mood, intimacy and function of a room on any occasion. Dimmers can also be used in unexpected places with fabulous results.
"Outdoor floodlights are wonderful for home security but often create an intrusive,
unflattering glare," Sechrest says. "Putting floodlights on a dimmer allows the homeowner to occasionally lessen the intensity of the light and create a more inviting atmosphere."
Then again, having too many switches and dimmers throughout one's house can get confusing. Fortunately, home automation systems can help to simplify lighting system by unifying several switches and dimmers on a single keypad, remote controlled or hardwired. This makes it
possible to create combination light settings or "scenes" at the press of a button. Home automation also allows homeowners to know exactly which lights are on at all times, cutting down on energy costs.
"I once had a client who realized that the light in his guest room closet was left on for three months!" Grosslight chuckles.
Light Switch
As the demand for more environmentally friendly lighting surges, lighting specifiers are looking towards incandescent alternatives such as LEDs and compact fluorescents.
"In the distant future, organic LEDs will be lighted carpets, window treatments and tabletops, completely changing lighting design as we know it," Grosslight says. But while LEDs may be the lighting source of the future, for energy-efficient illumination in today's world, Grosslight gives fluorescents the green light.
"I have lived in my home for 40 years and only had to replace these fluorescent lights once!" she says, flicking a switch and illuminating the back wall of her bar area, where fluorescents glow through panes of tortoiseshell stained glass.
Other lights throughout Grosslight's home dispel the myth that fluorescents always create the sickly blue cast like hospitals and office lighting.
"As black print on white paper shows up best under cool white fluorescent lighting, it has been the top choice in offices for many years," she explains. "However, fluorescent bulbs are actually available in colors that are much warmer and more flattering, similar to incandescent or natural light."
Fluorescent bulbs use 75 percent less energy than incandescents of comparable brightness, are long lasting and don't give off significant amounts of heat, which can lower air conditioning costs. Ultimately, switching to fluorescents can lead to significant savings for homeowners and monumental savings for small businesses.
Of course, there are some drawbacks to fluorescent lighting.
"Fluorescents contain the hazardous material mercury," Sechrest says. This fact has been a major deterrent in promoting the new, energy-efficient bulbs. However, according to Grosslight, mercury-free fluorescents can be purchased online, and "the amount of mercury in an average fluorescent bulb can fit on the tip of a ballpoint pen." It doesn't generally endanger homeowners, but it does mean that tossing a burnt-out fluorescent into the wastebasket is a bad idea. For proper disposal in Tallahassee, drop off fluorescents at the Leon County Hazardous Waste Collection Center or at semi-annual "Cash for Trash" events.
Another basic way to reduce energy expenditure is to maximize your use of natural daylight.
"People use too many electric lights during the day," Grosslight says. She instead suggests pulling back window treatments and arranging furniture according to the way light enters the room from outside. Ideally, she believes electric lights shouldn't be used during the day at all.
"The notion that one should leave a light on to give the appearance of being home isn't constructive or practical," Grosslight says. "It will not prevent a burglary and only consumes unnecessary energy."
Light-Headed
In addition to the shift toward environmentally friendly bulbs, designers are noticing a trend for minimalistic, novel light fixtures.
"Tallahassee has always been a traditional community, but younger home and business owners are gravitating toward modern, clean lines or funky, unique pieces rather than ornate fixtures," says popular local interior designer Julian Mathis.
"Perhaps the single biggest trend in interior lighting is the use of dropped pendant lights," Sechrest adds. "These are very affordable and can create a subtle, contemporary look, in contrast to a more classic approach, such as using a single, grand fixture or chandelier."
People are also opting for bronze and chrome finishes after the polished brass craze of the 1980s and '90s.
"Lighting has become more affordable, which allows consumers a greater variety of options," Mathis says.