Betton Hills Is A Walk Down Canopy Lane
Residents see this neighborhood and each other as family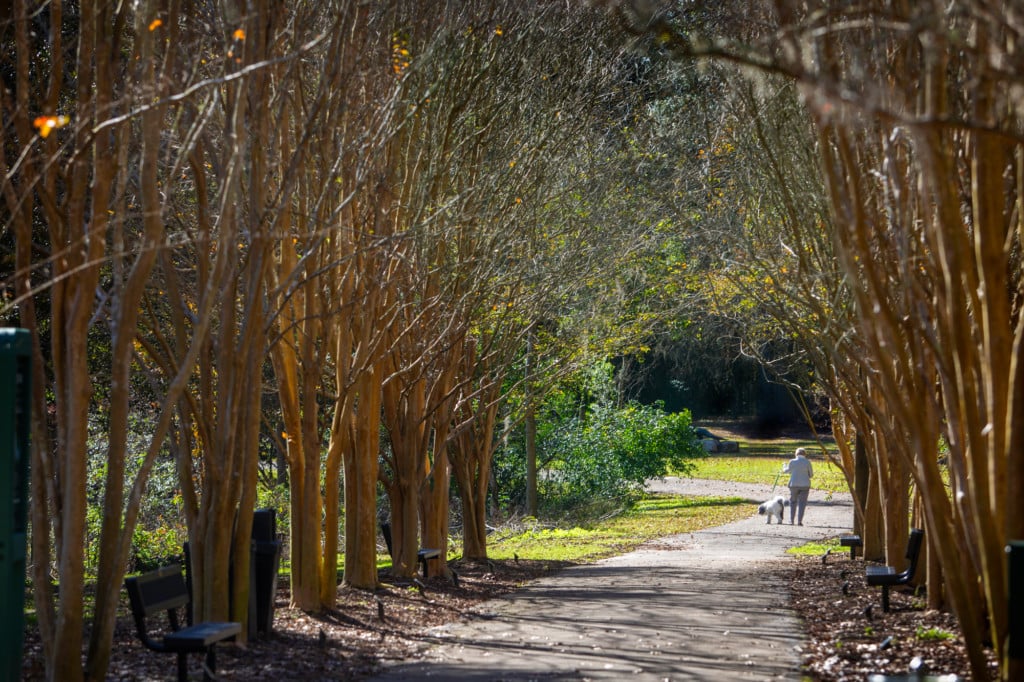 Residents describe it as a place that connects — as a place that attracts families and keeps them there forever.
They describe it, sometimes poetically, as a neighborhood that celebrates its trees, champions its children and cherishes its charm.
"Betton Hills is a walk down a quiet road," says neighborhood association president Mike Brezin, "enjoying the light and shade through the tree canopy, waving hello to neighbors who have become friends through the years, and appreciating the eclectic mix of homes, while on the way to one of the parks for a neighborhood event or to a nearby store to pick-up some things."
Betton Hills is the latest in Tallahassee Magazine's series on Capital City neighborhoods. Its roots date to the 1840s, and it continues to have family written all over it.
Take it from Mary Linville Atkins, a longtime resident who lives on Lee Avenue in the historic house once owned by Dr. Merritt Ryals Clements, whose family was one of the first to move into the neighborhood in the late 1940s.
Her sister Page Atkins Hagan lives to the north and sister Courtney Atkins to the south on Lee Avenue.
They jokingly call themselves the Ladies of Lee Avenue.
"This neighborhood is charming and unique; these are not cookie-cutter homes," Linville Atkins said. "It is quiet but not too quiet with options for dining and recreation close at hand."
This is a return to the neighborhood. As children they lived on Argonne Road.
Linville Atkins admits that with her own children growing up, at some point she may downsize — but she has no intention of ever leaving this neighborhood.
If Eloise Harbeson is an example, you don't ever have to leave. Now age 94, she has lived in the same house for most of her life.
"I love living side by side with longtime residents and newly married couples with young families," she said.
"It's wonderful hearing the neighborhood children playing and squealing with laughter all around me."
The Betton Hills neighborhood was founded on family.
Like much of Leon County and Tallahassee, Betton Hills started as part of large tracts of plantation land.
In the 1840s Turbett Betton, a Tallahassee merchant,
purchased 1,200 acres between Thomasville Road and Centerville Road, according to accounts. Some 940 of those acres make up today's Betton Hills neighborhood.
It took off as a neighborhood almost 100 years later when Dr. Pat Winthrop and her husband, Guy Winthrop, walked the area mapping, sketching and dividing up parcels of the land.
According to a Florida State University research report, those first lots sold for $300 with $30 down and a monthly payment of $10.
Streets including Marston Road, Armistead Road and Winthrop Road took their names from family members. Spence Avenue, Dillard Street and Cline Street were named after fellow Army officers of Guy Winthrop in World War I, while Trescott Drive was named in honor of his best friend.
Oakdale Street preserved the name of one of the original plantations. Through the years, the number of houses has grown to almost 800 homes, yet the neighborhood has maintained its familial tone.
Sidewalks connect many of the streets, which bring out exercise enthusiasts and dog walkers.
It seems as though everyone knows a neighbor's dog.
The Atkins sisters immediately will point out pooches "Jewels George" and "Rascal," just as birder and outdoor enthusiasts Jay and Jennifer LaVia will recognize "Sheba."
The LaVias bought their home in 1998. Though Jennifer grew up in Tallahassee, she looked long and hard before finding what she wanted.
"I wanted a neighborhood with established trees and a mature landscape," she said. "I found it here with camellias, oak trees and azaleas, which are just so beautiful in bloom."
For Jay, the location close to his law practice was ideal. Just as important was the ability to walk to Winthrop Park with his son, J.T., when he played baseball in the neighborhood league or enjoyed the "big swing" in Chittenden Park.
"This neighborhood is unique because of all the greenery," he said. "The trees are everywhere, but you are still so close to everything."
Homeowners here embrace their canopy roads and mature trees, as the neighborhood association suggests on its website.
Homeowners are encouraged to plant native species.
Ten years ago, the neighborhood established a community garden, and residents immediately took up spots to plant everything from tomatoes to winter kale.
One of the early organizers, Regine Maligne, a native of a small town in southwest France near Lourdes who moved to Tallahassee more than 14 years ago, found a climate that allows year-round gardens and a neighborhood accepting of her love of planting vegetables rather than traditional flowers and bushes in her front yard.
Betton Hills breaks with another American tradition: the mailbox. Many homes feature front-door mail slots rather than street-side boxes.
And everybody knew Tim Kelly, the neighborhood mailman for more than three decades until he retired a few years ago.
"When we first moved here, that first day Tim came up to the door and introduced himself and told us about the neighborhood." Jennifer LaVia said.
"He knew everyone and generations of their families. What a wonderful welcome to the neighborhood."