Best of Tallahassee Rocks the Champions Club
'Tallahassee Magazine' throws its annual party to honor the Capital City's top businesses and service providers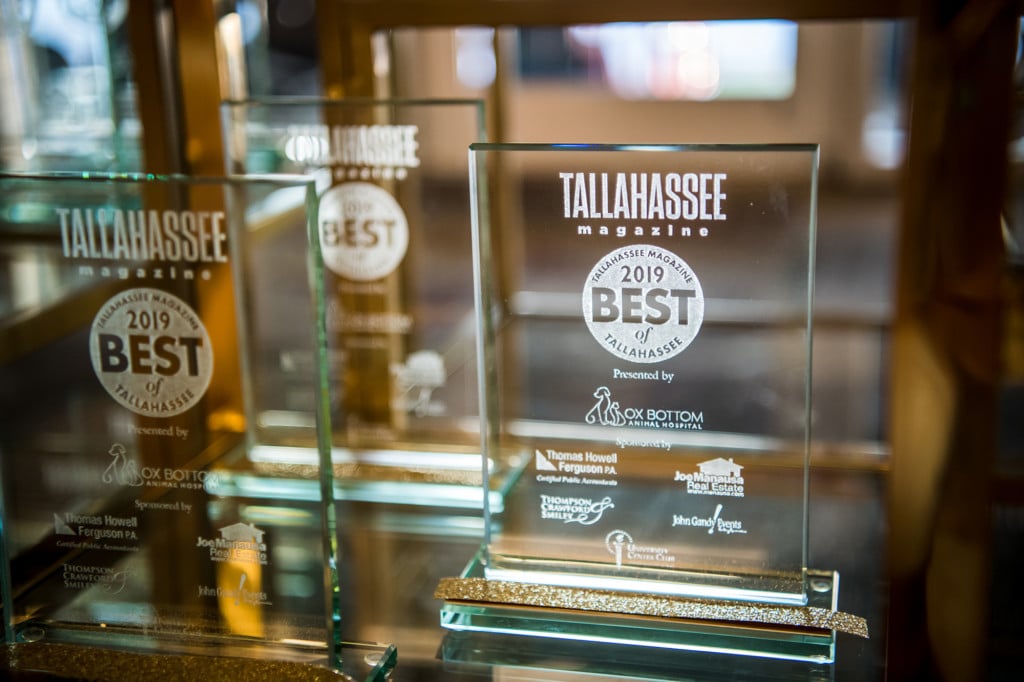 A Best of Tallahassee timeline:
5:56 p.m: Mackenzie "Mac" Little, current sales and events manager for Rowland Publishing and future White House chief of staff, stands near the ticket table as though she's in charge, because she's in charge. An hour and a half earlier, she'd walked the Tallahassee Magazine staff through the venue to make sure everybody understood their duties. Now the rush was about to begin. "If they have a ticket, just throw it in the box," Mac tells her colleagues. "If they don't have a ticket and it's not on their phone …" Somebody who needs guidance interrupts Mac mid-sentence. The life of Mac.
5:59 p.m: About a half hour before the event officially begins, members of the band Top Shelf get their act together on stage. They're kind of messing around, you think. They'll start playing music in a half hour, you think.
6 p.m: "I got my first real six string," belts out lead singer Jason Kellogg, "bought it at the five and dime …" They weren't messing around.
6:10 p.m: You walk around the vast Dunlap Champions Club inside Doak Campbell Stadium. You couldn't possibly already accept a third Champions Club appetizer from this server walking toward you, you think. John Gandy Events scored another venue-design touchdown, you think. Just for the attention, you consider walking outside, going down the steps and somersaulting in the end zone, as Warrick Dunn once did. But you could really hurt yourself. Worse: Mac might kill you.
6:20 p.m: Live in Tallahassee, which joins Jason Taylor/iHeart Radio as media sponsors, puts a microphone to your face and asks you some questions, with gold glitter in the background. You're a journalist, so now you know what it feels like for somebody to walk up to you and start asking questions, with or without gold glitter in the background.
6:25 p.m: You remember that Mac told you a half-dozen times to thank ALL of our sponsors. Because you love the idea of a job in a future White House, you remember our sponsors, including presenting sponsor Ox Bottom Animal Hospital; silver level sponsor Thompson, Crawford & Smiley; official ballot counter Thomas Howell Ferguson; and official online ballot sponsor Joe Manausa Real Estate. You think positive thoughts about all of them, because Mac told you to.
6:26 p.m: "Please, God," you say to yourself, "don't let me fail to mention any of our sponsors."
6:30 p.m: Best of Tallahassee officially begins. McKenzie Burleigh, vice president/corporate development at Rowland Publishing, owner of Tallahassee Magazine, and perhaps best known as the person who hired Mac, tells a Best of Tallahassee newbie that he hasn't seen anything yet. The crowd of 100 will swell to perhaps a thousand within an hour or so, she says. Just wait. You'll see, she says.
6:36 p.m: Five women pose for a photo at one of three Smile in Style photo stations. One wears Cat Woman glasses or something. One wears a horse on her head, and one wears a flamingo on her head. It's going to be a fun night.
6:42 p.m: Mac is back near the ticket table. She looks pleased, thank God.
7 p.m: Mac takes the microphone and asks the growing crowd to turn its attention to the video screens throughout the venue. "So without further adieu, let's begin," she says. So you'd better believe we begin.
7:13 p.m: As guests watch the video screens for Best of Tallahassee results, yays and woo-hoos continue to erupt all over the place.
7:22 p.m.: You observe that the place is really hopping. Selfies and horseheads here, people at the bar over there — or at the other bar way over there — and yays and woo-hoos everywhere.
7:23 p.m: McKenzie Burleigh briskly and happily walks by and gestures to perhaps a thousand people inside. "Was I right?" she asks.
7:30 p.m: Server Michael Parra has a tray on his shoulder. He also has a smile and a song on his face. "Bil-lie Jean is not my lov-er," he sings to himself with Top Shelf.
7:32 p.m: Amber Swartz, founder of BumbleBee Waxing and More, is asked what it means to win Best of Tallahassee. As a four-time winner, she knows what it means. "It means a lot to our clients who voted for us and for my team to just know that we are passionate about what we do," she says, "and it just shows in the community that a magazine is so important." We like Amber. We really like Amber.
7:36 p.m: Keith Lawson and his wife stand like movie stars in front of a white and red backdrop that trumpets Rowland Publishing's three propriety publications, including Tallahassee Magazine. As owner of Keith Lawson Services, a perennial winner in the Plumbing Services category, Lawson had done this before. Asked what the honor means for his business, he says: "It means we're the best."
7:42 p.m: Javis Ogden, senior integrated marketing specialist at Tallahassee Magazine, stands at his post, where he signs up guests for a chance to win a weekend at The Henderson Beach Resort & Spa in Destin. He discusses the work that goes into putting on a big event. And he praises Mac.
7:46 p.m: Mayra Zimmerman, PA-C, reflects on yet another Best of Tallahassee honor for her place of work. "Dermatology Associates has been trying to give quality care to people in Tallahassee for years, and it really means a lot," she says. "When I started working there, our CEO, Brian Schaper, took me aside and said, 'It's not about quantity. We're not trying to see a bunch of people. It's about quality.' He said take your time with your patients, get to know them, make friendships."
7:51 p.m: A celebratory outburst disrupts the airwaves and almost drowns out Top Shelf. Video screens reveal that Real Talk 93.3 has won again for Radio Personality. "We talk a lot about how we're the only locally owned radio station in Tallahassee," says general manager Jon Jopling, "and we pride ourselves on providing the most local content and having somebody like Greg Tish at the helm in the morning show. Nobody's more Tallahassee than Greg Tish, and it feels wonderful that people are recognizing that and giving it back to us in this recognition."
8:03 p.m: Katrice Howell, owner of The Space at Feather Oaks, is at the trophy table, and you know what that means. She's a winner. And so is Kim Kimberly, her business manager. "It means much to us because we've been in business for 10 years now," Howell says of her victory in the Wedding Venue category. "We've worked and worked and worked, and this is amazing." Meanwhile, event photographer Charlene Trickey takes a moment to reflect on her award, as best photographer. "For me, sometimes it can be validation," she says.
8:07 p.m: Jason Kellogg, Top Shelf's lead singer, finds himself on the dance floor with his microphone and bass player. They're playing old-time rock 'n' roll because "that kind of music just soothes my soul," sings Kellogg. As the two musicians prance, two couples dance. Heads bob. Guests look at each other and nod and put down their drinks. Now there's a fifth person on the dance floor. Now seven, and here come some more. The party's on.
See more pictures from the event below. Photos courtesy of Best of Tallahasse winner Trickey Photography