Behind the Scenes
RealRyder Offers a Completely New Indoor Cycling Experience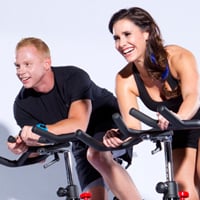 Photos by Scott Holstein
Tyler Finley and Cecily Armengol pedal their way to better health in 2013 on RealRyder stationary bikes at Sweat Therapy Fitness located in midtown. Hair and makeup by Heather Wightman and Audrey Sweet, Dream State Salons.
With cameras and equipment in hand, the RPI creative team headed over to Sweat Therapy for a RealRyder demo and shoot from two real-life instructors.
Our instructor/models, Tyler Finley and Cecily Armengol, hopped on the bikes after Heather Wightman and Audrey Sweet of Dream State Salons prepped the cycling duo for our shoot.
Sweat Therapy owner, Brian Bibeau explained how the RealRyder bikes can tilt, turn, lean, and steer, so it feels like a real road bike. The bikes give your body a 5-in-1 workout that focuses on cardio and legs while also working your core and upper body.
We were exhausted just watching the pair, but they seemed like naturals navigating the bikes — and they actually looked like they were having fun! For more information on RealRyder classes, check out the Sweat Therapy Fitness website at sweattherapyfitness.com for more information on classes offered right here in Tallahassee.