Behind the Scenes of Extreme Makeover: Home Edition
Behind the Scenes of America's Biggest Despair-into-Hope Reality TV Traveling Road Show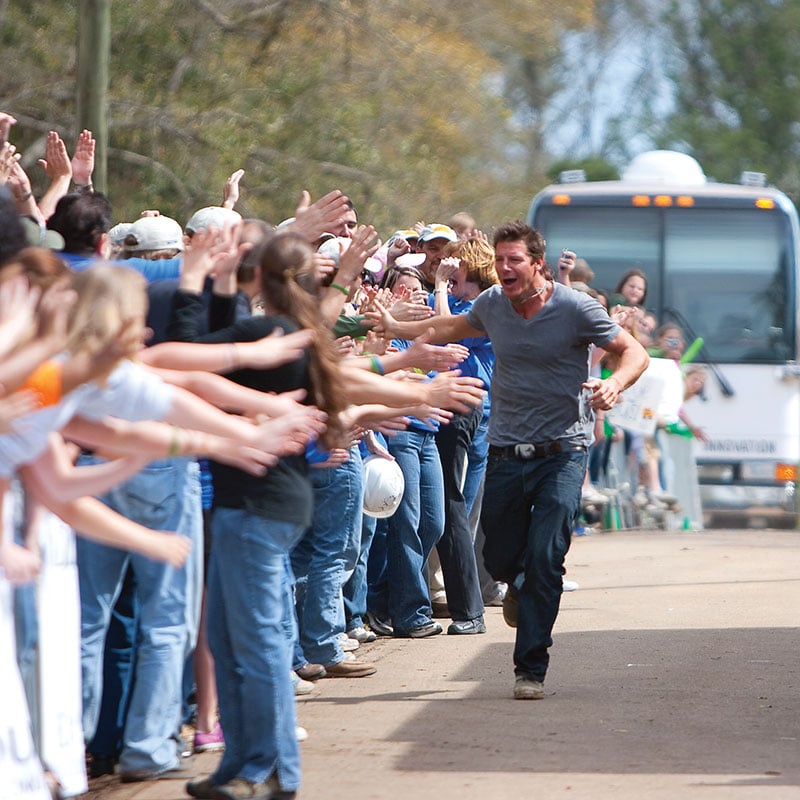 I look up from my accounts payable spreadsheets. Nothing has changed. A numbing, repetitive chorus sings to me from within the Excel cells: "Past due! Past due!"
It's a refrain depressingly familiar to developers such as myself, as well as to architects and building tradesmen all across the United States. The economy has stifled banks, and hammers have fallen silent from sea to shining sea.
I'm working on a multimillion-dollar deal that may salvage Evening Rose, the 36-acre work of art and public space I've dedicated the past seven years of my life to, that was supposed to secure the future for my children and me. But for now, it must wait.
Instead, I climb into my pickup and head a few miles east to check out a new home being built.
There's been so much buzz, you'd think it was the only home being built in all of Tallahassee. And in the current imploding economy, sadly, it's just possible.
The entire city is transfixed by this one house, and I've been hearing and reading about the goings-on for days. So why not step away from brooding and go where it seems the whole city has gone?
To the house.
The question disturbs my sleep. And the thought occurs to me that it is the same question that keeps more and more sleepless Americans lying awake: What do you do when you've tried to be a good person and, through no material fault of your own, you're facing economic ruin?
You might call out for help. You might turn to a higher power.
Which, in these times in America, means you might petition Ty Pennington. Using your video camera, of course, you'd beseech Ty, dispenser of largesse, to come quickly and save you and your family, because this wide-eyed, all-American boy-man can somehow spin our darker cords of despair into golden strands of hope, week after week after week.
Most Sundays, the American dream and holy grail of home ownership is reinvented, redeemed and reborn in an hour's time as a traveling road show built from middle-class American vignettes of despair and hope moves from town to town. It all takes place on "Extreme Makeover: Home Edition," one of the most popular television shows of our time.
Since 2003, the show has been shining into nearly 10 million American homes each Sunday night. Tally the viewers in all 67 countries in which the broadcast airs and the universe of Ty worshippers is said to swell to a billion people.
The show is a phenomenon, and when I park on Queen Anna Drive, off Chaires Cross Road, and get out of my truck, I am standing on a residential street on the periphery of the phenomenon. The site is swarming with volunteers.
As everyone now knows, the lucky recipients were George and Barbara Kadzis, who share their home with seven children, including six adopted from China, most with disabilities. News had spread that George Kadzis, who had brain cancer, had taken a turn for the worse and was hospitalized. Tallahassee — a genuinely caring, big-hearted community  — turned up the flame of empathy and turned out by the thousands, ready to tear down the past and build a new future for a family in need.
But it also was clear there was something more going on. This was not the army of smiling workmen who normally appear on the show, taking time from their busy and prosperous home-building businesses to give a little something back to the community. I knew all of these guys by first name as they paraded by me in their iconic blue T-shirts. I felt a warm comfort in the air — a feeling that this community really needed at this particular time, in early 2009.
These were men down on their luck, just as I was — and in some cases, more so. I suspect that more than a few were showing the world a smile while worrying themselves sick over the calls barely trickling in back at the office and, at this rate, how they would make it another month with little to no paying work.
I stood around and nodded at the familiar faces of subcontractors, builders and tradesmen coming and going. There were, of course, John Parker and Jake Myddleton, the contractors tapped by "Extreme Makeover" to lead the Tallahassee team to victory; Mark Tarmey, the architect and team cheerleader; and many others I'd seen on my own job sites hundreds of times before. It gave the whole scene a strange vibe: Some of these guys were probably as deserving of help from the mighty Ty as the family whose home they were helping build.
I wanted to get closer to whatever was going on here. Maybe Ty and I could even chew the fat together. But first I'd have to get past the county sheriff's barriers and do more than simply gaze at the tent city erected where the volunteers congregated. I needed to get up close, to where the old house was being torn down and crews were preparing to build the new one in a five-day, 106-hour frenzy of construction.
I was going to become a journalist. I presented official media and VIP credentials (hand-delivered by the publisher/owner of Tallahassee Magazine) and was immediately granted limited access. While my media badge put me in the 6-by-12-foot, fenced-in media circus ring, my VIP badge took me behind the scenes. But still, it was not total access. I asked permission from the PR woman on duty and watched in disbelief as she turned and all but gave a click of her heels as she walked away.
I felt defeated and had no interviews to speak of — certainly no Ty. I was still standing outside the blockades, considering how to get past yet another security wall, when I bumped into a developer buddy who took pity and directed me to a Yukon SUV parked conveniently nearby, with a center console containing a makeshift minibar. When the bills are piling up, and you live in a state that has put all of its economic eggs in one basket dedicated to a tax base derived almost solely from growth generated from construction, you have a drink. You lean on the truck bed or sit on the tailgate and watch the sun set on every dream you concocted at the height of the 2005 real estate market and softly weep to yourself. And drink.
The next morning I'm back at the gate with a fistful of Special Guest passes dangling from lanyards (compliments of my Tallahassee building brethren), a second letter identifying me as a writer on assignment, a newly purchased digital recorder, a pen and a Nikon camera.
Today was the big day, when Ty and team would yell, "Move that bus!"
The Extreme Makeover: Home Edition bus
Tisha Keller
Before I knew it, I was sailing beyond the checkpoint (staffed by a most helpful and pleasant woman, who gave me a T-shirt that fit, versus the medium-sized one I was forced to squeeze into the day before) and, at last, standing inside the site's security fencing.
With their father near death, the Kadzis family had declined the trip that normally marks the point in a show's story line when the smiling family is sent on a fun-filled, sun-soaked mini-vacation they probably couldn't otherwise afford.
Lord, what the family must have been going through. At a time of personal crisis like this, would they give even a passing thought to what was really taking place around them, and that their whole experience was about to be shared with a billion other people?
I also wondered how Ty and his producers were going to handle this one. The show is masterful in its presentation of emotions.
Ty and his designers allow us to feel an uplifting joy and sustaining happiness in seeing the last become first, the helpless receiving help, the have-nots joining the haves, the selfless goodwill of strangers benefiting others.
It's the innocent and open and deft handling of our human handicaps and frailties that has vaulted Ty and company to the top of reality TV. The production values, coupled with Ty's personality, make for a good show, by television standards. Whether it is also a show that does good is something else.
Some people ask: When philanthropy meets Hollywood, is it really sincere? In Tallahassee, for five endless and crazy days, it certainly felt as though it was to the thousands of volunteers whose efforts inspired an entire community.
Prior to the event, I spent one chilly night with business associates, probing the contours of the "Does the show do any good?" issue over a drink while "celebrating" what we speculated might be our last townhouse sale in a long while.
Was it fair, we ruminated, to make others' pain a spectacle? Maybe there's a problem in a show that turns real human suffering and grief into a profitable formula repeated week after week.
On the other hand, when a family living in dire straits gets a new home, that's a good thing. And when day-to-day living is made easier by the features you add to a home for a family with special needs, that's good, too.
We decided to reserve judgment. After all, there was a growing sense that this show was becoming as much about a community in pain and searching for help as it was about the Kadzis family.
The mood on the set was certainly not grim. But I did detect an unspoken awareness that Ty's reality show was wielding free hammers that were going unhired out in the real world. When Ty left town, the same hammers would again fall as silent as when the economy crashed and everybody would climb back into their truck of choice and go home to slump in silence, waiting for whatever came next.
To call it surreal would be the understatement of understatements. Did I mention that in Florida, everything depends on that whap-whap-whap of studs and rafters being banged together for the 1,000 people a day who, until recently, arrived as if by endless caravans crossing the Georgia border at Interstate 95 in search of shelter? Wagon trains of prosperity morphed into coastal condos, suburban ranches, new banks, schools and malls being built by yours truly and friends.
But I digress. What I need is to locate Ty and have a sit-down and get his take on all this.
I am only one barrier away from the producer's tent when a second, human, barrier suddenly erects herself in front of me. "I can't let you go there," she says.
"But I have press credentials. You issued them yourself," I protest.
"No one goes over there. Off limits," she says. I try a different approach. "Look," I say, "if you can get me an interview with Ty I'll stay put in my box."
"No." I hear the clicking of heels, and the barrier disappears.
I turn and start high-stepping toward the producer's tent in search of a Ty encounter. I can tell without turning around to look that the barriers rematerialized and they're snarling at my heels. A confrontation is seconds away.
At the moment I am about to turn and face her, I spot Mickey, a field producer on the show and a friend of my stepdaughter.
He was straight-talking, smart and exuded a kind of unexpected honesty and warmth — but he was not allowed to talk to the media about the show and stuck to the company line.
The lead producer in charge of communications granted me one wish: If I needed a quote for my story, she would be much obliged and put me in touch with the right folks. I asked about an interview with Ty and she said, "I'll see what I can do, but no promises. He works two cities each week and really has a lot on his plate." I slumped in understanding, for what I had on my plate needed attending to at that very moment: a three-way conference call concerning a merger, the one action that can save my partners and me from the fate that more than 50 percent of my fellow home builders in town have already begun to endure.
Twenty-five minutes later, the call had ended and I peered across the street to the Bus, just minutes from pulling away to reveal the Kadzis family's new home. It was then that two realizations visited me. First, our collective need (as workers in a troubled industry) to be on this set was no clearer to me than it was on the day I glommed media credentials and crashed the set. Second, there would be no Ty interview.
In the end, the bus roared past, I guess. I didn't stay to see the emotions of Barbara Kadzis and her children, or the fans with their sign reading "Tallahassee's Stimulus Package." I just rode off in my pickup truck, back to try and salvage my little oasis of 36 acres of blood, sweat and tears.
Thank you, Ty, for what you've helped Tallahassee do for itself. I guess what you guys do on Sunday nights is a pretty neat thing. Maybe one day, in another place and another small community in Florida, we may just get to have our talk. I now know what I would like to say to you. I want to be your next builder, when the bus comes back to town.