Behind the Potter's Wheel
Humble art form involves sophisticated motivations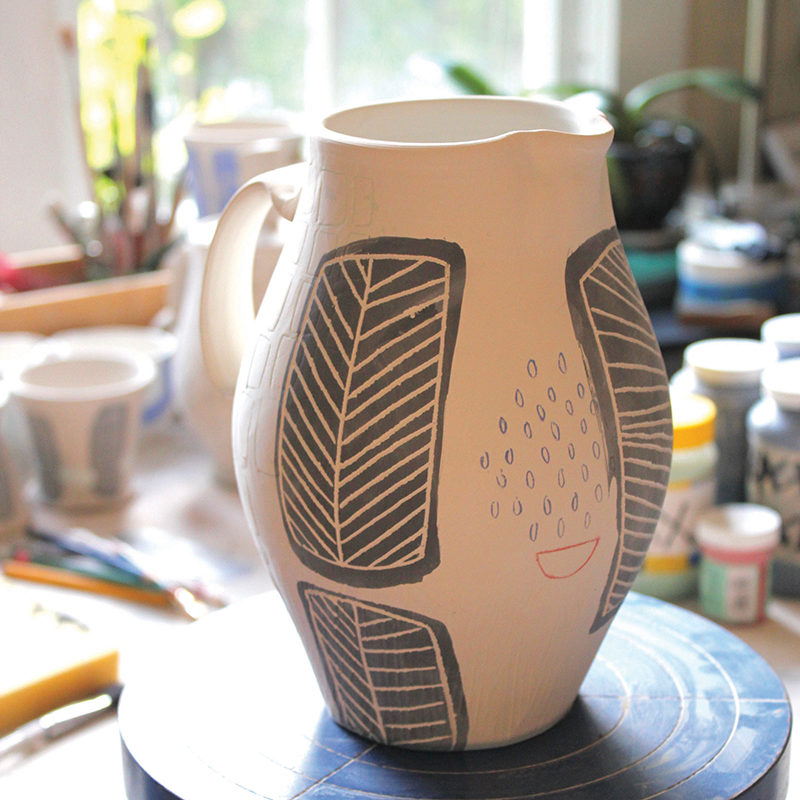 Art influences us all. Drawing draws us in as do music, painting and design. Immersed in the art that surrounds us, we discover what we like and, in the process, we discover ourselves.
There are art objects that clamor for attention and some that may be overlooked. Pottery can fall into that latter category, but like other art forms, it is a manifestation of the passion of its creator and the product of a creative process that involves both head and heart.
"I love the research and the intellectual pursuit of what makes my art become a good story," says Holly Hanessian, a professor and the area head of ceramics at Florida State University where she leads the 3D Digital Ceramics Project. "Why does somebody get engaged with what I'm thinking about? I love challenging myself to make something, by hand, that's captivating."
For Tallahassee's ceramic artists, motivations include far more than just the monetary.
"That's not always the main goal," says local sculptor Sue Stelzmann, who heads up Tallahassee Clay Arts, a club for local potters. "Art has healing powers. The way people spend their extra time getting in touch with something, it's really important to engage and learn and participate in art."
Erica Passage, an art professor at Florida State University, enjoys the realization that ceramic pieces get "to live in someone's home, and that people get to use it. Plus, ceramic pieces last forever."
Indeed, unearthed pottery shards are keys that unlock understanding of past cultures.
Hanessian finds that while art-making is intrinsically rewarding, the camaraderie that unites potters comes as a bonus.
"There's this really strong sense of camaraderie," she says. "We are driven by that love of touch and being with each other, socially. Everywhere I've gone, community has been an extremely important part of our art practice."
The energy that goes into the making of a piece is transferred from the artist's hands to the hands of whoever later touches it, artists find.
"When somebody uses a handmade thing every day, they're going to become sensitized to wanting to feel something that's been touched by a real hand — especially if it's well made," Hanessian explains.
Pottery then delivers a human connection. This is reflected in Stelzmann's work, particularly.
"I tend to reincorporate structures that have some sort of emotional connection and lead us to consider why things are the way they are and to think about objects in new ways."
---
Tallahassee offers multiple locations where you can engage your artistic inclinations. Lafayette Park Arts & Craft Center invites people to exercise their artistic talents Monday through Thursday and offers classes where you can learn the ins and outs of pottery, as well as stained glass, crochet and drawing. The Firefly Pottery studio offers classes geared to beginners, intermediates and the advanced artist. Both locations provide the materials you'll need and welcomes artists of all ages.