Beauty Lies Within
Home-grown Beauty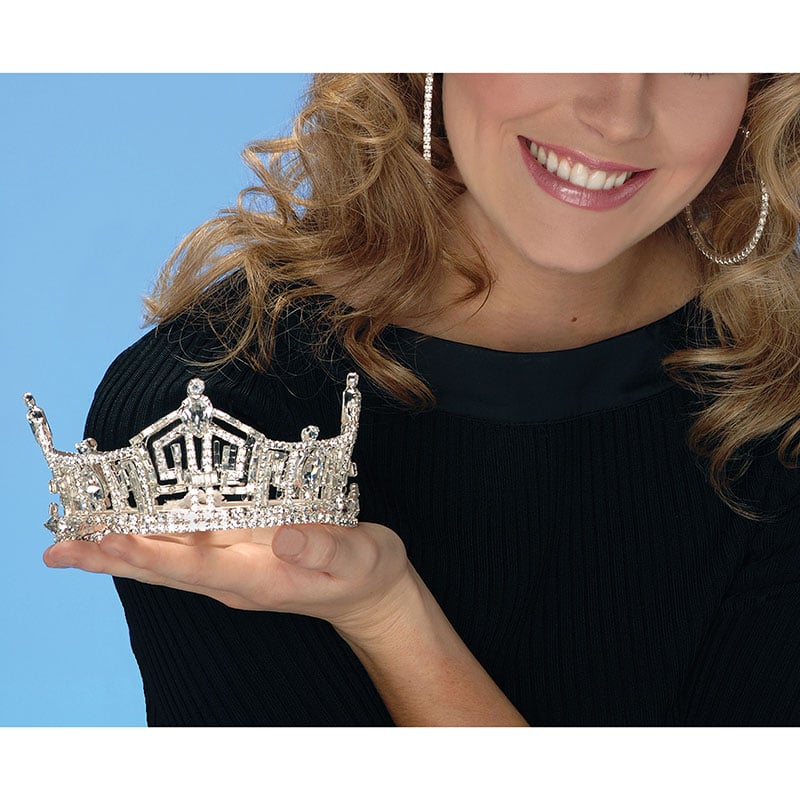 Two lovely young ladies with a Tallahassee connection have conquered Florida's beauty queen scene and will soon vie for national titles.
In January Kylie Williams will appear on national television, competing in the Miss America pageant. A native of the North Florida town of Jasper and a now-on-hold student at Florida State University, Williams started on her path to the nation's premiere contest of beauty, poise and talent as Miss Tallahassee, and went on to win the Miss Florida contest.
Hometown girl and Florida A&M University grad Eunice Cofie is heading to The Gambia in May to represent Florida in the Miss Black USA contest.
It's been said that "pretty is as pretty does" and in the case of these two queens, their outer beauty is complimented by personalities and accomplishments that are just as attractive. Once you read about our two local winners, you'll see why.
FSU Senior Kylie Williams Will Represent Florida in the Miss America Pageant
Misconceptions about pageants, and the young women who compete in them, abound, according to Miss Florida 2007 Kylie Williams. And she would like to clear up a few things up.
"People think it's just waving and looking pretty, but what they don't really know is that it's a job. And a hard one," she said. "Miss America contestants are strong, intelligent women, and they work hard."
Williams
Sam Tang Photography
Case in point: Williams herself. A senior at Florida State University majoring in marketing, the 24-year-old former Miss Tallahassee also is studying five languages – English, French, Japanese, Arabic and Spanish – with the hope of pursuing a career as a military translator.
Williams graduated summa cum laude from North Florida Community College in Madison, where she was president of the Phi Theta Kappa Honor Society, secretary of Student Government and a volunteer with Habitat For Humanity. Then on June 30, 2007, while representing the Capital City, one of her biggest dreams came true: She was crowned Miss Florida. Williams will represent our state in the Miss America pageant in Las Vegas on Jan. 26.
A native of Jasper, Kylie, daughter of Barbara and Charles Williams, graduated from Hamilton County High School and, at the age of 18, "stumbled into pageants."
"A friend wanted me to enter with her so she didn't have to do it by herself," she said. It was the Miss Bay Meadows pageant, and Williams won the crown. What she didn't know was that she had just completed her first step to Miss Florida.
"I had no clue it was a preliminary to anything," she said. "I didn't understand what was happening."
In fact, Miss Bay Meadows is one of more than 25 local pageants that culminate with the Miss Florida pageant each summer. Miss Florida, of course, is itself a preliminary to Miss America, which has been in existence since 1921.
After that first year at the Miss Florida pageant – where she made the top 10 – Williams competed five more times.
"I was hooked immediately. I made so many friends," she said. But as time went by, she "started to understand what pageants are about." Williams placed in the top five in 2005 and was second runner-up in 2006. And then, in 2007, she took home the crown.
Queen of Hearts
The Miss America system has four phases of competition: swimsuit, evening gown, talent and interview. In addition, each contestant, down to the local preliminary level, is required to contribute to her "platform," or charity, an element added to the pageant in 1989.
While they are never scored on their platforms as such, contestants are asked about their involvement during the interview process, and Williams explained that learning to give back is an important part of learning to be Miss Florida. Personal charities of the Miss Florida contestants range from well-known organizations such as the Boys and Girls Clubs to more general topics like childhood obesity and global warming.
Williams described her platform as "support for the troops." As the daughter of a former member of the National Guard, Williams said the plight of veterans was driven home to her by the 2006 scandal involving the Walter Reed Army Medical Center that was highlighted in the national news media.
"I started to realize that veterans really need our help," she said. "Some of the hospitals are great. But some aren't."
Williams also visits elementary schools, encouraging children to write to the soldiers in Iraq, and helps promote Operation Shoebox, which sends care packages to active-duty soldiers.
Helping to promote veterans' rights, she said, is one of the most gratifying parts of her job. She visits VA hospitals and tries to bring attention to the soldiers "who have served our country and must have access to proper medical care and benefits."
Williams recently was named the Official Ambassador for Veteran's Advocacy for the state of Florida by the Florida Department of Veterans' Affairs, and when Congress begins committee hearings soon on the status of veterans' care, Williams hopes, with the aid of veterans' advocate Jim Brady, to be on the floor and have her voice heard.
In addition to her personal charity, Williams now is a representative of the Children's Miracle Network, the official charity of Miss America. She recently started a round of visits to children's hospitals, such as the one at Shands at the University of Florida.
Williams said that she is not allowed to hold a job or attend school while holding the title of Miss Florida because of the time commitments required by the position. As Miss Tallahassee, she made more than 70 appearances. Currently, she said, "I average about three to four appearances each week, but I expect to exceed that."
(Miss) America's Got Talent
Talent was added to the Miss America pageant in 1935 and accounts for 35 percent of each contestant's score. The most common talents, of course, are singing and dancing, but the pageant has seen its share of bizarre talent entries – from ventriloquists to quick-draw painters to one contestant who demonstrated how to properly pack a suitcase.
Williams wowed audiences at this year's Miss Florida pageant with her vocal performance of "I Wanna Be a Cowboy's Sweetheart," which showed off her unique contribution to the talent competition – yodeling – and earned her the preliminary talent award.
"I've been singing since I was 3 years old," she said. She would sing in church, and her grandfather, to whom she was very close, would accompany her on guitar.
"It all started one day when my mom just said, 'Let's put a microphone in her hand and maybe that will shut her up,'" Williams laughed. That tactic didn't work. She has been delighting audiences with her phenomenal vocal skills ever since.
Her grandfather passed away when she was 13 years old, and Williams said she regrets that he never got to hear her yodel, a talent she developed more recently.
"I like to say that I have reincarnated my grandfather's yodeling," she said.
Williams got the chance to sing for the audience at officer candidate graduation for the Army National Guard at Camp Blanding near Starke. And, of course, she once again will perform her version of "Cowboy's Sweetheart," arranged for her by friend and composer Bill Wolfe, when she competes at Miss America in January.
Giving Miss America a Little TLC
The Miss America pageant will return to Las Vegas this year after leaving its longtime home of Atlantic City, N.J., in 2004. The final night of competition for the pageant will take place at Planet Hollywood Resort and Casino and will air live on The Learning Channel.
The pageant first aired on television in 1955, the year Lee Meriwether became Miss America. In fact, in the 1960s, it often was the highest-rated program on television in the United States. Forty years later, ratings hit an all-time low, and ABC decided to drop the pageant from its programming lineup.
Since then, the Miss America pageant has enjoyed two years on the cable network Country Music Television and now will move to TLC, where it will be reincarnated as a reality show.
"We're thrilled to partner with the Miss America Organization and to broadcast the next generation of the Miss America pageant," said TLC president and general manager Angela Shapiro-Mathes. "In addition, through a new reality series, we'll get to know 52 of the country's smartest and most beautiful women as they prepare for a competition they've dreamed of their entire lives."
The TLC reality series will chronicle the preparations and journeys of the contestants as they adjust to a new twist on the pageant format. The series also will give fans of the pageant the chance to learn more about the young women competing and allow them to start choosing their favorites in the pursuit of the crown.
Still unsure about what exactly the new format of the pageant will entail, Williams has begun preparations in earnest. Regular work with a physical trainer accompanies sessions with an interview coach while she begins the all-important search for her wardrobe.
Williams won a $15,000 scholarship as Miss Florida, and she picked up another $750 in scholarships for winning the preliminary talent, swimsuit and evening gown competitions.
"Even if I don't win anything at Miss America," she said, "I will walk away with over $32,000 worth of scholarships from (competing at Miss Florida)."
If she does win Miss America, Williams said she will delay her final year at FSU for one more year to complete her duties as titleholder.
Her year as Miss Tallahassee really made the difference in her first-place finish at Miss Florida this year, Williams said.
"For the first three years, as I said, I stumbled into (pageants)," she said. "I didn't really understand the job of Miss Florida."
Her busy schedule as Miss Tallahassee, though, gave her a glimpse into what life would be like representing the entire state.
"Not only did I finally know that Miss Florida was a job," she said, "I knew it was a job I wanted."
FAMU graduate Eunice Cofie Will Vie for the Title of Miss Black USA
Florida A&M University graduate Eunice Cofie will reach for the stars when she competes for the title of Miss Black USA in The Gambia, West Africa, in May.
Cofie earned the title of Miss Black Florida in July 2007 after an extensive interview process. The Tallahassee native took part in the pageantless competition because of the positive influence it has on African-American women.
Cofie
Darryl Jarmon
"I entered the competition because of the mission of the organization to empower young black women to pursue their education and cause change in their community," Cofie said. "I was excited because I think this is a great opportunity to use the title to serve my community and bring awareness to causes that I believe in."
The daughter of Nathan and Victoria Cofie, Eunice Cofie's family as well as her hometown shared in her excitement.
"A lot of people are happy that there is a young black woman in Tallahassee to represent them despite what is in the media concerning black women," she said.
The Miss Black Florida competition was not Cofie's first. As a senior at Leon high school, she won the title of Miss University Woman in 1998. That competition was hosted by the National Association of University Women, a nonprofit organization that provides educational services to high school juniors and seniors.
While holding the title of Miss Black Florida, Cofie makes appearances in the area at various organizations' events, including the Black Chamber of Commerce, One Church One Child and the American Diabetes Association.
Not only is Cofie representing herself, her family and the Tallahassee area in the upcoming Miss Black USA pageant, but she is proud to represent the state of Florida.
"It's an honor to be able to represent Florida," she said. "I just think it is a wonderful opportunity to empower young people."
Receiving the title of Miss Black Florida has allowed Cofie to promote her platform, which emphasizes awareness of childhood obesity and diabetes prevention.
Cofie works in the area of childhood obesity at the Institute for African-American Health under its "Project H.E.A.L.T.H." (Health Education and Life Transforming Habits) program, which addresses that issue in Tallahassee. She believes her work experience has aided her in pursuing further research on childhood obesity and diabetes.
"It became a passion of mine, as I have done the research and coordinated the program," Cofie said. "I see how important this issue is." She added that the staff of Project H.E.A.L.T.H has developed a behavior modification curriculum that incorporates nutrition and physical exercise in the local area.
"We go out to four schools in Leon County – Bond Elementary, Nims Middle School, FAMU DRS (the Florida A&M Developmental Research School) and Rickards High School," Cofie said. "We teach the children to make healthier choices and take 100 percent responsibility for their health."
If Cofie wins the Miss Black USA title, she will receive a $20,000 scholarship and will continue to promote her platform while exploring other health issues.
"My interest is in medicine, so anything that has to do with health, I'm always interested," she said.
Pageant participants also will have the opportunity to meet relatives of Kunta Kinte, a native of The Gambia who was forced into slavery and later became a prominent character in author Alex Haley's bestselling book "Roots."
The president of The Gambia, Yahya Jammeh, invited the pageant to Africa to bring a connection between Africans and African-Americans. The long, narrow country in West Africa is bordered on three sides by Senegal, with a small Atlantic coastline.
This will not be Cofie's first time traveling to Africa. As an undergraduate, she traveled to Ghana, West Africa, as part of the Student National Medical Association to coordinate a HIV and AIDS prevention program called "Save a Million Lives."
A 2004 graduate of FAMU with a bachelor's degree in chemistry/molecular biology, Cofie said she believes her experience at FAMU prepared her for her upcoming endeavors.
"Being a student at FAMU taught me how to think outside of the box, be persistent and to use whatever gifts I have for my best advantage," she said.
Cofie is making plans to attend graduate school to study in the medical field. However, she is undecided upon a university.
By competing in pageants, Cofie said she believes she is teaching other women – especially African-American women – about growth and self-development.
However, despite competing against other women from around the country, she said she is very confident about the upcoming pageant.
"I'm not really nervous at all," Cofie said. "I'm more excited, because I'm looking
forward to meeting the other contestants and getting to know them. I'm just enjoying the process of the pageant."
She added that her life experiences and connection with other people from diverse backgrounds will allow her to stand out from her competitors.
"I have had the opportunity to travel around the world to meet other people," she said.
Besides competing for the Miss Black USA title, Cofie has developed her own line of African-inspired cosmetics called Nuekie. Nuekie – which is Cofie's middle name – means "first-born daughter" and "hardworking one." It was launched in 2004.
"I really saw that there was a strong need for quality products for African-Americans or people of ethnic backgrounds," she said.
Those products includes hair care, skin care, cosmetics, and bath and body products. They can be purchased online at nuekie.com.
Cofie's advice for young women?
"Dream big, because there is no dream that can't be accomplished," she said.