Beauty and the Bed
The Perfect Bed for a Perfect Night's Sleep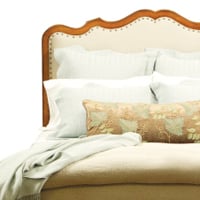 Photo by Scott Holstein
Bedfellows bedding.
» High thread count does not indicate sheet quality. Superior sheets are woven using the highest quality cotton and have finishing that extends the life of the sheet. Still, one of the most important factors is subjective — how the sheets feel to you. There are many sheet options that can deal with the issues of a hot sleeper, those who need a soft sheet or sheets without wrinkles — whatever sheets help you sleep better!
» Sheets are an investment, and it's important that they be washed in a detergent specifically made for them. Our vendors say special linen wash extends the life of the sheets, maintains softness and does not destroy the fabric. Just like your favorite T-shirt, sheets are made of cotton and, because they are used daily, caring for them is important. Wash them in cold water and don't dry using high heat, which will destroy the cotton and shorten the life of the sheets.
» Have more than one set of sheets. Washing, wearing and repeating one set will only shorten their life.
» To top off a great night's sleep, use a quality down pillow consisting of pure, cleaned down without feathers, because feathers eventually get crushed. Down retains its original shape, is hypoallergenic and provides options for back, side and stomach sleepers. Like sheets, there are a variety of down options, and your pillow is an investment that should last for years when proper care is taken to maintain the down. Often, companies using a lesser quality down will "fill" their down comforters and pillows with "down dust" to help fill out the product.
» Some duvets are only used for decorative purposes, and weight and fill power are less important. If you are looking for a duvet to use, it is important to identify what type of sleeper the person is and what level of warmth they prefer. Typically we recommend a "summer" weight for all our duvets. People often think a down product would be too warm or too hot and consider a down-alternative product. The down alternative, often filled with an artificial product, can make the bed hotter than using a natural and breathable product like down bedding. The good news is most of today's down duvets are machine washable.
» Blankets can be used instead of duvets or comforters in the summer and in the winter months they are a great addition to add warmth to any bed. Cotton blankets are the most popular, because they wash well and are thin enough to place under decorative bedding. The current trend is moving toward using "coverlets" or blanket covers on beds, which can give a finished look through all the seasons. They are lighter than a quilt but heavier than a traditional cotton blanket. Coverlets also make it easier to fold the duvet at the end of the bed when it is not needed, and the pattern on the coverlet does not distract from the design of the room.