Beau Turner's Youth Conservation Center Targets 'Nature Deficit Order'
Take It Outside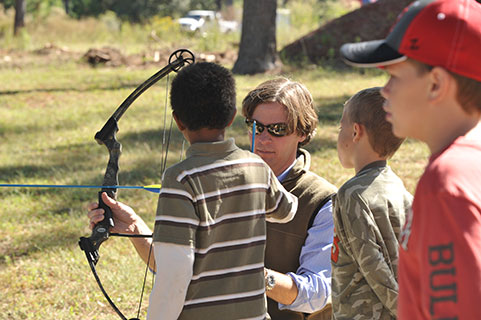 Eleven children, ages 5 to 12 — along with four fathers and a mother — sit in a long, narrow classroom with a rustic, outdoorsy motif on a beautiful morning, listening to a fishing instructor talk about casting techniques. All the while, the thin, weathered and jeans-clad speaker hands out colorful pictorial pamphlets of marine species.
The children, from Leon, Wakulla and Jefferson counties, most of whom had never fished before, listen with varying degrees of attention, mostly anxious to be off to a nearby pond. Midway through the brief, informal presentation, Beau Turner casually enters the room and greets everyone. The youngest son of media mogul and philanthropist Ted Turner, and a nationally recognized conservationist in his own right, Beau Turner welcomes the kids and wishes them a day of fun.
This, of course, is no ordinary class, as it's a Saturday and the class' sole purpose is to introduce the kids to fishing. Nor is it a coincidence that Turner happened to drop in. Not only is the program his brainchild, he donated and equipped the 160 acres that make up the Beau Turner Youth Conservation Center just east of Tallahassee in Jefferson County, which Turner, 42, calls home.
The center, a fully equipped, solar-powered prototype youth facility, aims to combat today's growing "disconnect" between young people and nature by providing a place — and an array of free programs — specifically designed to getting kids outdoors and into outdoor activities. Established by Turner in 2005, and joined in partnership by the Florida Fish and Wildlife Conservation Commission (FWC) in 2007, the facility boasts a solar-powered pavilion with an upstairs classroom; a 3D archery course; rifle and shotgun shooting ranges; state-of-the-art skeet-shooting houses with biodegradable targets; a 36-acre, fish-stocked pond; and hundreds of wooded acres for hiking, hunting and wildlife watching.
"There is no other place like this in the state," says William R. Cline, FWC section leader for Hunter Safety and Public Shooting Ranges, which oversees the facility through the Youth Hunting Program of Florida.
"It's the only private/state-run facility specifically geared to providing youths with the opportunity to learn and develop hunting and fishing skills, and teaching them land stewardship and greater appreciation of the outdoors," agrees Kenny Barker, who directly oversees the center as FWC statewide coordinator of the Youth Hunting Program of Florida.
At the Beau Turner Youth Conservation Center, trained volunteers teach young people ages 12 through 17 — and on occasion children as young as 5 — Olympic-style archery; fishing and casting techniques; shotgun, rifle and muzzle-loading shooting; land stewardship; and flora and fauna identification, among other outdoor skills. The kids may also, in season and with appropriate supervision, shoot waterfowl in an impoundment area, shoot dove in designated fields, or hunt deer and other game in an adjacent 900 acres that Turner regularly makes available.
The classes are free, and the center and the FWC provide all equipment and materials, including the ammunition and tackle. The only requirements are that participants complete the free hunter-safety education course, and that they come accompanied by an adult, preferably a parent or guardian.
Each spring, the center holds an open house to showcase the facility's offerings. (See inset, page 48.) And most recently, it offered a four-week pilot summer internship program that paid high school students to work at the center and learn about wildlife, conservation and forestry practices, all the while exposing them to conservation-oriented careers, part of the facility's expanding function.
Turner and the center, in fact, are at the forefront of a growing national movement that includes the National Wildlife Federation and the No Child Left Inside Coalition — an umbrella organization of more than 1,800 business, health, faith, recreational, environmental and education groups that advocates for more environmental education in the schools — and that this year, for the first time, saw the U.S. Department of Education include environmental literacy in its coming year's budget.
At the state level, the FWC has unveiled an ambitious plan to establish a network of youth conservation centers across the state, modeled after the Beau Turner Youth Conservation Center. And a group calling itself Get Outdoors Florida — made up of land managers, government representatives, children's advocates, health-care professionals and others concerned about the physical and emotional wellbeing of today's youth — has started a statewide campaign to get families outdoors and into enjoying the state's natural resources.
At its most basic, the movement is about getting kids reconnected with nature. On a deeper level, however, it's about combating a host of children's physical and emotional health problems that studies have linked to excessive television watching, electronic game playing and other passive activities. Consider the Kaiser Family Foundation's most recent study, which found that 8- to 18-year-olds today "devote an average of 7 hours and 38 minutes to using entertainment media across a typical day"; if one takes into account media multitasking, "they actually manage to pack a total of 10 hours and 45 minutes … into the 7½ hours."
The outdoors movement's basic tenets were possibly best articulated by author Richard Louv, credited with formulating the concept of "nature deficit disorder" in his 2005 bestselling book, "Last Child in the Wood." Nature deficit disorder, as Louv describes it, encompasses a host of behavioral and other problems that include obesity, impaired social skills and higher stress levels — maladies he attributes to children spending less time outdoors and more time engaged in passive indoor activities. The antidote, in the view of Louv, Turner and others who subscribe to the theory, is to get kids back outdoors.
Proponents of the theory point to studies indicating that children who spend time outside perform better academically, have less stress and healthier immune systems, and experience fewer symptoms of ADHD than their counterparts "who do not recreate outside."
Turner, who struggled with learning disabilities as a child, is convinced that kids who spend days indoors playing computer, video and other electronic games are going to be hyperactive and experience problems. He firmly believes outdoor activities not only provide a healthy outlet for kids' energies, but that these activities can keep kids engaged and out of trouble during their teenage years. Kids who fish, hike and participate in other outside physical activities don't have the time or energy to get into trouble, he says. And in the process, it's his fervent hope that they will come to learn about the natural world and its relation to them.
The chairman of the Board of Trustees for the Turner Endangered Species Fund and also the director of natural resources and biodiversity for Turner Enterprises Inc., Beau Turner's responsibilities include coordinating and overseeing the wildlife-related projects for the Turner family's 2-million-acre operation. He also serves on the board of directors of Tall Timbers, the Wetlands America Trust and the Land Trust Alliance, among other environmental organizations.
Tall, lanky, worldly and world-traveled (he logged approximately two million air miles by his 25th birthday), Turner is casual, down to earth and engaging in person. He also exhibits a boundless energy, enthusiasm and boyish charm that are never more evident than when he is expounding on some favorite theme such as conservation, energy independence or the youth center.
Talk to him long enough and you realize a sense of earnestness and urgency about him, and that the center is but another facet of his longtime commitment to protecting the environment and the planet's dwindling resources.
Several factors contributed to his creation of the youth center. One was his coming to the Tallahassee area to help care for the late Jimmy Brown, a lifelong family friend who Turner describes as being "like a father and mother to me" and to Turner's father before him. As it happened, Brown was mentoring two wayward youths who Turner got to know and who ultimately ended up going to prison, an outcome that made a lasting impression on him.
At about the same time, what Turner calls "the land machine" he and his father had created to buy land (the agreement was that 10 percent of Ted Turner's net worth would go into land preservation) "was decimated when Dad lost 90 percent of his net worth," Beau Turner says, alluding to the AOL/Time Warner debacle in 2000.
"I suddenly had the capability to stay in one place," he says.
The birth of his son, Beau Jr. — now 8 — was another factor in his shifting priorities. And finally and perhaps most telling was his realization — almost an epiphany — that the outdoors enthusiast was possibly on the road to extinction.
"Here we've got more public land than ever in Florida and fewer users," Turner says. "The Florida Forever program has bought hundreds of thousands of acres for public use. But they've forgotten, like what I forgot when I was rushing about buying land to preserve, that hey, if you don't have people coming up to use and manage the land, it's for nothing."
Turner takes it a point further.
"We've got an emergency," he says. "I think the outdoors enthusiast is endangered. And if the outdoors enthusiast is endangered, then what I've done in land preservation is pointless. Nature and the environment are the kinds of things that, if you take people out of the equation, whether it's fighting noxious weeds or invasive plants or timbering or farming, they will suffer. We've got problems, and it's going to take man to get us out of these problems. Not having the outdoors enthusiast also means you don't have the political stamina, and it means that the Clean Air Act, the Endangered Species Act and all these laws are in jeopardy."
It all comes down to education and youth recruitment and growing a new generation of people with a love of the outdoors, Turner says. He takes hope from the fact that the FWC plans to replicate his center across the state and that youth participation continues to increase at the Beau Turner Youth Conservation Center. But he believes that the FWC, forestry and other related state and national agencies must take it a step further and make youth recruitment part of their missions.
Turner plans to establish youth centers on other of his family-owned lands across the country and in South America. Meanwhile, he remains committed to doing whatever it takes to keep the Beau Turner Youth Conservation Center viable for kids, going so far as to tour a Viking-themed youth facility in Norway to learn what it is that attracts kids. What he found, he says, is that it's usually the simple and inexpensive things that work, such as longbow and skeet shooting.
"And while they're at it," he laughs, "hopefully I can hit them with longleaf pines, endangered species and the environment. What I'm saying is, OK, you kids can come out and break skeet, shoot the rifles and fish, but we've got a little thing we've got to go through."
Education, in other words, is at the core of Turner's philosophy, and by extension, his philanthropy.
Meanwhile, back at the pond on the Saturday morning, the 11 children's squeals register each time one catches a fish, hopefully establishing a newfound connection with nature. It all starts with catching that first fish, Turner will tell you.