Barbara Hamby's Poetry Reflects Chaos of Life
In the spirit of adventure, don't think twice -- Holoholo!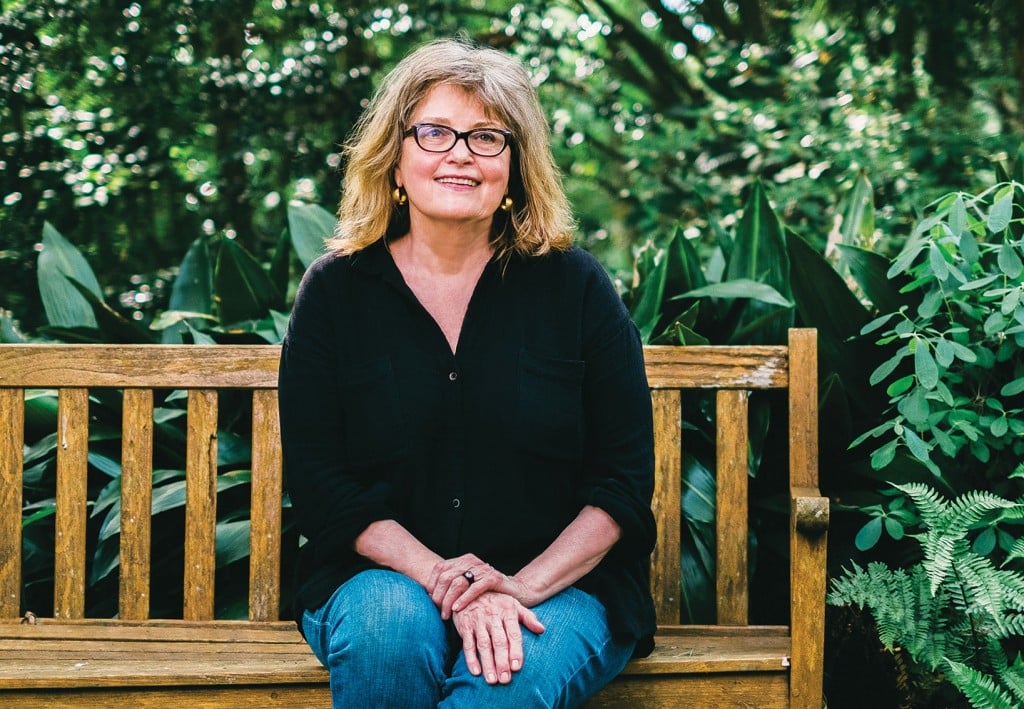 With Enheduanna, a Sumerian princess and high priestess who lived in the 23rd century BC, poet and professor Barbara Hamby of Tallahassee empathizes.
Enheduanna, the world's first author known by name, wrote hymns to Inanna, the Mesopotamian goddess of love and war.
"You can just see her addressing the goddess and trying to come to grips with the dichotomy in life, beauty on the one hand and destruction on the other — love and war," Hamby said.
In a class Hamby teaches at Florida State University on odes, she moves from Enheduanna to the Bible and finds in the Song of Solomon, too, an effort to balance the chaos and beauty of the world.
"Or, as Keats would say, the truth and beauty," Hamby said.
Life is both dark and lovely.
And chaotic. We try to impose rules and order on the world, but they don't much hold. People are unfailingly unreliable. Life throws us a lot of wild cards.
Those realities, I suppose, go a long way toward accounting for Hamby's willingness to let things proceed as they will and for her fondness for a Hawaiian word, holoholo, meaning to take off without a destination in mind.
Holoholo, her latest book of poetry, published in February by the University of Pittsburgh Press, is imbued with the kind of attitude that might characterize someone who, when traveling, never will permit herself to reverse course if she makes a wrong turn. She just keeps going.
"I never had a career plan," Hamby said. "My major was poetry, and my minor was Renaissance art history. When the Legislature was trying to alter the Bright Futures scholarship program to ensure that kids would pursue majors leading to employment, I said to my husband, 'Our major, poetry, will be at the bottom of the list.'"
But poetry worked out for Hamby and David Kirby, about whom Hamby writes, "There never was or ever will be in the history of the world someone who is more fun to holoholo with." Both are professors in the English Department at Florida State University. Hamby delights in the fact that businesses love to hire English majors. Before she published her first book, she was for years a technical writer.
"No. 1, English majors can write, which a lot of people can't, and No. 2, they know how to work in groups," Hamby said of her students. "In our poetry classes, people will bring in a piece of work and then we talk about it together, so you have to learn to talk to people and say sometimes difficult things in an encouraging way so that you don't destroy someone's initiative. We have had students go on to have all sorts of interesting jobs in publishing, business, poetry and academia."
Holoholo is a collection of odes — poems of praise (or blame) consistent with the epideictic type of rhetoric. But Hamby salutes not public figures or popular heroes or goddesses but aspects of and elements in life. She trades in the familiar — Hawaiian Punch, peaches, a sweater.
Chaos stars in Hamby's Ode on Being Backwards and Inside Out and in a Wreck with Myself. The poem opens …
Before I leave the house, I'm checking myself in the mirror, / and I see that not only is my sweater backwards, / but it is also inside out, which is how it's going these days, / what with the election and the world all topsy-turvy …
and concludes …
I'm in a wreck with myself, / a collision of molecules the eyes and ears and nose send to Queen Brain, who is in charge of nothing in her turret / of grey cells, monkey drinks and doubt.
Yes, were a flag designed to represent 2020, it might well be an inside-out sweater.
Hamby moves with fluidity, not jarring disorientation, from her conscious mind to a deeper past, a technique, she noted, that the poet Robert Bly called "leaping." So it is that we move in Ode on Being Backwards from her Toyota rolling on its own through the parking lot of an organic grocery store to the time a college boyfriend left one of two cars he owned out of gear and it rolled into the other.
Hamby excels, too, at making associations between people or things that don't obviously go together. She is helped in this by her own experiences, including parties, a favorite subject and a form of intentional chaos.
"Weird things happen at parties," Hamby said, making them a good source of material.
In Ode on Words for Parties (American Edition), the poet, at a boozy gathering that mixes Little Richard and Cabernet, dances with a roly-poly lawyer named Booter. (We do not learn if the attorney lived up to his name that night, but are assured that the encounter was a one-off.) In Ode to Marivaudage, Ratiocination and Blahblahblah, we skip from the Sforza castle to Two Egg, Florida.
"It took me a long time to hone the ability to make wild associations and keep your reader with you at the same time," Hamby said. "Our minds hop all over the place like a Mexican jumping bean. Sometimes, we have to trace our thoughts to figure out how the hell we got to whatever is on our minds at the moment. These associations kind of replicate the way the human mind works, but artistically."
It's the artistry, Hamby said, that enables the poet to accomplish sprezzatura, an Italian word for doing something difficult and making it appear easy.
Hamby is a collector of words and phrases from other languages. She "love, love loves" mala folla, a Spanish phrasethat appears in Words for Parties and "describes an indifference so profound it can't be bothered with scorn."
She has found that the notion of holoholo is not unique to Hawaii.
"In French, a flâneur (or flâneuse, feminine) is someone who just wanders the streets," Hamby said. "Or in Ireland, to go on a gallivant is to pursue frivolity. In Australia, there is the walkabout, a spiritual quest that the aboriginal young men go on. Sometimes you have your best experiences that way. I hope that spirit animates the book."
Hamby, as it happens, is an oyster eater. Once, she flew to New York on her way to a speaking engagement in Connecticut. Before departing by train for the school where she would speak, she paused at the oyster bar at Grand Central Station. There, she made her way through a sampler of 10 different types of oysters and made note of her favorites. On the way back through, she knew just what to order. Her oyster wanderings had yielded precision.
"Those were the best oysters I've ever had," she said.
How the hell did we get on the subject of oysters? I'm not sure. I'd have to retrace my thoughts.
ABOUT THE POET
Barbara Hamby is a distinguished university scholar at Florida State University and specializes in poetry and fiction. She is the author of seven books of poetry, most recently Holoholo (2021), On the Street of Divine Love: New and Selected Poems (2014) and Bird Odyssey (2018).
Her book of linked stories, Lester Higata's 20th Century, won the 2010 Iowa Short Fiction Award/John Simmons Award and was published by the University of Iowa Press.
She also co-edited an anthology of poetry, Seriously Funny, with her husband David Kirby. She was a 2010 Guggenheim fellow in poetry. Her poems have appeared in The New Yorker, Poetry, The Paris Review, Yale Review, American Poetry Review and many other magazines, as well as Best American Poetry 2000, 2009 and 2010.