Backyard Inspiration
Paintings reveal themselves on Imaginary Road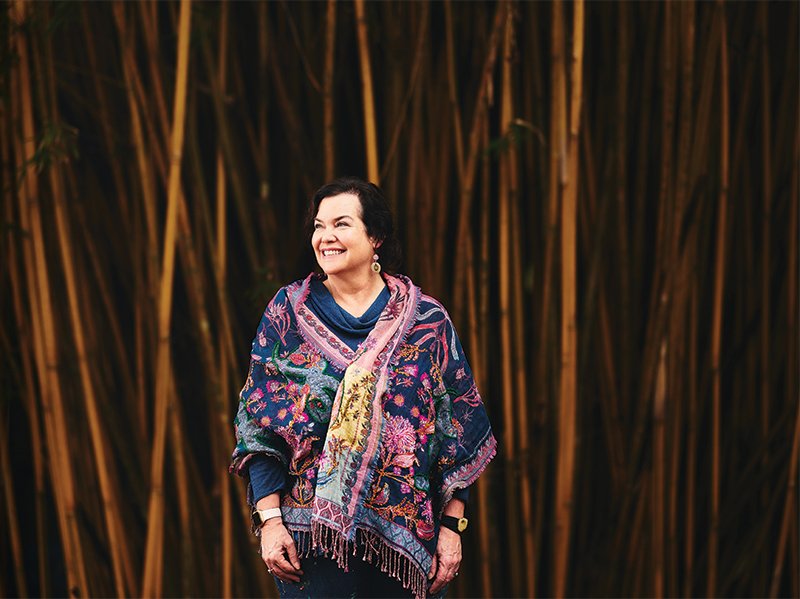 This morning, the painting revealed itself to the artist. Anne Hempel was working on a commissioned piece — woodpecker among blooming dogwoods — but she got stuck, unable to see how the painting was supposed to go forward. But the music was right, and emotionally, she was in a positive place and her head was in a good space, and then the moment happened. Everything jelled.
Anne Hempel has a knack for solving painting puzzles.
"As an artist, I hope that I will always have that ability to see where I want my art to go," she said. "Maybe I should have bigger goals, but I just want to keep doing what I'm doing. I just finished painting a peacock, and I'm doing some flamingos and anhingas. I never get tired of painting birds."
She paints wildflowers, too, and oyster shells and once painted a parade of dancing woodland creatures led by a bear that included a mouse, a porcupine, a rabbit, a frog and a squirrel. But birds demand that Hempel never forget them.
They are all about her at her home on Imaginary Road in northeast Tallahassee.
"I live in a very beautiful, woody, swampy, magical area where I get lots of inspiration," said Hempel, who has always been close to nature.
"As a child, I was of the generation that went outside to play all day," she said. "I played in creeks and made mud pies and collected bugs and fireflies in jars. My dad has always been a big fisherman and would take us fishing a lot. We were often at the beach or near water. Those were really foundational experiences in my life. I was awed by sunsets when we were out on the boat and clouds coming in carrying big storms."
Hempel likes both inland and coastal environments, but she is drawn especially to North Florida woods that are like unfenced aviaries.
"There are a lot of hawks and owls and other screeching birds here all the time," she said of her home.
A graduate of Florida State University, Hempel taught elementary school English for many years at the School of Arts and Sciences on Thomasville Road after teaching preschoolers as a student. For a stint, she taught English in Japan.
While Hempel was teaching, a friend asked her to paint furniture for her. That would prove to be a pivotal experience in her development as an artist.
"I loved painting on the wood. I did lots of layers and used crackle paint and stressed edges and got into the techniques and colors and the process of working with paint," Hempel said. "I gained the confidence that I could make paintings and sell them. I had never been afraid to paint, but I just gave my work away to friends or my parents or used them to decorate my own home."
Today, she paints on boards prepared by her husband, Todd, a state entomologist.
"I like working on wood because it gives me a durable surface," Hempel said. "I can dig into the paint when it's wet and embed treasures in it from nature. The wood holds the thickened layers, and I can drag paintings around; they don't get beat up like a canvas. I don't think I would ever be able to work with canvas."
Those natural treasures incorporated into many of Hempel's paintings include feathers, butterfly wings, moths, leaves, grasses, ferns and bits of bark. Her daughter Evelyn, age 10, is her chief treasure hunter. About the added plant material, Hempel said, "I try to make it look like it has always been there."
Abandoning teaching for life as a full-time artist was rough at first, Hempel said.
"I knew I was going to lose my health insurance and my regular paycheck," she said. "But it was my best decision ever. I was a good teacher, but I am better at doing art. It is better for me, and I enjoy it more, and my personality is really better suited to being an artist."
Hempel consults a wildlife photographer for technical advice from time to time but also permits herself flights of fanciful whimsy.
"People may ask me whether a woodpecker really would land on a small tree or if two male cardinals would really share a branch," Hempel said. "Sometimes I have to tell them I don't know, and that I just imagined what I painted. I do try to capture the essence of a bird, but it's not a rule."
Hempel loves to travel and said she can find inspiration everywhere. She visited Italy last October and was inspired by streetscapes and museums. She has traveled extensively in Southeast Asia. Some people have commented that her art seems to reflect Asian influences.
"Right now, I am looking at a children's book by Brian Wildsmith called The Little Wood Duck, Hempel noted. "It's inspired some paintings. I have read it to Evelyn a lot of times, and it's amazing."
But it was a backyard bird, the pileated woodpecker, that inspired a painting chosen by LeMoyne Arts as its cover art for this year's Chain of Parks Art Festival. The painting, Wood Whittlers, will appear on the festival magazine, posters and shirts.
"They're big, and they're very loud," Hempel said of the crow-sized pileateds. "I'll walk outside, and they will have that loud, echoing sound when they are pecking on a tree. It puts you on alert. Sometimes, I think I would like to add a soundtrack to my paintings."
---
Anne Hempel has works for sale at the Signature Art Gallery, 2782 Capital Circle NE. She sells paintings at shows and from her at-home studio. About a third of her work is completed on commission.
---
Festival Attracts Top Artists
The LeMoyne Arts Chain of Parks Art Festival will take place April 15–16 at the Bloxham, Lewis and Randolph "Chain of Parks," located in Downtown Tallahassee. The event is free and open to the public. "The Chain of Parks Art Festival brings some of the nation's top fine artists to the Capital City," said festival chair Kelly Dozier. "It's an opportunity for collectors to acquire new pieces and also serves to introduce fine art to people who may not have experienced it." For more information on the 2023 Chain of Parks Art Festival, visit ChainOfParks.com. Check out the latest festival social media updates on Facebook, Instagram and Twitter.
---