Baby Boom in Tallahassee
New Initiative Encourages Retirees to 'Choose Tallahassee'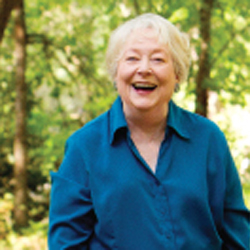 Scott Holstein
Lynn Powell is a recent transplant to Tallahassee. Local civic leaders and organizations are creating a campaign to attract baby boomers to like her to retire here.
Tallahassee transplant Lynn Powell is in love with her new hometown. So much so, she doesn't want others of her kind coming here. "You don't want a lot of people moving here," she said, in a way that's half-joking, but half-serious at the same time. "You want to keep it a secret."
Powell, 68, is a Florida State University alumnae and retired educator from Miami who recently relocated to Tallahassee after getting fed up with life in South Florida.
Despite Powell's desire to keep her new hometown a secret, however, a new campaign promoting Tallahassee as a mecca for relocating baby boomers is cranking up to do exactly the opposite.
Lynn Powell (left) is a recent transplant to Tallahassee. Local civic leaders and organizations are creating a campaign to attract baby boomers to like her to retire here. Photo by Scott Holstein
She is just one of the 78 million boomers who have already, or will, reach retirement age over the next 18 years. According to the AARP, 10,000 are retiring each day. And some may not be satisfied with living in the cold North or sunny, but crowded, urban places such as South Florida.
"Depending on which poll you look at, somewhere between one-third and one-fifth of boomers are going to relocate during retirement," said Dave Bruns, communications manager for the Florida state office of AARP.
If one-quarter of boomers relocate, "that means some community somewhere in America, or some collection of communities, will see 18 million new residents over the next 18 years," he said.
Tallahassee is already licking its chops at the idea of drawing even a fraction of this group. Just a small number would be huge, in terms of dollars.
"If Tallahassee could attract three-tenths of one percent of the available market, we would have 54,000 new residents. And $1 billion a year in direct additional income," Bruns said. "It would mean new jobs, new construction, new business and tens of thousands of people who have a lot to offer the community."
A New, Clean Industry
Of course, 54,000 new residents aren't going to show up overnight. Still, the prospects are bright, said Tallahassee marketing giant Ron Sachs, president and CEO of Ron Sachs Communications. This type of aggressive economic development marketing program has never been attempted in Tallahassee.
"If we knew we could go after a new industry that would have this kind of cumulative positive impact on our economy, and is clean industry, why wouldn't we do it?" he said. "The stars are lining up perfectly."
This new marketing program is called "Choose Tallahassee" and it was launched this spring in the wake of reports that indicate Tallahassee is a perfect fit for retirees.
"I think the results show we meet all the conditions retirees are looking for," said Marjorie Turnbull, a former Leon County commissioner and state representative who is a Choose Tallahassee proponent.
Turnbull said the new publicity effort is drawing volunteers from such agencies as United Way, the Council on Culture & Arts, Westminster Oaks, the Greater Tallahassee Chamber of Commerce, Visit Tallahassee, the alumni associations of Florida State University and Florida A&M University, realtors and builders.
"It's an amazing effort by people deciding what needed to be done, and doing it," she said. "The city and county have both embraced it in their economic development plan."
In the past, Tallahassee focused on attracting tourists, new visitors and new businesses. Those critical areas have occupied the thoughts and actions of the Tourist Development Council, the Economic Development Council and just about every politician and board member since the city was founded. But the city itself has never been marketed as a retirement setting.
"We are marketing an entire town," Bruns said. "Not many communities are doing this. This is a business opportunity and an economic growth opportunity that not many communities have really seized. They really haven't had the vision to understand what is coming, and what the implications are. So they're not prepared, and they're not marketing themselves. But by getting out there in front of this issue, Tallahassee has a relatively clear field."
This spring, the Washington Economics Group — a business-consulting firm in Coral Gables — unveiled a study comparing 20 different communities, large and small, in the eastern U.S. that have been shown to be attractive to relocating boomers. Tallahassee scored the highest in terms of what relocating baby boomers are looking for.
"We rank No. 1, which is cool," Sachs said.
The Washington Economics Group study resulted from a survey commissioned by the Consumer Federation of the Southeast that showed baby boomers would consider moving to another state when they retire. The Baby Boomer Poll conducted by Mason-Dixon Polling & Research involved interviews with 1,100 adults between the ages of 47 and 65, all of them living on the Eastern seaboard, north of Florida.
"What Tallahassee has to sell is what the boomers, in the Consumer Federation poll, say they are looking for," Bruns said.
More than 85.5 percent of the respondents said they'd prefer a year-round warm climate, but one with cooler months, and they're looking for small to mid-sized communities. That's Tallahassee. They're also looking for low taxes, and Tallahassee features a moderate sales tax, no state personal income tax and no intangibles tax. Four in 10 consider it a plus to have a large university, and Tallahassee has two of them, plus a large community college. Eight of 10 relocating boomers are also looking for affordable recreational opportunities, and Bruns noted that season tickets to 'Noles football can cost the same as a single ticket to the Jacksonville Jaguars.
"It's amazing the degree to which there is no daylight between what the boomers are interested in buying and what Tallahassee has to sell," Bruns said.
Ninety-six percent of respondents in the boomer poll said it was "very" or "somewhat important" to them to have top-quality healthcare services available. Tallahassee fills the bill with the HMO Capital Health Plan, which in 2010 was ranked by the federal government as having the nation's best Medicare Advantage program. Tallahassee also has a medical school that is home to the country's top geriatrician and two quality hospitals.
Affordable housing is another criteria ranking high in Tallahassee's favor. Home values are below the national average and wealthy retirees moving here can find some bargains. And there are many housing options to choose from; boomers aren't necessarily going to want to live in one single-age, mega-community.
Nikki Ritcher
A plethora of neighborhoods await retirees who relocate here. Some may prefer SouthWood's New Urbanism style.
"Certainly, they're going to want to explore a wide variety of housing options," Bruns said. "There's an increasing number of boomers who want to live in an urban core. They want to live in a condo or multifamily development. There are boomers who want to live on equestrian estates, and we have that. Boomers want to live in walkable suburban communities, and we have that. There are boomers who want to live in places like SouthWood, which follows the New Urbanism model, and we've got that, too."
At 70, Mary Ann Stringer and husband, Gary, of Greenville, N.C., may be slightly older than the baby boomer crowd, but even so they want to move here for some of the same reasons. She is a retired music professor; Gary is currently an English professor at East Carolina University. So, it's only natural that a university town appeals to them. They're currently looking around for homes and are interested in an older neighborhood like Betton Hills or Midtown.
"We'd like to be near a major university, we love sports, we really enjoy following FSU sports and we generally find it a really beautiful town," said Mary Ann Stringer, whose daughter Amanda Sauer is executive director of the Tallahassee Symphony Orchestra. "To me, Tallahassee has a quality music program at FSU … it's an ideal place to be."
The fact that their daughter and her family already live here is perhaps the main attraction. That means they already visit Tallahassee on a regular basis and are familiar with what the town has to offer.
"We've gone to hear the TSO and to FSU football. (We) also have spent Christmas holidays there," Stringer said. "I've kept the grandchildren when their parents have both been on trips at the same time. I am especially impressed with the opportunities for the children."
Former Miamian Powell made annual trips to Tallahassee for many years to enjoy the company of friends and family in places like Wakulla Springs. After being pestered by friends who also found happy homes here, she finally made the plunge and moved here a couple of years ago.
"My friends moved up here about five years ago and of course (they kept asking me) when are you going to move?" she said.
Now she walks her dog, fixes up her home, enjoys the purple wisteria blooming in the spring and does some volunteer work at the LeMoyne center.
"Mostly though, I'm trying to settle down. It was the move of a lifetime," she said. "I'm remodeling the house and do watercolor painting."
It's a definite change of pace for someone who grew up and worked in Miami. She doesn't miss the traffic, long commutes, crazy drivers, unfriendly people and the lack of common ground.
"Tallahassee was a respite from Miami. It was like there were people you could talk to, that weren't in such a hurry, that were literate, more concerned about news instead of just the spur-of-the-moment attitude in Miami," she said.
Martin Merzer, 64, is another recent South Florida "immigrant" to Tallahassee. He's a semi-retired freelance writer who had a 30-year career with the Miami Herald. Wife Marion, 59, is a policy analyst for the State University System Board of Governors. The couple came here about two years ago to be closer to their daughter's family — which includes the Merzers' first grandchild.
Merzer, who describes himself as an "empty nester," said the town has a lot to offer folks like him and his wife.
"Honestly, it's a wonderful place for living," he said. "There are terrific universities and a community college. It's the capital, and that makes it a pretty progressive and active place, there are four real seasons, you're a half-hour from the coast, you're surrounded by woods and honestly there are really nice people."
Boomers and Housing
The billion-dollar impact Bruns talks about assumes relocating boomers would have an average income of about $60,000 a year per household. However, they would probably be more affluent than that, because once they sell their homes, they'll bring the assets with them to either build new homes or buy existing homes. Tallahassee has its share of unsold homes that have been languishing on the market.
"There is a real estate glut right now of unsold property," said Sachs, a key proponent of Choose Tallahassee. "And the best thing for that glut would be a sudden influx of cash and buyers."
Added Bruns, "We have about 2,100 unsold houses in Tallahassee. Everybody in Tallahassee has experienced what it means to have a flat or declining housing market. All of us have lost value in our homes over the last five years. Imagine what it would be like if all of a sudden we had high demand for housing in Tallahassee."
While there's no shortage of homes, Merzer said there might be a "missing link" in the local housing market. And that is the "patio home" found in larger retirement communities like The Villages in Central Florida and throughout South Florida.
"That's not for us, but a development similar to that is what a lot of people are looking for," he said. "In South Florida we lived in an area for empty nesters. There was no age restriction, but it was understood that it was mostly for retired or semi-retired. That would help the effort here, but there is still a fine inventory of housing."
Merzer said it's tempting to keep the city a closely guarded secret. Of course, that's not really an option.
"When you find a place like this you do feel like locking the gate behind you, but it'd be the wrong thing to do," he said. "You need new people coming in to keep the economy moving and alive and vibrant."
Tallahassee's Top Selling Points to Baby Boomers
(According to the Consumer Federation poll)
» A year-round warm climate, but one with cooler months
» A small to mid-sized community
» Low taxes
» Large university
» Affordable recreational opportunities
» Top-quality healthcare
» Affordable housing
Choose Tallahassee Plans Include a Winner and a Warm Welcome
Armed with facts, studies and polling data, the "Choose Tallahassee" initiative will be "the most aggressive and comprehensive outreach" marketing approach of any community in the United States.
And Ron Sachs is highly confident of success.
"Our healthcare system is the best in the country, our parks and outdoor activities are among the best you'll find anywhere, our housing is affordable, our tax structure is certainly advantageous compared to other states and there is access to the beach less than an hour away," he said. "That's also something the boomers identified, so we have attributes in plentiful supply. It is a smart, strong, strategic approach to economic development to add this to our existing economic development efforts."
A national video essay contest will kick-start the Choose Tallahassee initiative in its first year. Contestants nationwide will have a chance to win a free year's worth of retirement living in Tallahassee.
While particulars are still being nailed down, the planned award package will include housing, a country club membership, tickets to sporting and cultural events, and restaurant meals. "They will live the life of Riley for a year," Sachs said.
All contestants have to do is talk about why they want to retire in Tallahassee. Not only will the winner will be handsomely rewarded, but Choose Tallahassee will be able to gather more information from potential newcomers.
"We're excited because the contest will allow us to receive data from other people who see value and will consider living in Tallahassee," Sachs said.
Choose Tallahassee will follow up with those who don't win the prize. Twenty goodwill ambassadors, or hosts, are lined up to sing the praises of Tallahassee to any and all retirees showing an interest in moving here.
"These 'hosts' are people who live here, they love Tallahassee and they love talking about Tallahassee," said Choose Tallahassee volunteer Marjorie Turnbull, a former Leon County commissioner and state legislator. "New residents will have a human being to connect with. So many communities are trying to attract retirees, and this set of hosts will set us apart from others."