Away from the Office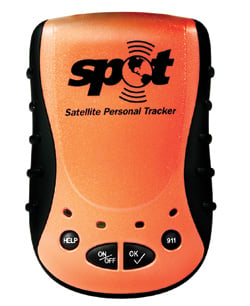 Away from the Office
Compiled by Rosanne Dunkelberger
Get Your SPOT On 
Stranded in the wilderness, low on gas, near starvation and not a single Wal-Mart or cell phone tower within a thousand miles – it's time to call on SPOT.
SPOT is a GPS-enabled communications and tracking device that operates independently of cellular coverage, allowing the user to send messages out to family and, if need be, first responders. Folks back home can even track you on a computer using Google Maps.
The device weighs a little more than 7 ounces and costs less than $150. SPOT features a rugged waterproof construction and can withstand a wide variety of extreme temperatures and environmental shock.
SPOT works around the world, including most of the continental United States, Canada, Mexico, Europe, Australia, parts of South America, northern Africa and northeastern Asia.
For more information, go to findmespot.com
Squared Away
With in-touch technology on your hip, feel free to make your next wilderness jaunt a bit more adventurous.
HEALTH 
Sleep More, Eat Less
According to the National Sleep Foundation, research has shown links between appetite increase and sleep deprivation because of hormones produced when you're short on sleep. In addition to being heavier, sleep deprivation and weight gain can lead to serious health problems such as the onset of sleep apnea, hypertension, heart attack, diabetes and stroke. Most adults need seven to nine hours of sleep to feel well-rested, the group said. To learn more, visit sleepfoundation.org.
GETAWAYS  
A Vacation with Vrooom
Why should Marcello Mastroianni have all the fun? It can be you living "La Dolce Vita," roaring through the Italian countryside behind the wheel of a Ferrari F430 Spider during a three-night, four-day tour created by Horizon & Co. Driving a performance vehicle through the steep winding roads of Tuscany (about 400 miles) is just one of the indulgences on this trip, which begins and ends in Rome. It also includes luxury accommodations, gourmet meals featuring haute cuisine and regional delicacies, and the services of a tour director leading the driving. Prices start at $6,645, and tours are available year-round. Visit Horizon-co.com and click on "Driving Adventures."
Pack Light, Carry Right
Strains, pulls and tears can occur while carrying a heavy suitcase; lifting and holding a bag incorrectly; or lifting luggage from baggage claim carousels, overhead or under-seat compartments. The American Academy of Orthopaedic Surgeons offers the following strategies to prevent injuries when lifting and carrying luggage:
1. When purchasing new luggage, look for a sturdy, light piece with wheels and a handle.
2. Pack lightly. Pack items in a few smaller bags instead of one large piece of luggage.
3. As with any heavy lifting, bend at the knees and lift luggage with your leg muscles. Also, try to carry luggage as close to your body as possible.
4. Don't rush when lifting or carrying a suitcase. If it is too heavy or awkwardly shaped, get help.
5. If it is very heavy, check your luggage when traveling rather than carrying it on a plane, train or bus. 
6. If using a backpack, pack the heavier things low and toward the center. Always wear a backpack on both shoulders.
7. If you need to use a duffel or shoulder bag, do not carry it on one shoulder for any length of time. Be sure to switch sides often.
8. Make sure to carry all rolling luggage up flights of stairs.