Aviator Harry Harper Recounts 60 Years in the Air
Army Wings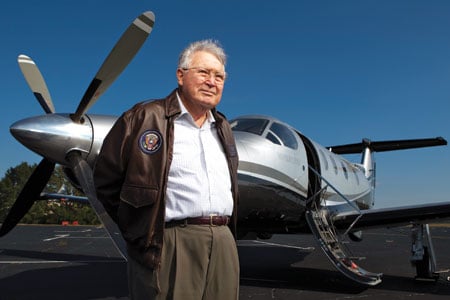 On a cold day in February 1959, William Harold "Harry" Harper looked like he'd been in a hatchet fight. His face was scratched up and bleeding, his tailbone busted. But he was alive. "I was some sorry-looking stuff,"
he recalled.
Despite years of service during the Cold War and in Vietnam, this wasn't a war story: This was the story of the night he had to bail out over America's heartland.
At a well-rounded 83, the Waverly Hills resident is far removed from his lean, ramrod-straight days as an Army officer and pilot, which included a stint flying for three U.S. presidents. Those glory days live on in a large, wall-mounted shadow box frame containing photographs, presidential seals, letters of commendation and the various medals he has earned in his career. And in the adventures he recalls … .
Any Landing You Walk Away From …
On the fateful day in 1959, Harper was flying home to Dothan, Ala., on a weekend trip from his studies at the University of Nebraska in Omaha. He had borrowed a small, single-engine observation plane from the Iowa National Guard for this trip.
At 33, he was an experienced pilot and was on the staff at Fort Rucker, Ala., the Army's new flight training post. Before Fort Rucker, he flew fixed-wing observation planes through the mountain passes of the Austrian Alps during the Korean War. After Austria, he learned how to fly the MASH-style helicopters of the 1950s. In 1957 he was stationed in Iceland as part of NATO's Iceland Defense Force.
"If you can fly a helicopter in Iceland, you can fly one anywhere," he said.
But it was the start of the Cold War, and in that era of new technology the Army demanded smarter officers. Those who didn't have college degrees got sent back to school. That is how Harper, a captain at the time, found himself taking classes at the University of Nebraska.
During this particular flight, the engine of his small plane quit when he was somewhere over Russellville, Ark. He was 7,000 feet up, wasn't wearing his parachute, and the 3,000-foot Ouachita Mountains were somewhere down below. Harper's restart attempts were futile, and so were his distress calls. So he slipped into the parachute and tightened the straps.
At 4,000 feet, he jettisoned the door and rolled out into the cold, empty air. He deployed the chute and gently dropped through the clouds, unaware that he was drifting and not going straight down. With a mountain looming beneath him, the parachute started swinging him around like a pendulum.
Unable to stop the oscillating, Harper crashed parachute-first into the trees.
Dazed by the impact, he turned loose of the parachute and fell to the ground. He tumbled down the slope and lay there a moment, checking himself out.
"The only thing that was broken was my coccyx, and there were scratches on my face like I'd been in a hatchet fight. It's cold and I'm in my shirtsleeves, but I didn't mind (because I was alive)," he said.
Shaking off his stupor, Harper walked back up the hill and found a barbed wire fence, which he followed for a while, not entirely sure he was out of the woods quite yet.
"I thought, 'Here it is, Friday night, in the middle of nowhere, in Arkansas, and I know I'm not going to be welcome company to anybody out here,'" he said with a laugh.
Luckily, Harper found a helpful man who wasn't averse to aiding a bloodied stranger and got the man to take him to the hospital. A week later he was back in class.
Charm Will Get You Anywhere
Harper relishes telling stories about his 30-year career in the Army, the highlight of which came right after he finished his college studies in 1959. That's when he flew the helicopters transporting presidents Dwight Eisenhower, John F. Kennedy and Lyndon B. Johnson.
Harper laughs when asked how he got picked for such an elite mission.
"My savoir-faire, my charm, my personality — and a good friend in Washington," he said.
But at the time, it was no laughing matter.
"Well, it was a hell of a responsibility," he said. "For one thing, you just prayed nothing went wrong."
Harper's assignment came at a historic time. Just two years earlier, in 1957, Eisenhower became the first U.S. president to make regular use of a helicopter. Back then, the Marines and the Army shared the White House flight program, called Marine Helicopter Squadron 1, or HMX-1. Harper shuttled presidents around until 1965. The Marines took sole charge of the program in 1976.
When Harper was picked for this duty, the chopper of choice was the Sikorsky VH-34. The cockpit was configured such that pilots sat high above the cabin and had to climb up from the outside. This meant that pilots had very little actual contact with their Very Important Passenger.
"We sat up above, so when Ike would come to get in, I would salute him and sometimes he would salute back but most of the time he'd wave a little bit, you know. But that's about all the contact I had with him," Harper said.
During the Kennedy administration, Harper flew a new helicopter, the VH-3A Sea King, which featured a cockpit in line with the passenger cabin. This allowed friendly exchanges between crew and passengers.
"We generally turned around and said hello, or something, and (Kennedy) would shake hands with you."
Picking up JFK at the Joe Kennedy home in Hyannis Port, Mass., was always memorable.
"While sitting there on a Monday, Jackie came down with clam diggers and no makeup and John-John would (get in the cockpit) and pull all the levers," Harper said. "We'd have to slap his hand away. He was bad about that … but it was fun to watch him."
Harper was not as enthralled by President Lyndon Johnson.
"He was bad news," Harper said. "He was always complaining. I was glad when I left that unit and got away from him, because he was so bad."
Shuttling the Weekday Warriors
Early in 1967, Harper — at that point a lieutenant colonel — commanded a helicopter battalion in Vietnam.
"We had over a million troops in Vietnam in '67," he said. "I was leading the parade getting in."
Harper commanded the 13th Combat Aviation Battalion in IV Corps, based in Can Tho in the Delta region. The battalion had just more than 200 helicopters and airplanes. Aside from his outfit, there were hardly any American forces nearby.
"That was all Vietnamese — Army of the Republic of Vietnam," he said. "There were three divisions of ARVN down there, and my battalion provided their helicopter support."
The ARVN troops looked at the war a bit differently from the Americans fresh on the scene. The American soldiers were there for only a year and wanted to "get in there and really get with it," Harper said. The South Vietnamese, he added, treated it like a 9-to-5 job.
"They had been fighting that war since '62 or '63 … and treated it like a business," Harper said. "They didn't want to get picked up for their combat assaults until 8 or 9 in the morning, and then they wanted to be brought back by 4 or 5 in the afternoon so they could go home to mama-san. They also didn't want to do anything on the weekends."
Harper said the only way to tell friend from foe was to have an ARVN officer or interpreter riding along in the helicopter who knew where the VC operated and could identify them. Harper said you could also use age as a guide. Young kids were supposed to be in the army, and old men could reasonably be expected to be peaceful farmers.
Even so, if a "farmer" dropped what he was doing and picked up a rifle to take a potshot at you, "it was pretty obvious who they were," Harper said.
During his one-year tour, Harper earned the Silver Star, Distinguished Flying Cross and 20 Air Medals. He returned to the United States that December and was promoted to colonel in 1969. Harper taught helicopter tactics at Fort Rucker until 1974 and retired from the Army in 1975.
Back Home
Harper and his wife, Jean, moved to Tallahassee in 1975. He worked for the state Department of Natural Resources until 1980; from there, he was a bureau chief for the Florida Marine Patrol. Harper retired again in 1988 and two years later founded Eagle Aircraft, which offers flight instruction and airplane rental services at Tallahassee Regional Airport.
In 1996 he retired for good, loaded up his Beechcraft Bonanza, and flew all over Canada.
"Gas was cheap in those days," he said.
In 2005, the Federal Aviation Administration awarded him its prestigious Master Pilot Award for 60 years of flying. The next year, he was inducted into the Tallahassee Airport's Aviation Hall of Fame.
Harper is no longer an active pilot — but he's OK with that.
"I logged about 14,000 hours in my career, so that's enough," he said.