Authentic Peruvian
Café brings the original fusion food to town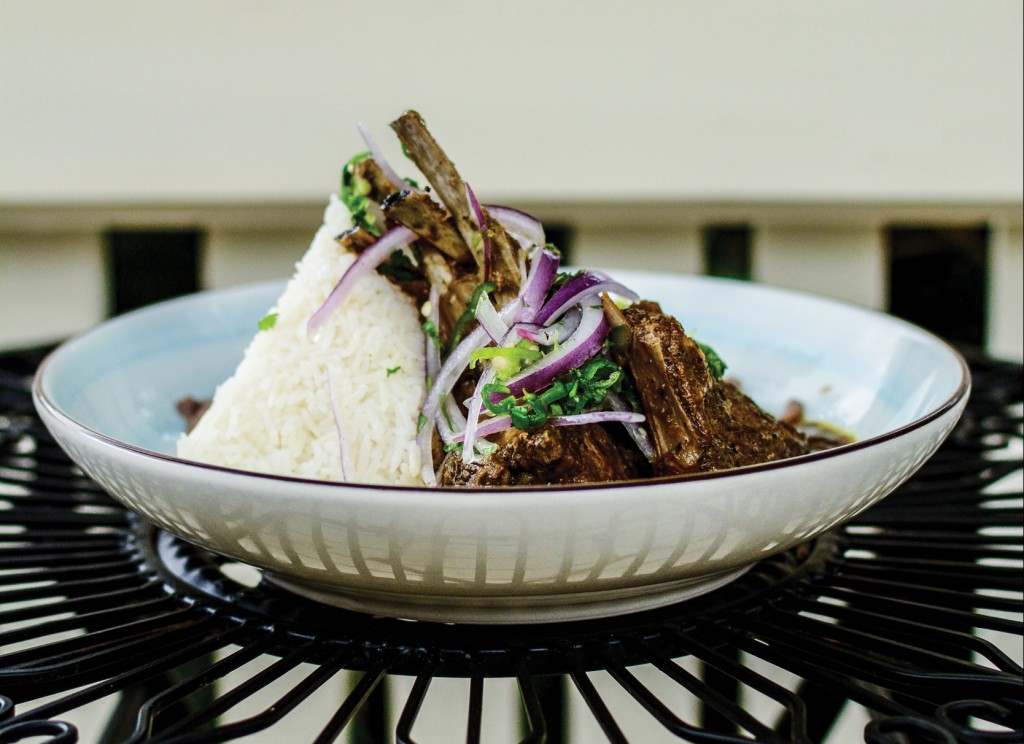 For a taste of Peru's remarkable cuisine, you can now dine at Café de Martín, the Capital City's only venue presenting food from the land of the Incas.
Café de Martín opened in October 2021 in the former home of Carlos' Cuban Grill. So far, the restaurant has served lunch only, but it has plans to start dinner service in 2022, expanding the menu.
The cafe features inside and outside dining, with ample seating on the wooden deck — dogs are welcome. Inside, Café de Martín has a cozy environment with decorative items and black and white photographs of Andean people, descendants of the Incas. The cafe also reserves space for the work of local artists.
Take a few minutes to witness the artistry behind the counter as cooks prepare stir-fries, flames shooting up from the skillet. Everyone on the staff is moving quickly, yet they take the time for gracious service.
In the center of it all is chef and co-owner Martín Araujo Bohorquez. A native of Lima, he is dedicated to sharing the authentic fare of his homeland despite the challenges of recreating here the dishes considered among the best in the world.
Called the original fusion food, Peruvian cooking dates back to the Incas, was influenced by the arrival of Spanish conquerors and still later Chinese, African, European and Japanese immigrants to the South American country. Thus, Peruvian food includes dishes with fried rice as well as spaghetti, ancient flavors and modern interpretations.
Peru's culinary star has brightened over the past decade. In 2019, the country was chosen for the eighth consecutive year as the best culinary destination in the world by the World Travel Awards, considered the "Oscars of Tourism."
Bohorquez understands the importance of utilizing the country's diversity of ingredients to summon those multicultural flavors that have come to define Peruvian cuisine. Toward that goal, he and co-owner Gary Parsons regularly travel with their long shopping lists to markets selling products such as chullpi corn and maize morado, chile peppers, spices and yellow potatoes.
"The car is full of yellow chile peppers," Parsons noted on a recent trip back from an Atlanta market.
"We can only get these ingredients in Miami, Atlanta, Orlando, Tampa or New York," said Bohorquez, who also makes an occasional trip to Peru. "The flavors of our peppers are so different. The weather, the water, makes a difference."
Bohorquez will transform these ingredients into classics like ají de gallina (chicken in a creamy sauce made with ají amarillo chile peppers), papa a la Huancaína (sliced, boiled potatoes in a mildly spicy cheese blend called a Huancaína sauce) and lomo saltado (a Peruvian stir-fry).
Another Peruvian highlight is the country's famed ceviche, raw seafood marinated in citrus, which "cooks" the fish.
The cafe serves ceviche mixto with white fish, squid, shrimp and crab marinated in leche de tigre, a Peruvian citrus-based marinade, with red onions, cilantro and chile pepper accompanied by a sweet potato.
"Ceviche is 100 percent Peruvian," said Bohorquez. He grows Peruvian chiles in his Tallahassee garden that he uses in ceviche and other items.
The chef comes to Café de Martín with more than 25 years of experience in the culinary industry. He has a background in restaurant management and attended Le Cordon Bleu Peru.
Bohorquez, who previously operated a small restaurant in Lima, brings recipes from his Peruvian colleagues as well as his own repertoire reflecting his heritage. His mother, Gabina, is from Cuzco, once the capital of the Inca Empire. His father, Pompeyo Araujo, was from Cajamarca in Peru's northern highlands, and his grandfather, Lepoldo, came from Spain.
Once he moved to Tallahassee, Bohorquez supplemented his skills by taking baking classes for pastry chefs.
As the cafe website states — "Hecho Con Amor"— Bohorquez creates dishes made with love and passion. That devotion isn't lost on his customers, including those of Peruvian descent and those who confess they have no idea what to expect.
"Have you ever had Peruvian food before?" Parsons asks a couple new to the restaurant.
Their answer is no.
"If you look at the menu, we have sandwiches and they are delicious," Parsons tells Chris and Kathy Lacher. "I love them all, but if you want more traditional Peruvian food …"
Parsons steers them to the appetizer list and the causa de pollo, which starts with cold yellow mashed potatoes, which tastes so much better than it sounds, stacked with layers of avocado and chicken salad. It's also available with shrimp or ceviche.
You'll find potatoes in many of Peru's famed dishes. The potato is native to Peru, and there are thousands of varieties.
"The potato originated in Peru, not Ireland or Idaho," Parsons tells the Lachers.
He also pointed to lomo saltado, a combo of spaghetti in a cream sauce paired with lomo saltado, stir-fried rice dishes and seco de cordero con frijoles, lamb marinated in a cilantro sauce, among other specialties.
Lacher wound up ordering an asada sandwich with Peruvian-style beef on bread from Tribeca Ovens in New York, plated with a red onion Creole sauce on the side. His wife had the lomo saltado made with sautéed bell peppers, onions and beef (chicken also available) served with rice and fries in a delectable sauce.
"It was new to me, but it was delicious," said Chris Lacher.
"It was superb." His wife said she liked the savory flavors of her lomo saltado. "We'll be back," she said.
They'll have lots of company.
"Before we opened, I had no idea what this would mean for Tallahassee," said Parsons, a financial planner. "It wasn't until we opened that my world expanded. So many people are saying they appreciate this restaurant opening.
"A lot of people have come from other places and they now live in Tallahassee, and they've hungered for a Peruvian restaurant," he said. "Some get really kind of emotional. They say, 'This is like home to me.' This is happening every day. When they leave, they say, 'Thank you for bringing this to Tallahassee.'"
George Feijoo is one of the grateful.
"I'm of Peruvian descent," said Feijoo, at the cafe having lunch with friends.
"I was born in New York, grew up in Miami and the rest of my family was all born in Peru. Café de Martín opening in Tallahassee has been huge for me and for my family that lives here.
"We had nowhere else to go to eat Peruvian food, but even being the only place in town, it has not dropped the ball on quality and authenticity," said Feijoo, a governmental affairs consultant in Tallahassee. "Plates are made with ingredients that are clearly sourced from Peru or places that can give you that authentic taste. The hardest thing in cooking Peruvian food is having authentic ingredients, and they've made great strides here. It shows in their food."
He applauded the employees as well. "Their staff makes it feel like you're in Peru when you're dining here," he said.
To capture the flavor of Peru, don't miss ordering chicha morada, a traditional beverage that originated in the Andean regions of Peru but has become a national staple. It's not on the menu, but you can request it. Chicha Morada is made with purple corn, along with fruit and spices. It is deep purple in color, and it is sweet yet tangy. Delicious.
The cafe has a list of coffee drinks, including a latte, cappuccino, cortado and mochaccino made with organic coffee from Peru and local Midtown Coffee Roasters, with bags for sale at the cafe. You'll also find beer, such as Modelo Negra, Modelo Rubia and Corona, and wine varietals from Spain, Argentina and Chile.
My husband and I fell in love with Peruvian cuisine in South Florida, and we're among the diners who've longed for such fare in Tallahassee. We've already been to Café de Martín several times, devouring the creamy ají de gallina, the shrimp causa, the beef empanada, lomo saltado and rich, homemade chocolate cake for dessert. It has all been terrific. The food, atmosphere and service add up to a winning trifecta.
Customer Feijoo summed up his opinion of the restaurant: "We hope to continue to come here for years and years to come."
The words of customers like Feijoo make Bohorquez smile.
"Customers tell me the food is delicious," he said. "When I hear that, I'm very happy."
CafÉ de Martín
2743 Capital Circle NE, (850) 900-5969, cafedemartin.com