At Home Veterinary Care Center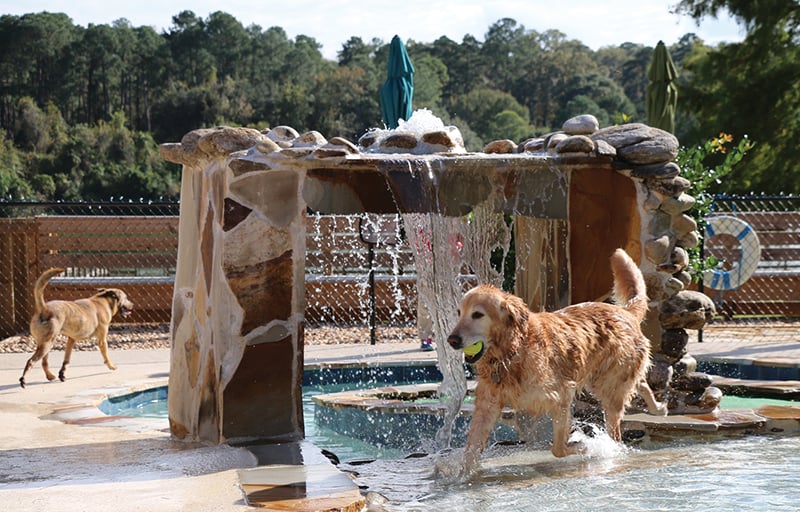 You've loaded your dogs in the car and as you round the bend, they grow alert and paw the seat in excitement. Before them, dogs frolic in a field filled with toys and playground equipment and cavort in a splash park. Such are the unique amenities provided by At Home Veterinary Care.
Dr. Elizabeth Blount launched At Home Veterinary Care in 2009 with the intention of providing care in spaces that were welcoming, safe, comforting and convenient. She began by seeing patients in their own homes and the pool house of her home, which was converted into a veterinary office.
The business grew, and Dr. Blount outfitted an 8,000-square-foot comprehensive practice, a 2,000-square-foot, climate-controlled training center and a 43,000-square-foot dog play park.
As Tallahassee's most comprehensive pet care center, it offers medical care, general surgery, dental care, end-of-life care, behavior training, grooming, play care, day care and stay care. For pet owners who are elderly, disabled or unable to make it to the office, house calls for routine care, medication and food delivery and transport services are available.
The staff utilizes low-stress handling techniques in all pet interactions to make visits carefree and fun. For more than 10 years, At Home Veterinary Care has been an AAFP Gold Level cat friendly practice.
"Our goal is always to limit anxiety, and we do so by getting to know your pet and their temperament," Dr. Blount said. "We are trained to read their body language in order to help them feel safe and know they are going to be well cared for."
That commitment extends to pet owners, as well. The practice is dedicated to a "One Health" initiative, which promotes the health and welfare of the animals in our lives with an understanding that they impact the health and well-being of the people in their families and the environment we all share.
The independently owned and operated practice has been an America Veterinary Medical Association member for over 10 years.
"We focus on facilitating a healthy relationship among all family members, those with and without fur, by providing stress management, education, assisting with pet socialization and training and keeping all family members free of parasites and diseases," Dr. Blount said.
---
1833 Junwin Court

| (850) 274-5710

| AtHomeVet.Care
---