At Home in the Atomic Ranch
A Builder and an Architect Introduce the Of-Its-Time, Mid-Century Modern Style to Tallahassee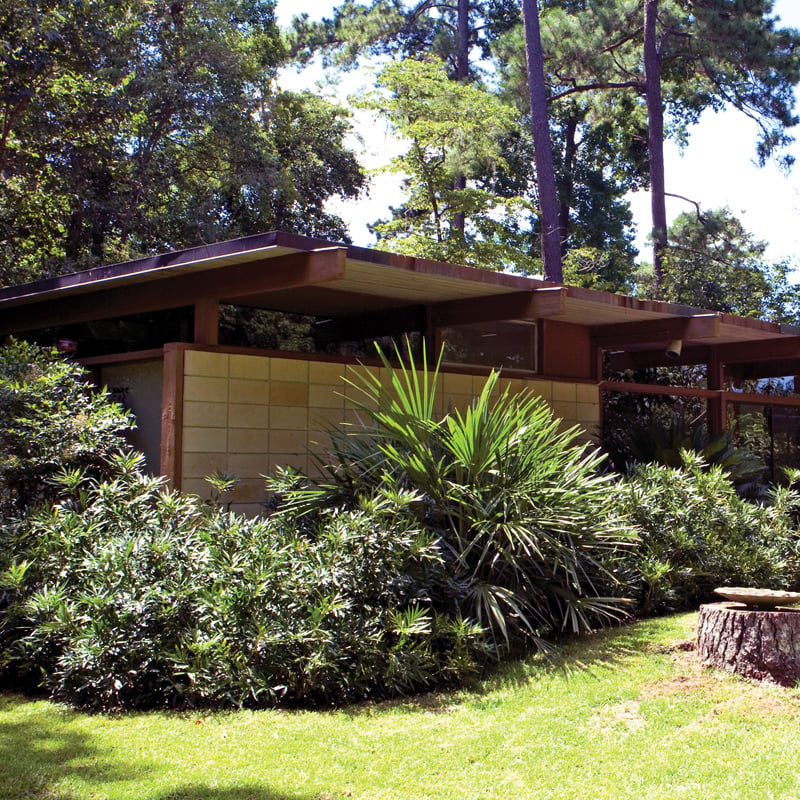 The 1950s were a period of growth and prosperity in the United States. The country had emerged from the Second World War as a superpower. It was the dawn of the Atomic Age, and everyone was looking toward the future. Ideas such as space travel and nuclear power were transforming from fantasy to reality, and the fear of the Cold War was still a few years away.
It was a period of time when anything seemed possible — and it's the era that spawned Mid-Century Modern architecture.
---
Sixteen million servicemen were returning home to start living the American Dream they had sacrificed so much to defend. For many of them, that dream included getting married, starting a family and buying a house. The GI Bill helped many of them realize their dreams by paying college tuitions and guaranteeing home loans. This bill, and the determination of those veterans, combined to create unprecedented growth of the middle class.
Cities all over the United States experienced a period of rapid expansion as new subdivisions were built to accommodate their swelling populations. Tallahassee's population grew from 16,240 in 1940 to 72,624 in 1970 — an increase of more than 400 percent. The city spread out in all directions from its original quarter-square-mile town center surrounding the Capitol. Indian Head Acres, Betton Hills, Waverly Hills and Killearn Estates were among the new developments started during this time period, and residential architecture was changing to suit the wants and needs of this new generation of home buyers.
A new style of house, one story or split-level, called a ranch, came to dominate many of these new developments. If you've ever looked at houses in these postwar neighborhoods, you've seen the types of homes that were being designed and built during that period.
Home plans reflected the changes in family life in the modern age. Family rooms, or dens, with their new televisions and hi-fis, replaced the formal living room as the social center of the house. Kitchens were often open to the family room to allow for social interaction and to show off all the new electric appliances. Carports or garages were included in most designs to accommodate the automobiles that were now a necessity in the ever-expanding cities.
Out in California, a developer named Joseph Eichler was building a style of house that blended some of the features of the ranch with a construction method called "post and beam."
This construction technique was picked up by other architects around the country, and the resulting style has become known as Mid-Century Modern or, more recently, Atomic Ranch.
Examples of this style are scattered throughout Tallahassee's older neighborhoods, and their unique design makes them stand out from their more conventional neighbors.
Many of Tallahassee's post and beam houses can trace their history back to two men who were starting to live their versions of the American Dream in the 1950s.
Carl Ferrell Sr. came back to Tallahassee after serving in the Merchant Marine during the war and started his career in construction by doing repairs on older houses. The knowledge gained in fixing these older houses was soon put to use in new construction. One of his early projects was a duplex apartment he built on Hillcrest Street near Leon High School. Ferrell and his wife lived in one of the apartments and rented the other.
Their first tenants were Mr. and Mrs. Pearce "Bouchie" Barrett. It was a chance meeting that would lead to a personal and professional relationship that would last a lifetime. Barrett had served in the Marine Corps in the Pacific and attended the University of Florida on the GI Bill when he returned home. After graduating from UF's School of Architecture, he moved to Tallahassee in 1950 to open a firm and start his career.
Barrett was an admirer of Frank Lloyd Wright and modern architecture, and it was in the apartment on Hillcrest that he first talked to Ferrell about post and beam construction and his desire to build that style of house in Tallahassee.
The first post and beam house that they designed and built together was a model home in Waverly Hills. The developer was kicking off the new neighborhood with a builders' parade of homes. The radically new, modern home design was a success and sold before it was completed.
Later on, Barrett designed a post and beam house that Ferrell built for himself on Buck Lake Road. They went on to design and build many more examples of this style of house in Tallahassee, both together and with other architects and builders. Many of the clients for these modern designs were university professors from Florida State. The university was growing during this time period, and new professors were moving in from other parts of the country where modern architecture was more prominent.
Both Ferrell and Barrett had long and successful careers that encompassed much more than just post and beam designs.
Ferrell Construction built hundreds of buildings in Tallahassee and is probably best known for its high-quality construction of custom-built traditional homes. Pearce Barrett and his firm were responsible for a wide variety of residential and commercial designs, including the University of Florida's Reitz Union building.
From the front, post and beam houses can look rather plain, with blank walls topped by rows of clerestory windows and entryways often shielded from the street by a wall or courtyard. Roofs are usually flat or low-pitched, with the beam ends protruding from under the eaves.
In Tallahassee, a construction material common among many of the Mid-Century Modern homes is a light yellow-colored limestone block that was manufactured in Ocala. The blocks were stacked vertically rather than staggered like brick to blend with the verticality of the posts. The creamy yellow color of the limestone requires no painting, and its smooth texture is much more refined than regular concrete block.
The true appeal of these post and beam houses does not become apparent until you go inside.
The posts and beams that give the style its name are the primary structural components of the house. The pieces, which were custom-ordered and manufactured to fit the designs, are made of laminated clear fir and finished to show off the natural beauty of the wood. Each piece came wrapped in brown paper to protect it during shipment and was numbered to match the building plans and to assist in assembly on site.
Overhead, the exposed wood beams with tongue and groove ceilings provide an open, airy feel.
Floors are usually a combination of wood and terrazzo, or tile, in keeping with the organic nature of the designs. Because of its load-bearing characteristics, post and beam construction allows for design features that are not possible with traditional frame construction. Living spaces are open and flow together, and walls of glass across the back of the houses blur the line between inside and out. Outdoor living spaces in the form of patios or courtyards often are an integral part of the designs.
Most of these post and beam houses were built in the late 1950s and early 1960s, a time when energy-efficiency was of little or no concern. Hundreds of square feet of single-pane glass allow for wonderful views but afford little in the way of insulation. In fact, insulation of any kind was minimal at best.
As a result, many owners have resorted to making changes to the designs of these houses in an attempt to make their utility bills a little less frightening. Unfortunately, in many cases these changes have also compromised the original intent and aesthetics of the design. The most noticeable is the addition of a pitched roof over the original flat one to allow for an insulated attic. Windows are also being changed to smaller, more energy-efficient styles across the backs of the houses. In some cases, additions have been made with little regard for matching the original building materials or style.
In the same way that plantation houses and cracker houses represent important historical periods, so too do these Mid-Century post and beam designs. Hopefully, some will continue to be preserved in their original state so future generations can get a glimpse into that period of American history when anything seemed possible.