As the Manatee Goes, So Do Aquatic Ecosystems
Vulnerable marine mammal faces mutiple threats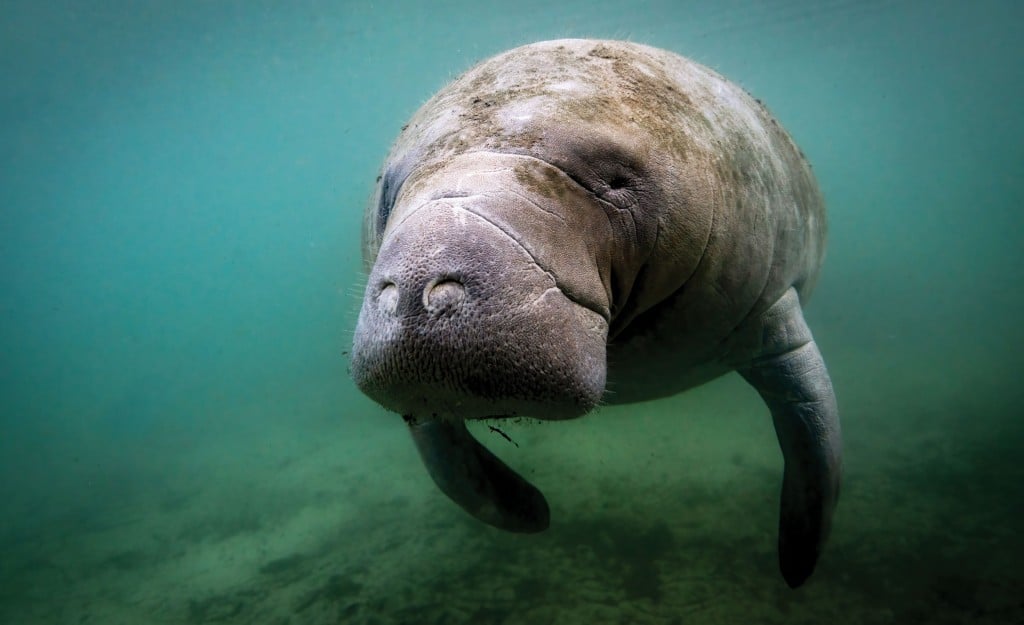 As of May 2021, 700 manatees had perished in Florida this year.
Officially, the die-off was classified as an unusual mortality event. But, said Patrick Rose, the executive director of the Save the Manatee Club, "It has been an unusual event among unusual events. We are talking about three times the mortality that occurs even in years that are affected by red tide and cold stress, in addition to watercraft injuries."
A new and prevalent cause of death among manatees has emerged: starvation.
"Until recently, the availability of food had never been an issue for manatees," Rose said. "But along stretches of the east coast of Florida, including the Indian River Lagoon, we have lost 90 percent of the seagrass."
When excess nutrients enter coastal waters year after year, Rose explained, massive algal blooms result and prevent sunlight from reaching rooted seagrass. When the seagrass then dies, more nutrients are released into the aquatic environment and a second wave of blooms occurs. Further, nutrients are released from subsoils in bay bottoms when they are no longer held together by plant roots.
"We reach a tipping point, and the destruction just keeps going," Rose said. "We're talking about multiple sources of nutrients: failed septic systems, improperly treated wastewater, agricultural runoff, fertilizer in stormwater discharges."
Rose first became aware of manatees when as a fourth-grader growing up in the Midwest, he read an article about "sea cows" in the Weekly Reader, a newspaper received, back in the day, by elementary school students across the country.
"I was fascinated," Rose said. "Could there be such a thing as a sea cow?"
Years later, during breaks from his studies at the University of Missouri at Kansas City, Rose made trips to Florida where his oldest brother lived. (Rose comes from a family of 11 children.) He got into diving, became a scuba instructor and built underwater cameras.
Diving in Kings Bay at Crystal River in the late 1960s, Rose noticed a white line that stood out from the murky water. It turned out to be a prop scar on a manatee.
"From that moment, I knew I wanted to do something to help manatees have a safer life," Rose said.
He has been doing so for more than four decades, first in Tallahassee where he lived for some 18 years and once ran unsuccessfully for a county commission seat. He was the first biologist hired by the State of Florida to do work related to manatees and other marine mammals.
There was a time when he was encouraged. The state's manatee population, which had fallen to about 800, responded well to recovery efforts and the introduction of management practices that occurred in the 1980s. The population grew to an estimated 10,000.
"We did well up until about 2010," Rose said. "But especially in the last four or five years, I have grown very concerned about the future of manatees. Today, we are not in a position to make dramatic recoveries if we were to see the population decline dramatically."
Despite disturbing trends that have included significant habitat loss, the U.S. Fish and Wildlife Service (USFWS) "downlisted" the manatee in 2017, removing it from the endangered species list and reclassifying it as threatened. The agency took the action, Rose said, "despite the fact that a majority of their scientific peer reviewers felt that the move was premature from a biological standpoint."
Said Rose, "They dropped the ball."
"Not taking care of your wastewater with systems that work as they should is a basic thing that you have to deal with or you are going to have these kinds of adverse consequences," Rose said. "We must have growth and development and capitalism — I believe in all of that — but we are not paying for it as we go; we are not making it sustainable. The very things that people come to Florida to see and enjoy, we are compromising. We are pissing in our own backyard."
What can individuals do to help out? Rose offered a few suggestions.
Boaters need to respect speed limits in manatee zones, wear Polarized sunglasses and know what to look for. Flat spots on the water's surface as manatees move about are known as manatee footprints.

Really think about the amount of fertilizer you put on your lawn. "In Tallahassee, I lived between two lakes," Rose said. "I never used fertilizer. Look at the kinds of fertilizer you use, only apply when there is not going to be rain and don't apply near the water."

Work with units of local government to encourage best management practices.

If you have a septic system, make sure that it is functioning properly.

Support and engage in environmental organizations, including the Save the Manatee Club at savethemanatee.org.
"People get serious for a little while when a fish kill fouls the air, and then they want to forget about the problem," Rose said. "We can't do that. We have to make sure that our water quality standards are set high enough that we can stop the pollution, and we have to go back and undo the damage we have already done."
The Save the Manatee Club, headquartered in Maitland, was founded 40 years ago by Jimmy Buffett and then-Gov. Bob Graham.
Graham hasn't rested. In a guest column published by the Tampa Bay Times in April, he wrote, "The only way to reverse the devastating consequences of too much nutrient pollution is for citizens to demand that their local, state and federal leaders make cleaning up our waterways a top mutual priority. Unless we stop the excess nutrient pollution from making its way into our bays, lagoons and rivers, our state will not be fit for man or manatee alike."
Rose listed other problems for manatees: Saltwater intrusion may suppress water flows at springs frequented by manatees. The armoring of waterfronts by homeowners may interfere with the natural interaction between land and water. Manatees may be left out in the cold when power utilities take coal-fired plants offline and no longer discharge warm water to the artificially heated lagoons and canals that 60% of the state's manatees rely on.
Rose, who will turn 70 in January, had thought about retiring last spring, then reconsidered.
"Now, I am nowhere near that," he said. "I have so much to do. Things have been evolving quickly, and we're in the process of hiring a couple of biologists here. I will need to train and mentor them. I have worked my whole life to put myself out of a job and we were doing pretty well, but now it's a different situation.
"The manatee is a sentinel species, the canary in the coal mine. The problems that affect them also affect dolphins, sea turtles, blue crabs and all the species that use inshore waters as estuaries. Manatees have evolved along with seagrass communities, and what is good for manatees turns out to be good for those communities as a whole and for boaters and fishermen."
You save the spotted owl, you save the forest.
About Patrick Rose
The Save the Manatee Club's (SMC) executive director is an aquatic biologist and certified public manager and is considered to be one of the world's leading experts on the Florida manatee.
From 1996 to 2006, Patrick Rose was SMC's director of government relations in Tallahassee. He advocated on the manatee's behalf before the Florida Legislature, governor and Cabinet. Before joining SMC's staff, he was the first federal manatee recovery activities coordinator and Florida's first manatee and marine mammal coordinator for the Florida Department of Natural Resources.
He was also the environmental program administrator for the Bureau of Protected Species Management, Division of Marine Resources, for the Department of Environmental Protection in Tallahassee. In addition, he provided overall policy guidance and direction for statewide recovery efforts for endangered and protected marine species.
Rose has served as a member of every federal manatee recovery team and is currently serving on the team's steering committee. He has a master's degree in aquatic biology from the University of Missouri at Kansas City. He is an avid boater and pilot and a certified scuba instructor.