As 'Over-Wintering' Booms, More Manatees Are Calling Local Waters Home
Manatees ♥ Wakulla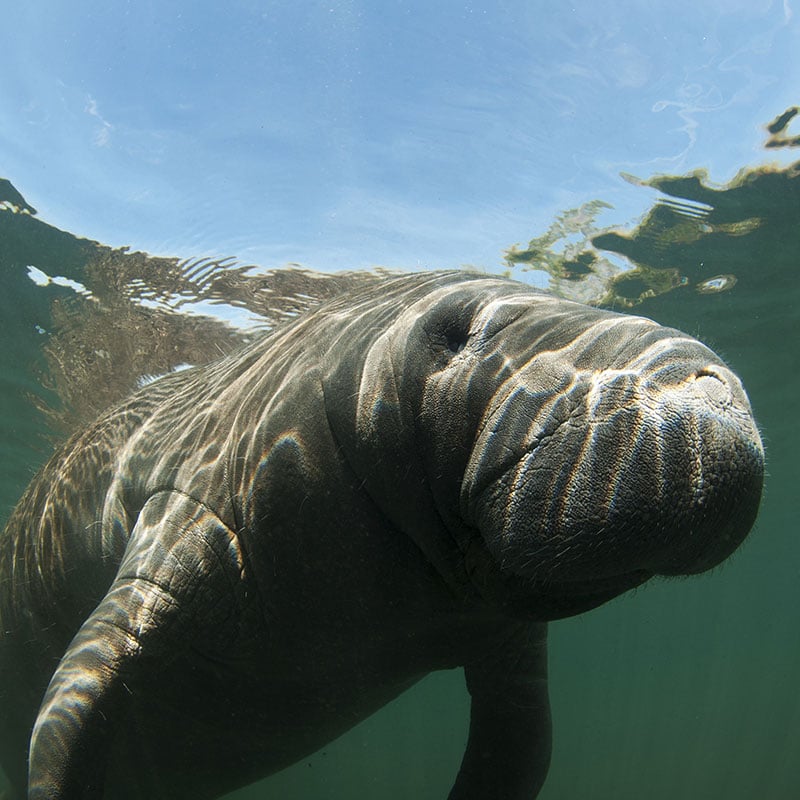 During those smoldering summer months, manatee sightings along the St. Marks and Wakulla rivers are a fairly common occurrence. But with the marine mammal's population on the rise, the continuation of this trend, while exciting for onlookers, comes as no real surprise to wildlife aficionados.
What has caught the attention of state biologists and local outdoor enthusiasts, however, is the fact that for the last several years our once seasonal manatee population in the Big Bend has decided to stay, lingering in the "warm" waters of Wakulla Springs.
It's a phenomenon experts have dubbed "over-wintering" and has many begging the question: Why?
Patty Wilbur, park ranger at Edward Ball Wakulla Springs State Park, has watched this rather unusual natural process unfold over the last decade. For Wilbur and her co-workers, the data is overwhelming.
"When I first started, we'd see them occasionally throughout the summer, but very sporadically," said Wilbur of Wakulla's once sparse manatee population. "In the summer of 2007, we're pretty sure we had a female give birth in the park. After she gave birth, she and her calf stayed in the park for the rest of the summer along with a sub-adult. We saw them fairly regularly. As we got into the fall, historically manatees have migrated south for the winter, but they didn't. A few others slowly came to join them and we ended up with 12 manatees that winter.
"That was really the first time I've seen them over-winter at the park," continued Wilbur. "The next winter we thought, 'Well, maybe that was a fluke, maybe they waited too long to migrate.' But the year after that, we had 16. Some were the same, some were different. The next winter, we had 20 over-wintering. The numbers just keep on growing every year. Last year we had over 60 manatees visit the park throughout the winter."
Manatees' must-have list is not very extensive, and our local freshwater sources certainly meet the criterion. In short, as long as a potential habitat has an abundance of water grasses, weeds and algae, plus a continuous supply of clean, fresh, warm water, these avid grazers are pretty content. Once water temperatures fall below their comfort threshold, which is approximately 68 degrees Fahrenheit, manatees migrate.
"They're mammals like you and I, they want to be comfortable," said Wilbur. "The Spring (at Wakulla) is always about 69 degrees. That's just warm enough for them to get comfortably through the winter, and luckily it's a big spring so the water is warm a good ways down river."
The truth is, it's more than comfort that they're after. Manatees cannot survive when water temperatures fall below 60 degrees, making unseasonable cold spells their only natural enemy. Even alligators, intimidated by the manatees' colossal size, leave these gentle giants alone.
The influx of manatees to the Big Bend has brought with it more than just an increase to the sea cows' population, it's also attracted researchers interested in tracking the animals' movements and migration patterns.
Biologists with the U.S. Geological Survey's Sirenia Project began their work further down Florida's Gulf Coast in Crystal River — a location that for many years was the northernmost limit of the manatee's winter terrain. The study, which was kicked off in 2007, was designed to help better understand the current distribution of manatee resources and patterns of use in the region.
"It gives us a snapshot into their daily lives," said Susan Butler, a leading biologist with the U.S.G.S. Sirenia Project said of the "free-tag" GPS devices implemented at the study's conception.
"Originally, as part of a cow-calf study, we had tagged a couple of females in the Crystal River area, and it just so happens that they left the Crystal River area after winter, traveled up the coast and started using the Wakulla," said Butler. "By having those tags, we can follow them from place to place. That's really what initiated the study up here."
The tags used were approved by the Marine Mammal Commission years ago and are completely safe for the animal. The system works via a belt-like apparatus fastened at the base of the manatee's tail, or peduncle. Connected to that belt is a lengthy lead, which is tethered to a buoyant antenna capable of transmitting the animal's whereabouts back to the U.S.G.S.
In case the worst occurs, there are a number of safety features built into the device to ensure that the manatee can retreat from a sticky situation unscathed.
"If enough pressure is put on the tag, the tag breaks free but the belt will stay on the animal and the animal is free to swim away," said Butler. "In other words, the tag stays stuck while the animal is free to go. There's also another weak link built into the belt. … We have more tags come off than we'd like. But it's a safety feature, and it really works well. It's been proven over and over again."
The tag also makes the manatee easier to spot in the wild.
Spotting manatees is exactly where Robert Baker of T-n-T Hide-a-Way Inc. comes in. As an avid outdoorsman and the leader of his family's canoe, kayak and paddleboard rental and tour guide business, Baker knows the river.
And according to him, the increase in manatee traffic in recent years is undeniable.
"We see more and more manatees every year," said Baker. "With the milder winters we've been seeing manatees throughout the wintertime, whereas it used to just be a summertime event."
While no one is sure as to precisely why these friendly creatures are making a stand in the Big Bend, there are two prevailing schools of thought.
First, as Baker pointed out, a series of mild winters could be enticing a number of manatees to stay further north. During the summer months, manatees have been regularly known to go as far north as Georgia, and in rare cases, even up into the New England area.
And second, the conservation efforts set into place with a series of state and federal laws during the mid-to-late 1970s could actually be working. With their numbers on the rise, manatees have to expand their once-limited winter territories, effectively pushing many into the Wakulla River.
---
Look. Listen. Be Amazed.
Tips and tricks for spotting a manatee, courtesy of Robert Baker of T-n-T Hide-a-Way
» When you're out on the water, look for their nose or head to come out of the water when they take a breath. When this occurs, the manatee exhales, inhales and then re-submerges, making a very distinctive sound and visual effect.
» When manatees are active, they surface every one to two minutes. If they're sleeping, generally they're resting on the bottom. At those times, they can stay submerged for five to seven minutes before they need to come up and take a breath again. "When they're sleeping, that's the hardest time to really locate them," said Baker. "You could paddle right past them and never even realize they were there."
» Try looking for any gray areas in the water; they can look like a sandy bottom if you're not conscious of them.
» As a manatee swims, its huge tail will leave a paddle ring on the surface of the water. You can look for those in chains — one paddle ring right after another. "If you see those things," said Baker, "they're just ahead of you by 20 feet."
» It's also important to remember that while sightings of these animals have been increasingly more frequent in recent years, they are still considered to be on both the state and federal endangered species listings. Every freshwater outing may not be characterized by a manatee encounter.