As Medicine Has Changed, So Has the Career of Dr. Gary Winchester
One Doctor's Journey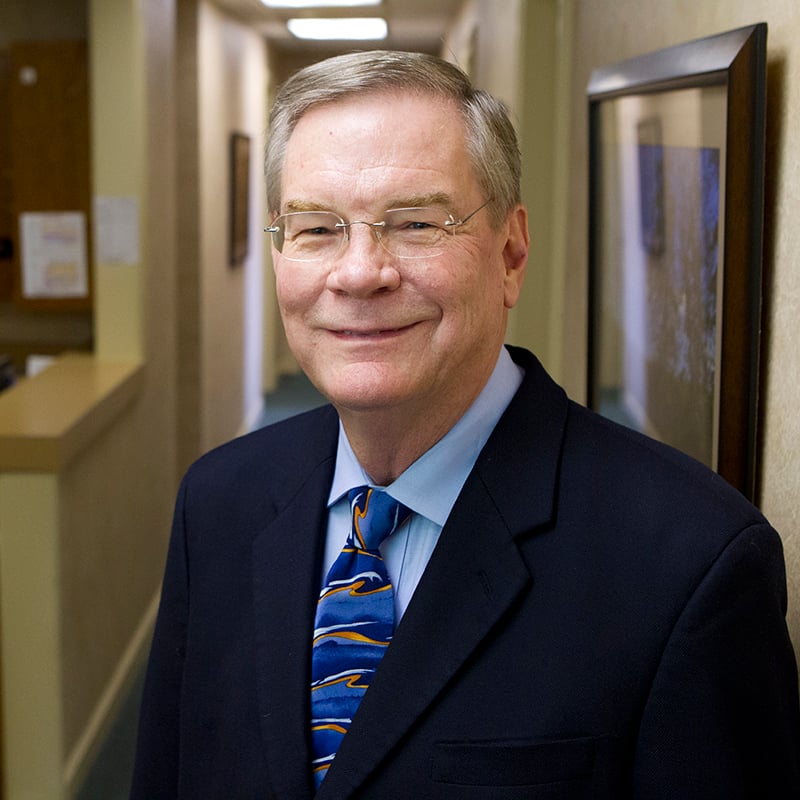 One of the easiest ways to track the evolution of health care in Tallahassee is by taking a look at the nearly 40-year career of local doctor Gary Winchester.
He was the fifth baby born at Tallahassee Memorial Hospital in 1949 and grew up just a block away on Spruce Avenue. He's practiced from an office behind TMH his entire professional life, and Winchester and his wife, Carol, now live about a half-mile down the road. "I tell people I've moved about a mile in my life," he said with a grin. After getting an undergraduate degree from the University of Florida and attending medical school at the University of South Florida, "it was a natural for me to come back here."
Winchester was a member of one of the earliest classes of the Tallahassee Memorial Family Medicine Residency Program and hung out his shingle with another residency program classmate, Karl Hempel, in the early '80s.
"It was incredibly different," he said, recalling the practice of medicine in those early days. "Most of the time we had either three or four (doctors) we shared call with; we didn't have any mid-level people (nurse practitioners or physician assistants) at all and we did full emergency room coverage and admitted all of our own patients. So every third or fourth night we were gone for 24 hours and then had to come in the next day and work eight or 12 hours. Every third or fourth weekend we were away from home all weekend. That just doesn't happen anymore."
After several years by themselves, the doctors added Physician Assistant John Sabin and Nurse Practitioner Karen Godbey as part of their professional medical staff, a practice that gained popularity at the time because patients didn't have to wait for an appointment with the doctor for routine care or minor ailments.
While medical practices owned by hospitals and other entities are in the spotlight now, it was a trend in the past, too. "The onesies and twosies were essentially being bought up, usually by hospitals. We didn't want to work for anybody else; we wanted to work for ourselves." So, in 1997, Winchester and Hempel "invited about eight or 10 friends in private practice" to join with them and started Tallahassee Primary Care Associates (TPCA). It has since grown to include 40 physicians and caregivers and a staff of 250 serving 80,000 patients in the area. The physicians are located in offices throughout the area, and TPCA also has a central facility with its own laboratory, radiology and diagnostic imaging and other health care services.
Winchester served on the Florida Board of Medicine, which licenses and disciplines doctors, for 19 years. The Board also serves as a resource for the Legislature. While he was a member, Winchester helped draft a report calling for a ban on "phen-phen," a combination drug prescribed off label for weight loss that was causing deadly heart valve problems in some people. During his tenure, the group also investigated the abuses of pain medication clinics.
For the past three years, he has been a member of the Board of Tallahassee Memorial HealthCare and was formerly the chair of the hospital's medical staff.
When asked what he thinks the effects of the Affordable Care Act will be, he replies, "I am absolutely clueless. I don't think anybody has any idea."
What he does see are the challenges facing TMH and other hospitals in the present. "I think that every hospital is up against balancing excellent quality of care with ever-decreasing reimbursement from government," he commented. "Everybody, including patients, want better outcomes; they want more people to live, but it becomes a challenge when there's actually less money coming in to provide more services."
Winchester has lived through many changes in his medical practice — and he figures there'll be lots more before he's ready to hang up his stethoscope.
"One of the … exciting things about practicing medicine that I tell people all the time is: 'Whatever I'm telling you now, five years from now I'm gonna tell you something different.' And that's true. There are some things on the near horizon that are going to really be cool."
He mentioned one of his "favorites," a two-minute CT scan of the heart that can indicate blockages in a person's arteries, even when they have no symptoms, without having to perform invasive procedures. Winchester said biomarker research going on now should lead to the creation of blood tests that can detect cancers at their earliest stages.
But for all the technological and pharmaceutical advances, Winchester said they don't replace the one-on-one doctor/patient relationship. "In the business we do, probably the vast majority of the time, we have a real good idea of what's going on with someone just by talking to them," he said. "Before we examine them, before we do any tests; just talking to them, you can get a real good idea of what's happening, and that's where the human part comes in." n