Art Meets Business
This Gallery Brings Art to the Office Building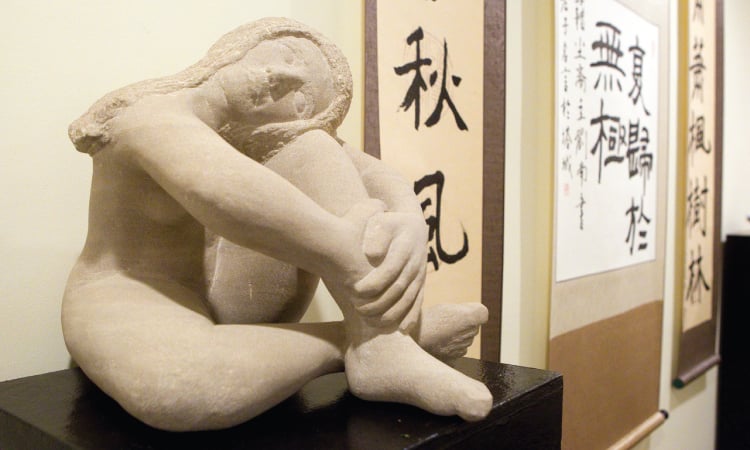 When a nondescript office building at 1020 Lafayette St. was gutted, renovated and remodeled, Majken Peterzen, a friend of the owner and a local artist, made a passing comment during the final touches of the renovation. Asked by the owner, David Barrett, what she thought of the newly finished building, she laughed. "Gee, it looks nice. But it would look better with my art on the walls."
That simple joke was the start of a unique and successful collaboration.
Peterzen (whose first name is pronounced Micken) and Barrett began discussing the possibilities of artist-inspired decor and over many nights of brainstorming, fully realized the potential of the arrangement. The office park would double as an art gallery. "It was a place where lots of traffic would see the art every day," she says.
Now, the gallery is both an inspiring place for those who work there and a wonderful opportunity for local and international artists to be seen by art aficionados — as well as visitors who might never visit a traditional gallery. The space, open weekdays during business hours and Saturday afternoons, is expansive and airy, leaving endless possibilities for displaying pieces.
The work presented at 1020 Art represents a variety of local, regional, national and international artists working in every medium imaginable — from sculptures and botanical pieces to woven arts and portraits — and always, something unique. The gallery also carries art-inspired gifts by many artists in the gift shop, including fine jewelry, enamel and glasswork, carved boxes and occasionally even clothing.
At any given time, more than 75 artists are displayed throughout the building's two floors. Sometimes, artists seeking a place to show their work call Peterzen; other times the gallery will put out a general call. This diversity and openness brings loads of new artists and ideas to the North Florida region from all over the globe.
Overall, about 50 percent of the art shown in the gallery is made by artists within 200 miles of Tallahassee. The other half is national and international work. The choice to split things evenly was simple, says Peterzen. "The goal is to have half of the gallery be filled with the kind of art that Tallahassee has always loved, and the other half to be something edgier. Less traditional work, less conservative. Something to keep the art community here on its toes."
The space itself is a work of art, with beautifully tiled floors, elegant furnishings and sleek stairways. The constant change of decor keeps the hallways feeling fresh, and creates an atmosphere in the workplace both comfortable and inspiring. The building provides much more space to hang artwork for significantly less money than a traditional gallery. Nationwide, a third of private galleries have closed within the last five years, but with this sweet setup comes the opportunity to showcase even more art in a way that's not so costly.
On the walls by the staircase you may find an ethnic tapestry or a sculpture of faces with gears and cogs sticking out of them. There are cases full of creative and eclectic jewelry and odd bits of clothing, and botanical pieces with abstract representations of the human form growing up from the greenery. You may find collections of Chinese calligraphy and portraits of Tallahassee landmarks, or mannequins covered in chips of mosaic tile. The art not only varies in medium, but in subject matter, genre and stance as well.
1020 itself is a consignment gallery, meaning the items will hang in the gallery for a previously agreed on amount of time. When a piece sells, the artist pays a commission to the gallery. This works particularly well for artists who call 1020 their home gallery, who enjoy the benefits of sales from people who work in the office every day, as well as local Tallahassee art fans who attend their showcases and events.
Peterzen insists that artists talk with her before their work is displayed. Together, they will discuss the art, what it stands for and how to best market and present it in the space. A contract is then drawn up, usually a yearlong agreement. For that year, the creator and curator continuously collaborate to produce results beneficial to the artist and the gallery.
"As much as I can, I try to spend time working with the artist," says Peterzen. "Meaning that we will meet and brainstorm a new direction of their work, talk about making prints, doing things to make their art more sellable." She also says she tries to help artists understand the business side of art. "It's not just about creating something worthwhile. It's about marketing that idea properly. A lot of students who study art are never taught to market themselves, and that's just as important to the survival of your art."
While some artists come and go, about 25 to 30 percent of the artists displayed in the gallery are locals like Dennis Howland who consider it their home base for sales and displays. Currently on display, his art is modern and clever but practical and interactive as well. He creates pieces using functioning QR codes (the square bar codes you can photograph using a smart phone that will redirect you to a photo or website).
One of his large pieces in the gallery is a collage of overlapping and variously sized codes that direct you to a horoscope for every sign, with links that update daily. Another piece is intended as a working gift of art: a bowl of dog biscuits covered with QR codes linking to dog care, training and fun pet activities. This type of innovation is expected from all the artists that 1020 takes in, and they rarely disappoint.
The building is fluid; almost weekly art is being taken down, sold and put up. The gallery hosts several smaller collections and artist showcases throughout the year, and holds three to four larger shows. This November hosted one of their largest shows yet, "Fire and Fiber," showcasing artists who specialize in clay and weaving. Artists were challenged to collaborate on designs, resulting in wildly unique pieces in both mediums.
The gallery is also an active participant in the First Friday Art Trolley. The trolley makes its stop at 1020 and several other destinations, scattered throughout Midtown, the Parkway District, Railroad Square and downtown. The destinations include galleries like 1020 as well as other locations offering free wine tasting and live music for an evening of art and good company. "We're very involved in making this gallery a community gem," says Peterzen.
1020's next big showcase runs through the month of March, starting with First Friday on March 2. Entitled "Body of Art," the show will be all about, by, for and even on the body — literally! There will be live tattooing, body art and physical pieces inspired by or based on the human body. The show is planned to be raw and unique, with several pieces of performance art as well as more traditional styles. The show will display art from the entire southeastern region, and Peterzen says it will be, as usual, new, exciting and edgy.
The gallery is open to the public Monday through Friday from 9 a.m. to 6 p.m. and on Saturdays from noon to 6 p.m. The gallery also offers private showings after hours, for a romantic night out or with a few friends as well as single tours, to really experience the art in solitude.