How to Eat Your Way Around the World in Seven Meals
Learning about exotic cultures, one bite at a time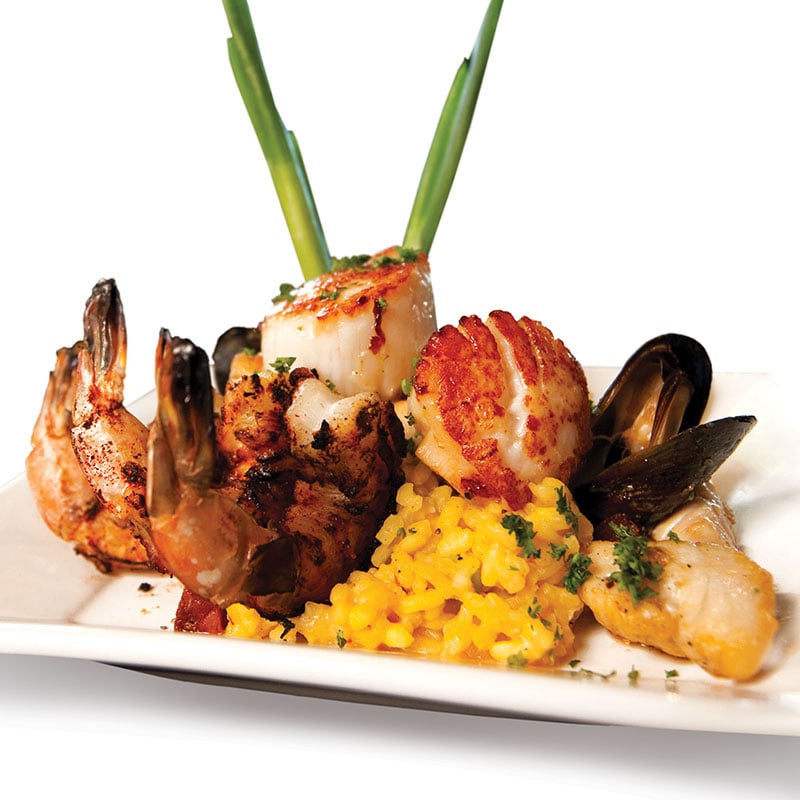 While Thomas L. Friedman declared "The World is Flat" in his 2005 bestseller about the worldwide economy, it was the guys who proved the world is round who took food global more than 500 years ago. 
"When ships really started to circumnavigate the globe … I think food really started to spread," says Californian Eric Greenstein, a chef and member of a group dedicated to the study of cultural anthropology. "Spices started to find their way round the world" and, suddenly, "whole 'nother continents were attached."
Today, you'd be hard-pressed to find a regional cuisine that's truly indigenous. Even the "classic" examples show the influences of faraway places.
While they might not carry home riches and gold, explorers would bring spices and plants to their homelands or leave a part of their country's cuisine behind. "The ingredients used were adapted to what was locally available and to flavors that suited the local palate," says Marc Matsumoto, who blogs about food on his Web site, norecipes.com. (He's fibbing, there are recipes.)
For example, he says, tempura was not a Japanese invention. It was introduced to that country more than 400 years ago by Portuguese merchants. Tacos Al Pastor is a regional Mexican specialty featuring stacks of marinated pork steaks cooked on a vertical
rotisserie with a pineapple on top. The meat is carved off the spit and served on a tortilla. Its similarity to shawarma is no coincidence. It was brought to Mexico's Puebla region more than 100 years ago by a large influx of Lebanese immigrants.
What could be more ubiquitous to Italian cooking than tomatoes and garlic? But before Columbus' time, neither grew in Italy. Early explorers brought them from the Americas to Europe. (And pasta? That came from the Chinese.)
Still, there's no better way to capture the culture of a foreign country than to sample its food and, for the adventurous eater, there are many fine examples to be found in Tallahassee. Come along with us for a world tour as local restaurateurs dish up some of their favorites, spicing it up with descriptions of how it compares to meals found in the home country.
With a knowledge of the signature flavors of a world cuisine, what flavors work well together and the science of how things cook, a cook can change a cuisine into something new and different. But Greenstein has learned that influences go both ways.
A Latino holiday tradition is to gather together to make tamales, he says, and Greenstein's friends have been willing to share over the years. Now "at Christmastime, I start to crave tamales."
"Their cuisine has changed me rather than me trying to change it," Greenstein says. — Rosanne Dunkelberger
​
Japan
Kitcho Owner Introduces Tallahassee to the Joys of Sushi
When it first opened in 1990 at the Market Street shopping center, Kitcho was the only place in Tallahassee that served sushi. Owner Yuichi Morie decided to open the restaurant despite the fact that most people in Tallahassee had never tasted sushi and many of them didn't even know what it was. 
"Everybody ate barbecue and it just took us a long time to get our clientele," he says.
His parents told him they would be proud of him if he were able to keep it going for three years. 
After the first few months, he thought he'd have to close because he wasn't getting enough business. He tried to advertise his business by putting fliers on people's cars in the Wal-Mart parking lot, but says the thing that really saved him was the positive review he got from the Tallahassee Democrat food critic.
"If (the Democrat reviewer) hadn't come, I think we would have been done in three months," he says.
Things slowly started getting better. Gov. Lawton Chiles discovered Kitcho and became a regular, dining at the restaurant twice a week. He and his wife, Rhea, even had personal sets of chopsticks that they left at the restaurant and used whenever they came in.
These days, Morie has plenty of customers, and is slowly expanding his menu to include a wider variety of flavors.
"We're doing duck," he says. "Not an Asian-style duck but more fusion-style."
Traditional Japanese cooking tends to stick more with fish, chicken, beef and some pork, but Morie is venturing a little beyond the basics and borrowing a few dishes from other parts of Asia, like lettuce wraps, which is a Thai dish.
Still, the restaurant serves plenty of straight-up Japanese dishes like soba and udon noodles, tempura, teriyaki and of course, sushi and sashimi. His most popular roll is the Imperial Roll, which contains tuna, grouper, flying fish eggs, scallions and avocado, lightly fried and served with a balsamic sauce. The roll was created by a young Japanese chef who worked with Morie for 10 years before heading off to New York City to work as the No. 2 sushi chef at Nobu, a prestigious, upscale establishment famous for its sushi.
Asked if he's ever taken anything off the menu, Morie thinks a moment and then says, "Well, I did when we expanded. It's called Yamakake — it's like a grated mountain potato with tuna. We never sold that. It's a very Japanese thing."
Apparently, there is such a thing as too authentic. Morie just smiles and calls it "an acquired taste." — Tabitha Yang
Spain
Tapas: A Little Something to Share With Friends
It can be a little bit dangerous to invite someone to accompany you to Tallahassee's Tapas Bar and Restaurant, because our American accent invariably makes it sound like you're heading for a "topless" bar. 
But once the pronunciation problems are solved, you'll find yourself in a Midtown bistro that's devoted to Spain's take on the appetizer. The idea is to order a little plate of several different items and share around the table, if you're so inclined. "You get the experience of a whole array of tastes rather than committing to one entrée," explains Tapas' Executive Chef Owen Hardin. "You can break it up."
Unlike other parts of the world where patrons a stop for a drink and a light snack, most of his patrons "try and make a meal out of it," says Chef Hardin. The average order is two tapas per person, but he suggests tables start out with a few and "order at will" until everyone has enjoyed enough.
A favorite at Tapas are the crab cakes, but the menu involves an array of "tapas with a twist," including seafood paella, lamb lollipops, tuna and plantains, fried oysters and the classic cheese and fruit platter.
Tallahassee expat Christine Dallet, who has lived and worked in Madrid for 18 years, explains Spain's tapas tradition:
"In Spain, most bar counters have a glassed-in refrigerated space displaying the many tapa possibilities. It usually gets made or put together right in front of you. There are bars all over every Spanish city, but they are really more like cafés, filled with young people, families, kids and grandparents."
You can stand at the bar or sit at one of the tables and you almost always get a tapa with whatever drink you order, she says. These tapas range from all kinds of olives, chips and nuts, to different kinds of canapés, anchovies, peppers, tortilla española (the Spanish potato omelet), grilled shrimp and fried eggplant. 
You can have a tapa at any time of day, but the two big tapa traditions are the "Aperitivo" around noon (for a pre-lunch drink and snack, because restaurants don't usually open until 2 p.m.) and "tapa hopping" at night instead of dinner.
Dallet says for tapa hopping, the general rule of the thumb is to include about four people and enjoy no more than two tapas in one place before moving on to the next. This is always done in one neighborhood so you can easily walk from one place to the next.
— Rosanne Dunkelberger
​
India
Chicken and 'Gravy,' Indian Style
So you saw "Slumdog Millionaire," loved it and now, while you've still got "Jai Ho" stuck in your head, you want to try Indian food. But you've never had it before. Sure you've had Chinese, maybe Thai, but what do you order at an Indian place? What do the natives and the foreigners, the poor and the rich universally like? Jarnail Singh, owner of Essence of India restaurant on Apalachee Parkway, recommends Chicken Tikka Masala. "Everyone eats this dish," he says.
Singh came to the states in 1985 and has been in the restaurant business for more than 25 years. Though he owns another restaurant in Orlando, he is still the head of the kitchen at Essence of India and is on site regularly, proudly bringing a taste of his home to Tallahassee.
Chicken Tikka refers to pieces of boneless chicken marinated overnight in yogurt and cooked in a special clay oven. Masala simply translates to "mixture of spices" and refers to the sauce that covers the dish. Though the recipe varies from region to region, the one used by Essence of India is among the most common. The sauce has a tomato base and includes garlic and ginger with hot chili added to make it spicy. In India, it is eaten with a good amount of chili according to Singh, though Essence of India serves it with amounts altered to fit the taste of the customer. It often is served with rice or naan, a flatbread similar to pita bread found throughout the Middle East. Naan is available at Essence of India in a variety of flavors such as Pashwari Naan, which is stuffed with nuts and raisins, and Chili Naan, which is buttered and topped with green peppers and cilantro.
The dish may have originated in India, but legend says modern incarnations of Chicken Tikka Masala actually originated in Glasgow, Scotland, where a patron at an Indian restaurant complained that his Chicken Tandoori (also available at Essence of India) was too dry and asked for some gravy. The Indian cook then whipped up the spicy tomato-based sauce that gave birth to an early version of what is now known as Chicken Tikka Masala. — John Eric Vona
Iran
Just Like Mom, He's Cooking What the 'Kids' Like
Tucked away in a strip mall on North Monroe street lies one of Tallahassee's hidden treasures, a Middle Eastern and Mediterranean grocery and restaurant with the words "International House of Foods" emblazoned in capital letters on its sign. The owner of this establishment, Hossein Rezazadeh, is Iranian, and he remembers eating many of the foods he serves in his home country. Nevertheless, a number of the dishes on his menu have their roots in other countries because, like most Americans, Iranians have borrowed recipes from the nations around them. 
Inside his sparsely decorated but cozy space, Rezazadeh, 52, doles out steaming portions of authentic Persian, Turkish, Indian and Mediterranean dishes. He serves everything with a smile, handing customers Styrofoam plates of rice, pita bread, tomato and cucumber salad and one of the hot entrées he's prepared himself. His restaurant may not be The Ritz, but the food is a taste of his homeland.
Rezazadeh came to the United States from Iran in the 1970s for college. He almost graduated with a degree in engineering from Florida A&M University, but at the last minute chose to go into the food industry instead. He worked for several different restaurants in town before opening up his own grocery store and restaurant in 1991.
His regular menu emphasizes vegetarian foods like dal adas, a red lentil stew served with basmati rice, pita bread and a cucumber-tomato salad. But he also has several rotating specials, which usually feature chicken or beef. 
"First we started with lots of different things to expose people to different food, but there's so much demand for particular dishes that I keep going back to those and making those over," he says.
His most popular dish is fesen jaan, which is chicken stewed in a walnut and pomegranate sauce. In the Middle East, the dish is usually made with duck meat, but Rezazadeh likes to make it with dark chicken meat.
"Pomegranate is very popular these days, and tastes wonderful," he notes. "Americans are just learning about it."
Rezazadeh's operation is small, but it allows him to get to know his customers, which he enjoys.
"When I'm making something, I think, 'Oh, this person is going to come and is going to be asking for this dish,'" he says. "That's how it was with cooking in the family. My mom would cook what the kids liked." — Tabitha Yang
South America
Barbecue with Hispanic Flair
How does one come up with the idea for a restaurant featuring "gauchos" carving meat on a sword tableside? In short: visiting the in-laws.
When Steve Marks traveled to his wife Luisa's native Colombia for a family visit, the couple treated themselves to one of Bogotá's South American churrascaria -— the country's weekend mid-afternoon tradition. Luisa has enjoyed the unique dining experience for years, but Steve was immediately impressed. Before long, he adopted the experience for Tallahassee and opened Rodizio's at the Manor at Midtown. 
During that inspirational meal, the Marks' enjoyed all kinds of meats, slowly roasted on a pyramid of racks positioned over a smoldering pit of hot coals. 
Typically, gauchos place seasoned meats over the coals early in the morning and, by 3 p.m., mouthwatering perfection awaits. The South American habit of eating little or no breakfast and dinner — to make room for a substantial fit-for-a-king lunch — suits the churrasco style perfectly.
Traditionally, South American churrascaria are in vast fields on the outskirts of the larger cities and are generally run by restaurateurs. Patrons enjoy generous portions al fresco with friends and family.
After the soul-satisfying experience in Colombia, the Markses brainstormed ideas. "Steve wanted to open his own restaurant, but didn't know what kind," Luisa explains. "We thought the churrasco concept would be a good fit."
Churrasco restaurants are not new to the U.S., but the concept is unique in Tallahassee. The Markses traveled all over the country investigating how similar restaurants were adopted for an American audience. 
"From that Bogotá experience, we went to Miami, Houston, New Hampshire, Panama City (Florida) and Boston, peeking into kitchens and talking with people," Luisa remembers. In this country, most churrascaria use the Brazilian/Argentine style of indoor roasting. Rodizio's followed suit.
At Rodizio's, patrons enjoy endless portions of more than two dozen cuts of steak, poultry, pork and seafood, all seasoned and slow-roasted for many hours. Portions are hand-carved tableside by gauchos carrying the meat on a sword — they look for each customer's "flip card" to signal more food or time to stop. In addition, the vast salad bar is stocked with American favorites as well as Brazilian feijoada beans, rice, plantains, ceviché and pastas.
The perfect accompaniment to Rodizio's churrasco is its mojito, served in the half-shell (an authentic Colombian totuma shell, that is), with a full five to six ounces of alcohol plus flavorful ingredients per drink. 
It takes hours to create the perfect South American steakhouse meal, but only a few bites to realize that you are celebrating a culture and the carnivorous love of meat when you dine at Rodizio's. — Tisha Crews Keller
Greece
Staying True to the Mediterranean Classics
An established Tallahassee lunch spot, Captain Pete's House of Gyros has a steady stream of customers coming in and out on weekdays, craving the Mediterranean flavors it offers. 
The original owners, George and Janette
Ragheb, opened the restaurant in the '80s, after moving to the U.S. from Egypt in 1981. George Ragheb worked at a Greek restaurant in New York before moving to Florida. When he came, he brought the skills he acquired up north to the little grocery store and eatery he started in Tallahassee. 
The Raghebs ran the restaurant happily on their own until retiring from the business two years ago. At that point, they handed the reins over to Laura Hussey, a North Florida native who'd grown up visiting Captain Pete's regularly.
"I would get a little of everything, like the hummus and spanikopita, the dolmades, and salad," she recalls.
The Raghebs gave her their recipes, and she started work in the kitchen, running the operation with a little help from her brother, Marc. Every now and again, the Raghebs, who still live in Tallahassee, will drop by to pick up a few ingredients, she says.
Her customers, a mix of students and government workers, regulars and new faces, love the deluxe gyro sandwiches — beef and lamb pieces with tzatziki sauce (a yogurt and cucumber dressing), lettuce, tomato and onion wrapped in pita bread. She also has clients who go crazy for the meat pastitsia, a dish made of seasoned ground beef layered with béchamel sauce and noodles.
"That's all they eat when they come in," she says.Learning about exotic cultures, one bite at a time
Hussey doesn't shy away from dishes that take a little extra TLC. The old-fashioned baked chicken she makes takes three hours to prepare, mostly because it has to cook a long time in the oven.
While running a restaurant is hard work, it's helping Hussey preserve the legacy of a restaurant she cares about.
"It's definitely a Tallahassee landmark," she says, "and I didn't want to change any of the food or the recipes. I wanted it to stay as everybody remembered." —  Tabitha Yang
North America
Southern Soul Food at Olean's Home Cookin'
The secret recipe to delicious Southern home cooking, says Olean McCaskill, is not a spice or herb; it's "love." 
The moment you walk into Olean's Home Cookin' restaurant you can't help but feel nostalgic, visitors say. The smell of country-fried chicken, homemade macaroni and cheese, and fresh collard greens takes you home to grandma's house on a Sunday evening. Located across Adams Street from the entrance to Florida A&M University, Olean's is a student favorite, with a substantial neighborhood and office worker clientele. 
McCaskill, the restaurant's head chef and owner, has been cooking since she was 12. She learned everything she knows from her grandmother. 
"Once you taste it, it makes you think of mama, grandmamma and our ancestors," she says. 
Soul Food is commonly associated with African-Americans of the South. In the antebellum days, slaves were forced to eat the plantation owners' throwaways. They cooked dishes from discarded cuts of meat, including pigs' feet, oxtails and chitterlings. Slaves developed new recipes using cornmeal and lard and added spices like onion, bay leaf and garlic for flavor. 
Each day the Olean's menu features an extra special dish made fresh. Tuesday she adds meatloaf, lima beans and "grandmamma" tomatoes and rice to the menu. Wednesday's special includes chitterlings and oxtails, and Thursdays it's ribs on the menu. 
McCaskill's home cookin' has been a big hit not just with locals and students but also with several big names. "I've cooked for Jesse Jackson, Al Sharpton and Jeb Bush," she says. "I even had the pleasure of cooking for Usher when he was here for a tour some years ago. He sent me a thank-you card and autographed it for me," she recalls.
Everything served at Olean's is fresh and cooked home-style. Everyday you can get a hearty breakfast. New to the menu is Olean's "Obama Breakfast," which includes pancakes, eggs, bacon, sausage, grits and toast, for just $5. "I added this for the (college) kids — they love it," she says.
Lunch is a busy time, says McCaskill. Everyday you can choose from a variety of dishes like smothered pork chops, fried catfish, cabbage, yellow rice, sweet corn muffins and much more. But what keeps the locals, students and soul food lover coming back? Without a doubt, it's the fried chicken. 
"If you don't have fried chicken, macaroni and cheese, and collard greens on the menu, you ain't got nothing!" she laughs. 
To end the meal with something sweet, a slice of homemade red velvet cake is the customer-preferred treat. "My son makes the cakes, I make the pies. But everybody loves the cake!" says McCaskill. Sweet potato pie and bread pudding, two traditional Southern dessert delicacies, also are featured on the menu. 
"Cooking is my passion," she says. "Everybody always wants to know why my food tastes so good. I say it's a pinch of this, a dash of that, and a little bit of love."
— Candice Montgomery