Another Goodbye
Putting a Restless Father to Rest, Eight Years Later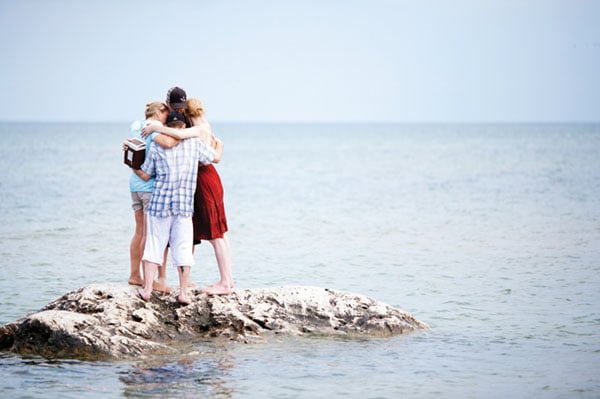 The first time my three siblings and I were in the same place together was eight years ago, at Froedtert Hospital in Milwaukee, when we jointly decided to take our comatose father off life support two weeks before Christmas.
Before that decision, I hadn't spoken to my dad for seven years, and my younger sister hadn't seen him since age 4 ­­— and she had never met our two brothers. In his 59 years, Roy Earl Wilsing had three wives and four children and, in the end, kept none of them.
I was four when he and my mom divorced, 12 when he left his second marriage and 16 when he divorced his third wife. He allowed his boys from the second marriage to be adopted by their new father when they were toddlers. He gave up rights to my sister when she was in elementary school. And that's when my dad — the one I remember telling silly jokes, and loving Elvis, and singing to me while strumming his guitar — just wasn't the same in my eyes anymore, and we began living separate lives.
The boys, Cliff and Clint, grew from toddlers to teenagers before they saw him again. When they finally met, years of alcoholism had worn Roy down. The first thing he did was offer them each a beer.
Tara was 21 when curiosity led her to discover he was renting a room in our hometown after a stint at the Salvation Army. She made it to his doorstep before fear took hold; Tara froze, turned and walked away. Roy would go into a coma just two months later.
His ashes were sent to me after he died. I had visions of ceremoniously spreading them somewhere with my siblings, but I was in Florida and they were in Wisconsin. So my dad stayed in a duct-tape-sealed plastic brown box in my closet for nearly eight years.
This summer, I decided it was finally time to return home. So my family — including my dad — took a road trip to my hometown of Sheboygan, Wis.
We met up with my siblings in nearby Manitowoc, where my parents began their life together in 1964, and decided to do lunch first — at Late's, a local diner. When we arrived, Elvis' "The Wonder of You" greeted us from the outdoor speakers. I knew we were doing the right thing.
Despite the lack of a concrete plan for spreading the ashes, we all went across the street after lunch to the shore of Lake Michigan. We wandered away from the beachgoers toward a secluded area. Our children waded out to a pair of boulders. I thought what a nice picture that would make — and it gave me an idea.
I nodded to my siblings, and within minutes we were waist-deep in the water headed for the biggest boulder.
Tara suggested we sit in birth order. I recounted memories of the dad I knew. Cliff cried first. We all closed our eyes and held hands. Clint said a prayer.
Even at this moment I wasn't yet ready to say goodbye. For a few more minutes, I wanted to remember the dad I loved. The one who sang Elvis songs and made me laugh.
As I took my turn slowly pouring the tiny pieces of his life into the great lake, I was thankful for the simple air and water that would give him a better life than the complicated one he'd had.
And I was grateful for the four of us, and our children, whom he had never met.
I saved a little of him to pour in Lake Michigan in Sheboygan. And because I only got through scattering a cup of the remaining ashes in Graceland before a wild-eyed security guard ran me off, a couple teaspoons of him made it back to my lantana garden in Tallahassee. He's in the dirt and in the flowers and on the feet of butterflies. And he is in all of us.