Anne Holt's Can-Do Spirit Has Led to a Lifetime of Achievement
Anne Holt's Can-Do Spirit Has Led to a Lifetime of Achievement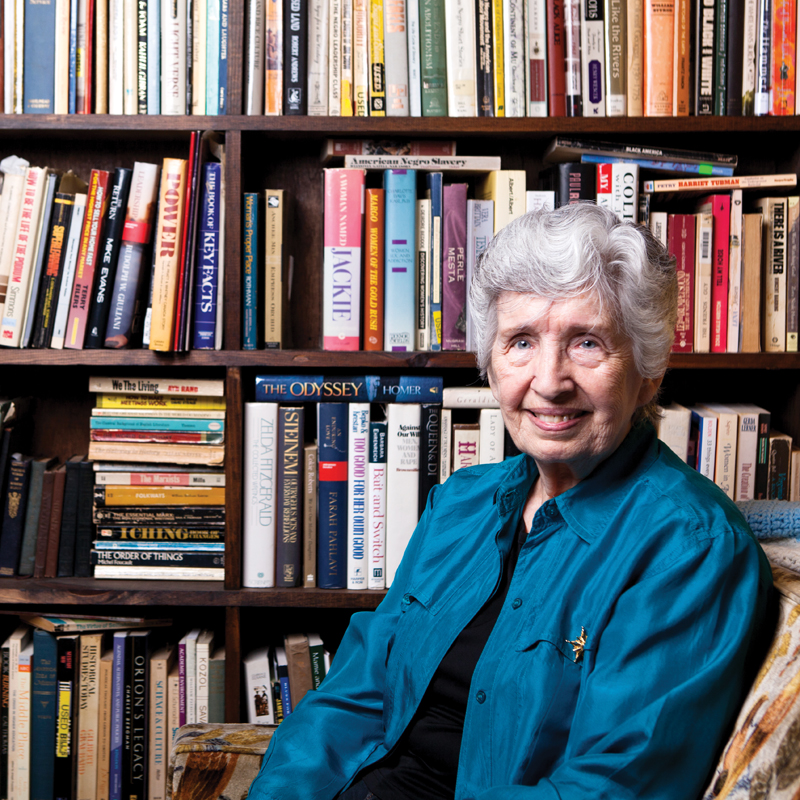 Ask Anne Holt her age and she will tell you in plain-enough English, "It's none of your damn business."
Said with a beguiling smile, of course.
About all she will concede is that she is old enough to have eight grandchildren and a dozen great-grandchildren. Holt doesn't allow age — or other obstacles, for that matter — to stand in the way of her goals or leading an extremely active, independent and productive life.
A high school dropout, Holt earned a Ph.D. in history at FSU as recently as 2005. And since 2003, she has had six novels published and is working on another four, with research and promotion of them entailing extensive travel.
In the last five years, meanwhile, Holt has secured more than $130,000 in funding for historic preservation projects and economic development efforts in Monticello, the small community 26 miles east of Tallahassee that she has called home since 2009.
Her crowning achievement thus far, in terms of Monticello, was organizing a multidisciplinary conference in 2012 that spotlighted North Florida's rich archaeological history, particularly the artifacts and bone fragments being uncovered at the Aucilla River in Jefferson County — finds that are challenging the long-held view of when and how the Americas were first populated. Held at the Monticello Opera House, the three-day event featured leading authorities in anthropology, archaeology, paleontology and related disciplines, and drew national attention.
More recently, Holt organized a tri-state conference on water resources, population growth and the Floridan Aquifer at the Monticello Opera House that featured water experts from Florida, Georgia and Alabama and proved equally successful and significant.
To Holt, the audacity of an idea is a spur to pursue it.
"I'm a total optimist," she says. "I always believe I can do anything. If you have an idea, you have to be willing to work and fight for it. A lot of things fail because they simply weren't followed through."
She attributes her can-do attitude to her Virginia farmer father.
"He told me once to go for some fertilizer in the soybean field," Holt recalls. "My answer was, 'Daddy, those bags weigh too much; I can't lift them.' He said, 'You'll figure a way' — and I did. You always have to believe you can do things."
A voracious reader whose house overflows with books, she early developed a love of reading and writing.
"I've written stories and poetry since I was a kid," Holt says. "And I read everything that would hold still since I was about 4 years old."
A tomboy early on, she once aspired to be a cowboy.
"I realized I couldn't be a cowboy at 13 and decided to be a girl," she says. "But cowboys remain my heroes."
At 14, she quit school and went to work as a waitress.
"You could lie about your age then, and nobody asked to see your driver's license," Holt says. "People believed I was 18."
She quit school, yes, but didn't give up on education. Holt enrolled in the Pan-American Business College, better known as Katherine Gibbs Secretarial School of the South, and learned typing, shorthand and other office skills that led to better-paying secretarial jobs. Meanwhile, she continued taking classes, learned drafting and eventually became a draftsman.
"Finally, I needed a better job and went to work as an Avon Products manager," she says. "I had around 230 salespeople on my staff. This was in Charlottesville, Virginia. I worked for Avon almost 20 years."
Along the way, she married, had three boys, divorced, remarried a man with two children of his own, and together they had a daughter. In 1972, when Virginia opened its community college system, Holt applied and was accepted on the basis of her performance on the entrance exams.
"With kids at home and a full-time job, it took me 15 years to get my two-year degree," she says.
She subsequently transferred to a private women's college in Staunton, Virginia, and graduated two years later with a liberal arts degree in Western Hemisphere studies. In 1989, she was accepted at FSU, where she earned her master's and Ph.D. in 1993 and 2005, respectively.
Holt's first novel, a Western titled "Silver Creek," was published while she was still in the doctoral program.
"I took a summer break and finished the book in three months," she says. "It was a short story I turned into a 72,000-word book."
In a 2003 interview upon the book's publication, Holt allowed that it was exciting to begin a new career at any age.
"But when you're nearly 70, this world seems much too ready to throw you away as useless," she is quoted saying. "So a first novel at this time is beyond thrilling. Probably the greatest thing is I'm suddenly a bit of a celebrity to my children, grandchildren and great-grandchildren — not to mention my friends."
Matt Burke
She's written five western novels, and Anne Holt is working on four more.
She has since published five other Westerns, a genre she has enjoyed since childhood.
"It doesn't matter where a story is set, so long as it's a good story," Holt says.
Research is integral to her writings, as her books are set against the backdrop of historic places and events. The research assures not only accuracy but also verisimilitude.
"The Internet is popular, a journal is the most up-to-date scholarship, and a book is tried-and-true information," she says. "I feel if I find the information three times, I can trust it."
Widowed since 2009, when her third husband died (her second husband died in 1990), Holt stays busy with her writing, community projects and public-speaking engagements. You're apt to see her moving about Monticello most days in her 1996 green pickup truck, or encounter her at sundry public functions — staying connected, speaking her mind on the issues, and promoting community projects.
Sprightly, spunky, plainspoken and strong-minded, Holt is a force to be reckoned with, and an invaluable asset to the small town she has adopted.