Anne and Colin Phipps Have Lived Exotic Lives
Though they each have explored the world separately, they blended their cultured lives to become a Tallahassee dynasty.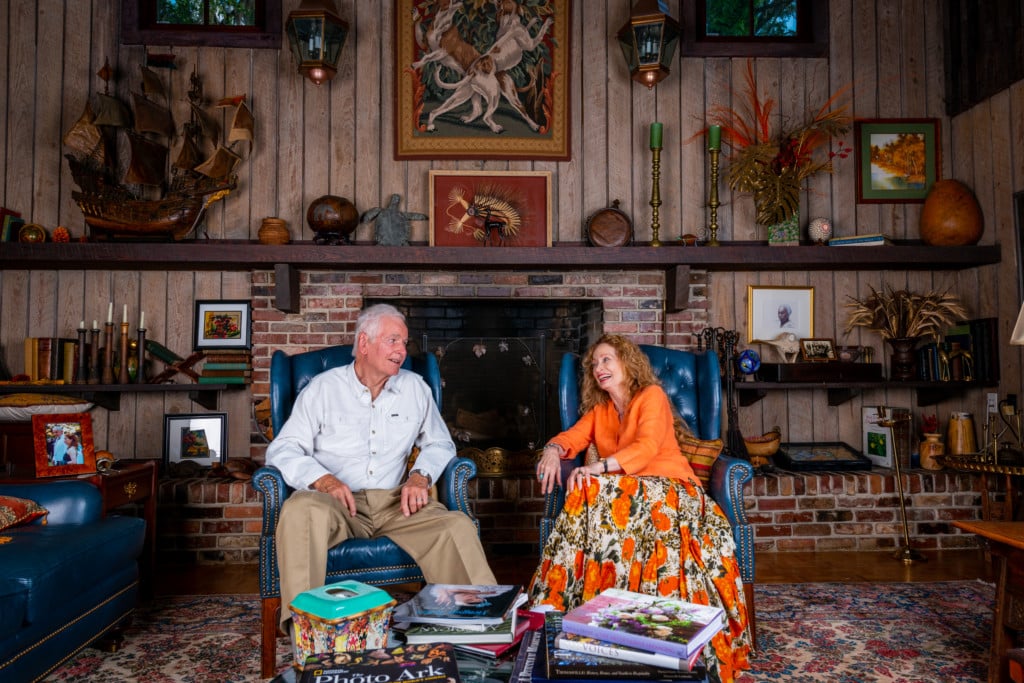 Walking into a drawing room full of people, each beautifully groomed, each accomplished, each splendid in one way or another, one's eye would be drawn nevertheless to a singular couple.
It would be so not only because she is a golden-haired beauty and he a movie-star-handsome man of means, nor because their conversation ranges from land conservation to
Namibian jewelry, from horse breeding to belly dancing.
Instead, Anne and Colin Phipps are alluring simply because they are in love.
They lived rich, exotic lives before they became a couple more than 20 years ago.
It is as if two distinct novels were written, one perhaps a romance about a peripatetic young woman who traveled the globe, dancing to exotic rhythms, gathering encyclopedias of facts and languages, following "the energy" of the universe wherever she found it.
The other's saga would begin in the perfume of another era — one of vast wealth, Grand Tours, African hunts and a blending of old money with an Edwardian sense of responsibility that would be passed down through generations like pedigrees from Exeter and Yale.
Today, Colin Phipps, deeply attentive to the stewardship of familial lands that combined several of the dozens of turn-of-the-century hunting plantations dotting North Florida, and Anne, continuing her interest in the arts and her own dancing craft, blend philanthropy, travel, architectural restoration and land conservation within a local/global perspective.
And each of them does it with a humanity that draws in those without privilege and that embraces as friends those beginning on life's ladder.
Colin's Story
Colin Phipps laughs a little at his own middle name, "Srinagar." He's told the tale before, but it happily links him to his parents and a way of life that is no more. "I was conceived in Srinagar, Kashmir," he says.
"So, that city and I sort of got mixed up." Yet to tell Colin's story, it's necessary to skip back generations to learn how an office boy and bookkeeper, Henry Phipps, would set the stage for great-great-grandson Colin Phipps' spark to life in Kashmiri India.
About 1860, the young accountant Henry Phipps was moving up. A born entrepreneur, he formed companies that dealt in powder and iron around the time of the Civil War.
Joining with his neighbor and friend, Andrew Carnegie, the two developed Union Steel Company, eventually called Carnegie Steel, and finally sold it to J.P. Morgan's United States Steel.
Phipps became an extraordinarily wealthy man and with his earnings, he set up family trusts and expanded his businesses into securities and real estate.
Along the way, he built a mansion near his neighbors, the Carnegies, the Flaglers and the Fricks, bought an island on Cape Cod and bought land in Chicago, New Jersey and Florida — finishing by essentially owning one-third of the town of Palm Beach.
Much of those real estate investments was donated to cities, to land conservancies and for parks.
Tuberculosis and psychiatric hospitals, botanical gardens and affordable housing complexes were all philanthropic gifts from Henry Phipps. Colin Phipps demonstrates those same sensibilities today.
John H. "Ben" Phipps, Colin's father, was a businessman, a Yale graduate and a brilliant polo player. He also had a particular affinity for Africa.
"Dad thought this part of Florida looked like Kenya," says Colin. "The trees weren't so big then, there was broom scrub and open spaces. Lake Jackson was like a veldt.
"He'd wanted to live in Africa, but back then, the eldest son needed to stay at home and take care of things, and so Dad did, but he bought what reminded him of Kenya."
In the mid '30s and early '40s, Ben Phipps bought not only plantation lands in the Tallahassee area but radio stations, established a large cattle-raising operation and a timber company, founded a sea turtle conservancy, and fought the good fight to maintain the century oaks along Meridian Road.
His plantation lands, once part of Governor R.K. Call's properties, covered nearly 9,000 acres that he called Orchard Pond (it was much later divided into Orchard Pond and Ayavalla plantations). It is from the tradition of land husbandry and philanthropy that Colin Phipps derived his own abiding interests.
And it was about the time when young Colin, with his parents, was making an early trip to Africa that Anne Lippe, the future Anne Phipps, was born.
Anne's story
In considering Anne Phipps' life, one may have the impression of a buoyant and fearless sailboat, riding waves with a sense of discovery and joy.
With flowing strawberry-blonde curls and the figure she had at 20, it may be that a sense of adventure was with her from the start — its beginning just took a little time to gather speed.
Born and reared in Tampa, with some childhood years spent in Birmingham, Alabama, where she helped her parents teach ballroom dance at their Arthur Murray franchise, Anne kept busy with her own ballet lessons and maintaining a B+ academic average.
Although dance would play a prominent part in her life, she calls her high school years "fallow" regarding theatrics.
She laughs, "I didn't dance at all. Instead somehow, at graduation, I was given the Betty Crocker Homemaking Award and solicited by FSU's Home Economics Department!"
Slipping out of the "kitchen," Anne instead headed to a private girls school near Cleveland where she majored in history and absorbed the cultural delights of a large city.
One choice foreshadowing her yet-unglimpsed future may have been her selection of "Scheherazade" as music for a modern dance class she took on a whim.
The Middle East would come to play a large part in everything Anne would go on to do.
While earning a graduate teaching certificate at the University of California, Berkeley, she was exposed to the culture wars of the '60s, Vietnam protests and racial boycotts.
She went on to work for a year as a social worker until a trip with her mother and brother to Europe led to a driving trip through Turkey and the purchase of a pair of finger cymbals in Morocco that would change her life.
"When I returned, I began to take belly-dancing lessons," says Anne.
Soon, she was performing in Renaissance Festivals, Greek restaurants and various nightclubs in the San Francisco and Seattle areas. "I committed," she says, and began building a performing career on the West Coast that would last the next two years.
But family considerations brought her back to Tampa. By this time, experienced and in demand, Anne began dancing in Tarpon Springs, a locus of the Middle East in middle Florida, and founded the belly-dance program at Busch Gardens.
Constantly learning and expanding intellectually as well as artistically, she also added Spanish dance to her movement vocabulary.
Still, she was restless. After a short stint working with an Argentinian circus ("I was dressed like a mermaid on top of an opening clam") and after 10 months belly-dancing in Hawaii, she made a decision. Why not Egypt? Indeed, why not.
Colin's Story
In the meantime, Colin, who from the third grade had been educated away at boarding schools, also had gone traveling. Not only did he take regular safari trips with his parents, but in the 1950s, "My cousin and I made a round-the-world trip — Fiji, New Zealand, Japan, India, Europe."
But he chose to stay in Florida for university, graduating from FSU with a history degree and settling into the board management of the Bessemer Trust with its lineage back to Henry Phipps' endowment.
But like the young dancer he hadn't yet met, Colin was restless. He purchased a large cattle ranch in Colombia, spending most of the year there.
He imported elegant, high-stepping Paso Fino horses for breeding and became one of the prime movers for the Red Hills Horse Trials that until recently were held on his property.
As he consolidated his local land holdings, Colin became even more deeply involved in nature conservancy, gifting 1,000 acres to Tall Timbers, more acreage for City Park, over 600 acres for Eleanor Klapp Phipps Park, and turning much of the land he owned near Miller's Landing Road and Lake Jackson into conservation easements.
Life was busy for the soft-spoken man with Old World gentility.
Anne's Story
Though Anne and Colin each were crossing the globe, their worlds in those years were in different hemispheres.
In Egypt, Anne was thriving. With her fair complexion and golden hair, she was a fascination for Egyptian aficionados of Middle Eastern dance. She joined a national folkloric troupe and began touring, often featured as a kind of "Circassian beauty."
She stayed in Egypt for four years, learning Arabic, and was embraced by her Egyptian colleagues and admirers.
But on a break back home, a friend asked her to fill in for some performances in Boston.
Anne's life again took a turn when she fell in love with the city, and for the next 13 years she created authentic Middle Eastern dance exhibitions in and around Massachusetts, even going on to own her own "belly-gram" business that allowed her to have fun with comedic skits, do impressions, and of course, dance.
"I didn't like things that were boring," she says.
Unknown to her, any chance of boredom was about to evaporate. Her world and that of Colin Phipps were about to converge.
Their Story
After being introduced two decades earlier by Anne's sister Melinda Proctor and her husband, renowned Tallahassee sculptor Sandy Proctor, a subtle courtship began between Colin and Anne, both divorced. Colin says there was "this little spark."
Anne still lived in Boston; Colin had a house on Cape Cod. The stars finally seemed to align.
On a visit to New England, in the way that many mature couples make big decisions, Anne remembers that Colin asked her, "Do you wanna get married?" Well, she answered, that would be all right.
The Tallahassee-based couple, with five other residences between them — in Boston, Tampa, Berkeley, West Yarmouth and a sprawling ranch in Montana — continues to travel to their homes and across the globe.
Locally, Anne practices flamenco steps at the dance studio on the grounds of The Farm on Meridian Road.
The stables until recently boarded riding and dressage champions; for the moment, they house the couple's three horses and a few visitors.
They have a host of animals to love: two dogs, a cat, two rabbits, a flock of chickens and four exotic birds in their own elegant house.
But even those are not what make a rewarding life, Anne and Colin will tell you.
For them, the reward is in learning, creating, changing things for the better, making contributions where you can by serving on boards or through philanthropy — and doing it with humility and grace.
For the Phippses, the respect they hold for the arts, for their land, for the greater good of the community, both at home and afar, is demonstrated on a smaller, though no less important scale with each other.
Two different people from two different worlds, who can occasionally be caught gazing at each other with respect, love and admiration.
"I have the best wife in the world," says Colin almost shyly. "We blended just perfectly together."