Ann Arbor: An American Beauty
An Artsy, Academic American Beauty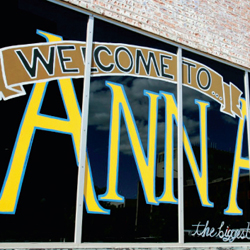 Geiger & Associates Public Relations
Scenes from Ann Arbor.
If Ann Arbor were a movie star she would be Jennifer Garner — earthy, smart and as approachable as the-girl-next-door, but with an unexpected artsy edge. She makes everyone feel at home. She is an authentic American beauty who is just as comfortable debating the Wolverines' season in a pub as she is at a gallery opening. And once you are charmed, you can't help but think there is so much more to her.
Founded in 1824, Ann Arbor was supposedly named for the wives of the two men (John Allen and Elisha Rumsey) who founded the town and for the lovely trees — 50,000 varieties — that give the town such a lush, fresh feel. Ann Arbor is found just 30 miles west of Detroit. It is a three-hour jaunt from Cleveland or four hours from Chicago. The town centers around the University of Michigan (UM), which has drawn some of the best minds in science and art since 1817. There are four hubs where most of the hustle and bustle centers: Kerrytown, Main Street, State Street and the university campus. Nearby Chelsea, an artsy village minutes west of Ann Arbor, and historic-site-filled Milan just 20 minutes southeast, are also must sees.
Ann Arbor is savvy and sophisticated: the Aveda Institute, Google Ad Words and Domino's are headquartered here. Avant-garde in nature from its early founding days, it's no surprise that the University of Michigan's Museum of Art (UMMA) is home to one of the first formal art collections formed in the country. UMMA boasts the largest collection of Whistler paintings as well as stunning decorative pieces by Tiffany. The exterior of the museum is home to several amazing public art sculptures created by artists all around the globe that have greeted passersby since the 1960s. Though illustrious, the university is only the beginning of what's impressive about Ann Arbor.
A Taste of Ann Arbor
It doesn't surprise that Midwest Living voted Ann Arbor as one of the "Top Midwest Food Towns" in 2010. What is a pleasant surprise is the diverse range and caliber of the cuisine. From flavorful falafel sandwiches at Jerusalem Garden to heaping helpings of shepherd's pie at Conor O'Neill's Irish Pub, from pirogues at old world Amadeus to traditional Italian dishes at upscale Gratzi Ristorante and carefully prepared sea bass at the popular Common Grill. Within its 28 square miles, Ann Arbor dishes up every imaginable kind of cuisine with care and it tastes like it.
The Midwest loves its suds, and Ann Arbor doesn't disappoint. According to the Michigan Beer Guide, there are 83 brewpubs and microbreweries in Michigan, and 30 of those are located in the Ann Arbor area. If you love fresh, flavorful ales, belly up to the bar at Original Gravity Brewery. Operated by 35 year-old Brad Sancho, formerly a mechanical engineer, this no-frills bar is filled with locals filling their growlers to the brim with a half-dozen delicious microbrews on tap. We recommend the Belgian Orange Peel Wheels and the Mason Brewer, a peppery ale named for the brewmaster's son.
Wine lovers need not despair. Vinology, operated by the Jonna family out of a historic building on Main Street, is just one memorable example of the many wine bars in town. It boasts 100 wines by the bottle and 50 by the glass. You can enjoy them by the glass, by flight or purchase a bottle from the retail shop to take home with you. When you dine here, be sure to peek in the Bubble Room to see the display of 400 beautiful hand-blown glass orbs.
Soulful Arts Scene
They say the soul of a town is measured by its art scene. If so, Ann Arbor is soulful. The town is known for its music offerings, namely The Ark, an intimate 400-seat club on Main Street showcasing local, regional and national artists performing acoustic music 300 nights a year.
On this particular visit, Rickie Lee Jones sold out the house for a 90-minute set of her classic high-pitched balladeering.
Other art gems are The Purple Rose Theatre Company, founded by actor Jeff Daniels in 1991. The colorful, mod, 168-seat house in Chelsea employs local actors and has staged 39 world premieres. Performance Network, another small, professional theater conveniently located downtown on Huron Street, begins its 12th season in 2012. The Ann Arbor Civic Theatre, in operation for more than 80 years, anchors the town's art scene with a full season of musicals, drama and children's plays.
The visual arts in Ann Arbor also thrive. Dozens of art museums, galleries and studios dot the tree-lined streets. Interestingly, the Ann Arbor Center for the Arts is housed in an airy century-old building that used to be a carriage factory, mortuary and Sears store. The gallery showcases the work of more than 200 Michigan artists a year; features an impressive gift shop; and hosts adult art classes and creativity camps for kids year round. The Chelsea River gallery, owned by Deborah Greer and Patricia Schwartz, is well worth a visit, too. This modern, inviting space located in an 1898 brick building features an eclectic range of select established and emerging artists — from painters and sculptors to fiber and mixed media artists. A labor of love, the gallery has become an important part of the local community by frequently hosting music, dance and art fundraising events.
A trip to Ann Arbor wouldn't be complete without a visit to the Gerald Ford Library — a place where the papers of his presidency are stored and catalogued for the researcher or just an inquisitive mind. The lobby display changes on a regular basis and on this trip, showcases many of the outfits worn by his loving wife, Betty, at milestone occasions. The level of documented detail of every meeting and presidential movement is amazing.
Hand it to Ann Arbor
Put your hands together for Ann Arbor — where you can learn to make custom books, artisan cheese and ceramic tile.
Hollander's is the Mecca for paper hounds. With 1,500 papers, Hollender's boasts the largest collection of decorative papers in the United States. But the real page-turner in its story is what's upstairs: the School of Book & Paper Arts. Led by Cindy and Tom Hollender, it offers a range of printing, paper making, paper marbling and bookbinding classes under $95 per person, year round. The classes are open to the public. A schedule is available at hollenders.com.
Paul Saginaw and Art Weinzweig began Zingerman's Deli in 1982. Their success led to a mail order business, a bake house, online sales (zingermans.com), a creamery and the Roadhouse restaurant featuring Alex Young, one of the James Beard Foundation's Best Chefs in America.
The big cheese at Zingerman's Creamery is … you! As cheesy as it may sound, we thoroughly enjoyed our turn as a cheese maker. Individuals or groups can don white aprons and hats and head to the back of the Creamery to master mozzarella. We made three kinds: plain mozzarella, mozzarella infused with myrtle, and burrata, a delicate mozzarella cheese filled with, what else? — shredded mozzarella and whipping cream!
Detroit may be the Motor City, but Motawi Tileworks looked to Toyota titan Jeffrey Leitner's best business practices to rev up its efficiency. Known to be unconventional, owner Nawal Motawi partnered with a local college student interested in taking on the 17,000 square-foot art factory as a case study. Within three years, Motawi revamped its entire business operation and is now an official "lean manufacturer," transforming 9,000 pounds of local clay into thousands of decorative tiles each week. You can tour Motawi's impressive plant and see first-hand the involved process for creating custom clay tile. And with the help of stencils, sticks, stamps of all sorts, you can design a ceramic tile of your very own. Motawi will dry it, fire it, glaze and fire it again, and then ship it home to you. Browse the gallery's extensive collection at motawi.com.
From its sophisticated academic and art scenes to its upbeat vibe and offbeat factories (think: "Jiffy Mix" and teddy bears), to know Ann Arbor is to love Ann Arbor — especially the unexpected.