Anjali Austin, a Dancer of Color, Speaks to Ballet's Changing Paint Box
Beautiful Swan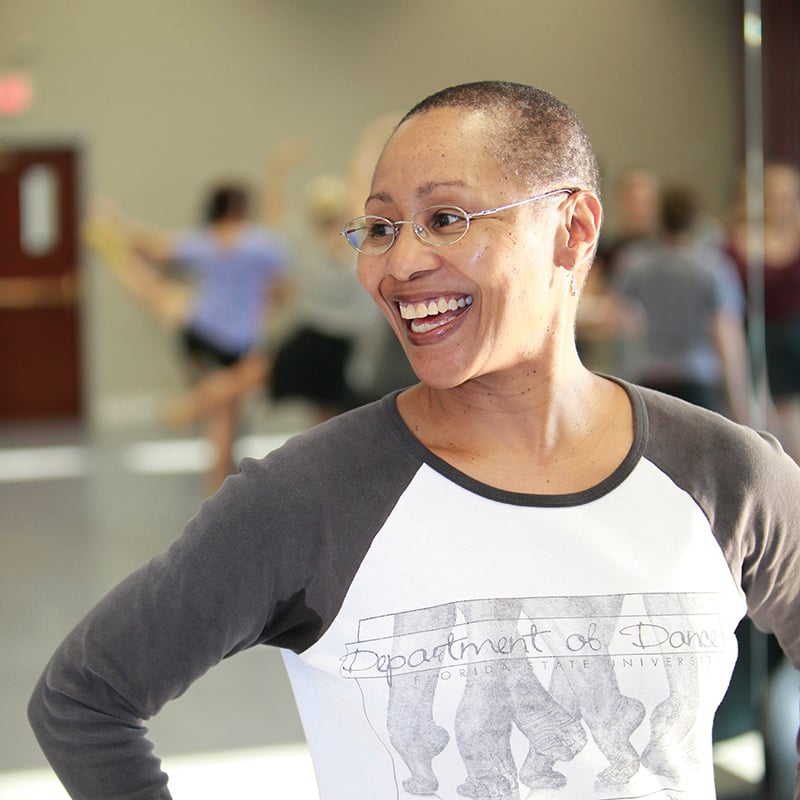 In early June 2015, a remarkable event occurred that thrilled classical dancers of color (yes, there are indeed such creatures) who had long yearned to don a tutu and pointe shoes rather than be relegated to the leotards and bare feet of modern dance.
Misty Copeland, a petit African American ballet dancer, was named a principal dancer — a prima ballerina — with the American Ballet Theatre. Equivalent to a general or admiral in the military, she attained then a special designation heretofore held only by white dancers. But while Copeland's promotion was a landmark for an American classical dance company, dancers of various skin tones had occasionally been "swans" before. Only it hadn't been easy. Now, the future looks brighter
That is the message that Anjali Austin, an associate professor of dance at Florida State University for the last 20 years, hopes to bring to her students and to demonstrate in her choreography. We sat down with Austin recently and asked her about growing up black in a white ballet world; the importance of mentors; and the way she's chosen to look at racial differences.
Austin arrives on a cold day with her closely cropped head draped in an elegant scarf. Delicate, but not thin, she speaks with animation, intensity and humor.
TM: Where did you grow up and how did you first become interested in classical ballet?
AA: I was born in Tallahassee but moved with my grandmother, who raised me, to San Francisco when I was 5. I don't know why, but this amazing woman was interested in opera. Every afternoon, she and I would have lunch together and listen to Verdi or Puccini. I came to love that music. And she took me to the San Francisco Ballet.
Because of a thoracic malformation, a doctor suggested that ballet classes might help strengthen and straighten my ribcage. A perfect prescription! Movement that I immediately loved, music I found exhilarating. Best of all, I was at the prestigious San Francisco Ballet School. I couldn't have begun anywhere more propitious. 
TM: You studied there until your early teens. What was it like as a young dancer of color?
AA: San Francisco was wonderful. Latin dancers, Asian dancers, we all felt very nurtured. I even was in the opera Der Rosenkavalier. You can imagine how my grandmother felt!
TM: But you returned to Florida at age 13 in 1973. Was the dance world different here? 
AA: About 10 years earlier, things had been very different in the South. At least one performance had been stopped by police entering a theater in Mississippi when an African American dancer had appeared in a classical ballet on the same stage as Caucasian dancers. Certainly, black dancers couldn't stay in the same hotels as their white colleagues. But things were better in Tallahassee by '73. I studied with Helen Salter who had started the Tallahassee Ballet. She always made me feel like I could have a career in dance.
TM: You have had a very long career — on the stage and in the classroom.
AA: Yes. When I was 14, the famous African American dancer, Arthur Mitchell, came to teach a class in Tallahassee. He had been a principal with the New York City Ballet and had started his own Dance Theatre of Harlem. He was waiting for a taxi on the FSU campus and I simply marched up and told him I wanted to come to his summer program. As soon as I graduated from high school, I went to New York and, within months, I was accepted into the company.
TM: But were you dancing ballet or did you find yourself doing more modern works, the typical dance form for dancers of color?
AA: I was with the Dance Theatre of Harlem for 13 years and got to do everything from classical works to contemporary dance. Creole Giselle, Firebird, Scheherazade — it was an innovative neoclassical company. It was also a very integrated company where the older dancers generously mentored younger ones. That kind of support always made us believe we could dance the way we wanted.
TM: Do you think with Misty Copeland's promotion we've come to a "post-racial" place in classical dance?
AA: No, we don't have a utopia yet. But I prefer to think of it as more "ethnic" than "racial." What we can see is our shell, but I prefer to think of our heritage as dancers — the wonderful differences in the way we move and approach movement — as what really counts.
TM: What advice would you have for someone, especially people of color, entering the world of dance?
AA: Do the work, technically and creatively. Be curious about your art form; take risks; study from many different teachers and look for options. Take charge of your own artistic and technical growth. This is a wonderful time for visibility as a dancer of color. There are changes as to how people think about who can dance — and there's a wonderful responsibility with that shift.
---
Austin is currently expanding her choreographic vocabulary with a work called, "Threads", inspired by her grandmother's quilts.