This Summer Animal Prints Are The New Neutrals
We're always looking for timeless statement pieces that give just the right amount of edge.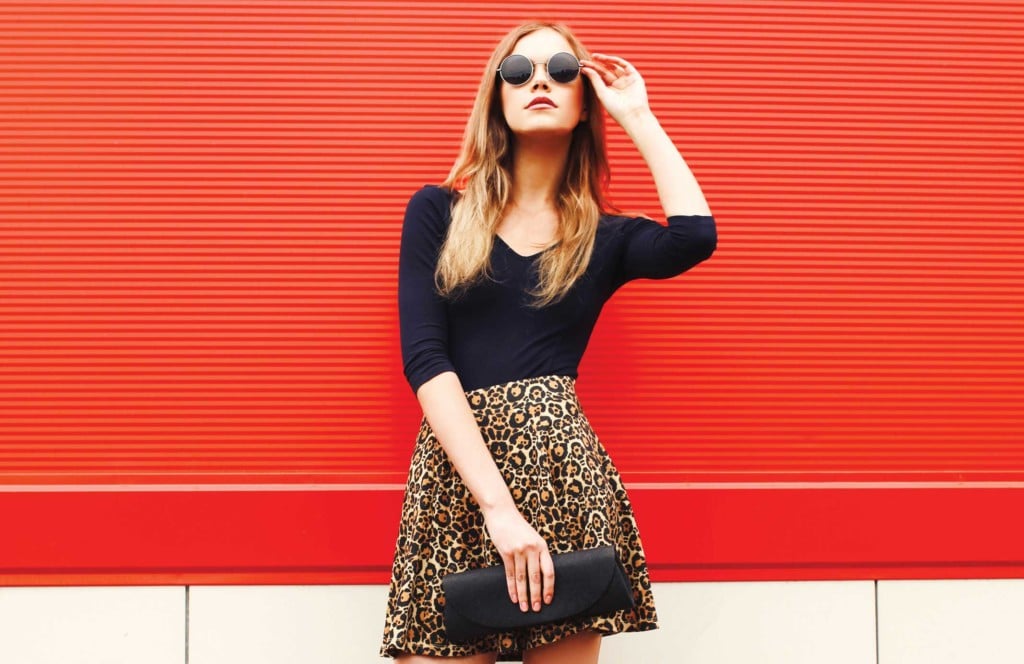 What pairs with python?" The young shopper was earnestly staring at the belt she had fallen in love with but was apparently afraid to buy. In some circles, python may seem too daring, even when confined to a narrow cinch around the waist.
Little did she know, fashion history was boldly on her side. From the beginning of clothing, people have draped themselves in patterned skins and hides meant to camouflage their original owners. They were warm. They were protective. They wouldn't wear out. And then, as now, they look downright cool.
Chieftains wore cheetah shawls and Roman Emperors slung leopard capes about their shoulders. Animal skins denoted power and invoked a statement: "I took down this zebra and you must reckon with me."
In the 1930s, Joan Crawford wore real animal hide coats and Mae West slithered in snake-pattern tube dresses. Such impulses dwell in our fashion consciousness, sometimes emerging, sometimes lurking. Maybe the apron-wearing housewives of the 1950s didn't sport crocodile pumps as they dusted the Venetian blinds, but they wanted to.
Hippies broke out the animal hide vests, and high fashion took notice. Animal-print everything was back. Though the allure of wearing another creature's actual hide retreated, and faux replacements took over that territory.
From the early 2000s, glossy fashion magazines told us how to wear lizard pattern-tops, leopard splotches with sleek velvet pants, and gazelle-striped jackets with cut-off jeans — and they revealed that these prints could easily transform outfits from sophisticated daytime office wear to nighttime something-else.
And they were right. That straight black skirt and tailored white blouse that anchors office attire is transformed into a different animal when topped with a leopard-print urban jacket and some large, gold hoops for nighttime.
A busy floral daytime dress, once over-laid with a turquoise crocodile vest, goes totally BoHo and bold when the sun goes down.
Christian Dior once remarked, if you are fair and sweet, don't wear animal prints, understanding that a woman sporting jungle attire can represent a not-so-sweet and "undomesticated" female.
Like Dior, who fell for them in the 1950s, designers and fashionistas have been falling for animal-print couture ever since, though passion for it surges from time to time to the fashion forefront.
Taylor Garcia of Abby and Taylor Boutique said she is seeing just such a reawakening: an appetite for leopard and cheetah patterns in tans and blacks. "Especially in tunics and dusters," she said, "there will be lots of spots."
New arrivals are creating excitement at Narcissus, too, where sales staff tell us that faded leopard spots will appear on, "of all things, denim trousers," while giraffe-patterned blouses with "modern geometry and a color twist" will perk up spring.
So, go hunting among the new lines of animal-print garments. Undomesticate yourself. Who knows, you may "bring out the animal" in someone else.
Abby & Taylor Boutique: 6668 Thomasville Road,
abbyandtaylorboutique.com
, (850) 765-6402 Monday–Saturday 11 a.m.–7 p.m., Sunday Noon –5 p.m. Narcissus: 1408 Timberlane Road,
narcissusstyle.com
, (850) 668-4807 Monday–Saturday 10 a.m.–7 p.m., Sunday Noon –6 p.m.