Angela and James Miller on Their Battle Against Colorectal Cancer
Match.com brought them together, cancer brought them closer than ever before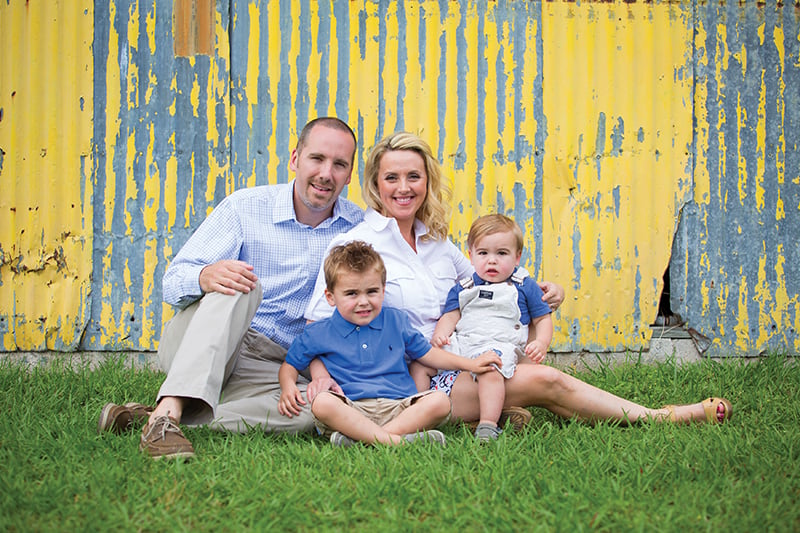 A lot has happened in the lives of James and Angela Miller in the last several years: Jobs have changed, kids have been born, cancer has been fought. But in spite of their challenges — or maybe because of them — they're stronger, as a couple, than ever.
Angela and James met 13 years ago, on Match.com, and within the first five minutes of their first date, they were having their first argument.
"It was a sign of things to come that she won," James says. The couple stayed at the restaurant and talked until one or two in the morning, and for the next week, they saw each other every day.
Then, without warning, James' father had a massive heart attack. Although his triple-bypass surgery was successful, it was a difficult time for everyone in James' family.
"Something like that is either going to bring you closer together as a couple or drive you apart," says Angela.
Within five months, James and Angela had bought a house together in Lake Mary. Less than a year later, however, a job opportunity opened up for James in Tallahassee, where he had studied as a student at FSU. The couple decided to move and to purchase another home together, in SouthWood.
Two years passed, and then Angela gave James what she refers to as "kind of an ultimatum."
"We knew we were committed to each other, and we knew we'd end up getting married, but I told him, 'I want to get married in the spring of 2010. You propose whenever you want to propose, but that's when we're getting married.'"
"It was the nicest, most polite ultimatum I've ever received," James says.
The couple married in March of 2010, and their oldest son, CJ, was born the next fall. Another son, Riley, was born 28 months later.
For the next few years, life was easy, the couple says, but all of that changed in early 2017.
"I'd been having some physical issues, and I knew something wasn't right, internally," James says. "I'd been justifying it to myself, saying, 'Oh, it's just my diet' and things like that.
But then I read an article in the Times about someone I'd gone to school with who had survived colon cancer. There was this list of symptoms in the article, and I had almost every single one. I told Angela what I suspected, and she got me in to see the doctor right away."
On February 6, 2017, James had a colonoscopy procedure that revealed a possible colon tumor; the same day, a CAT scan revealed two tumors: a colon tumor and a rectal tumor.
James was scheduled to start radiation and chemotherapy, and then to have surgery, but then the tumor in James' colon perforated the wall of the colon and started to impact the internal operations of his body. His doctor decided to reverse the order of his treatments and perform surgery first.
The doctors cut out the tumor as well as 10 inches of James' colon. James then started six weeks of daily radiation treatment that lasted for half an hour each time. After completing the radiation, he started on eight three-week cycles of chemo.
"At the beginning of each cycle, I would have a four-hour infusion at the TMH Cancer Center, and then I would take eight pills a day for two weeks," James says. "Then I'd take a week off, and then I'd start the cycle all over again."
"It was about six months of chemo," Angela says.
Prior to James' diagnosis, he had been very active. The worst part of the inactivity, he says, was not being able to play with his kids, like he used to.
"I was 205 pounds before I started treatments, roughhousing with them all the time; and then, after I came out of the hospital for the third or fourth time, I was 155 pounds. I looked incredibly sickly and skinny. The kids knew something was wrong. We told them I had cancer, but we kept the explanation pretty basic."
Although James wasn't able to do as much as he used to, physically, he never missed a single tee-ball or soccer games. It was important for him to get out of the house and be with his kids, he says. "If I'd stayed at at home all the time, I'd have thought, 'I have cancer,' over and over again. But if I was at ball games or at work, I wasn't going to think about the cancer."
After James' final chemo treatment, he and Angela received the good news that the cancer had not spread and that the rectal tumor had shrunk. In December of 2017, James underwent an operation to remove the rectal tumor entirely.
It will be some time before the Millers will know if James is completely free of cancer, but he's confident that this will be a great year.
"His positivity and sense of humor are what has gotten him and us through this," Angela says.
James, ever the jokester, says that if there is a silver lining to having cancer, it's going on a weight-gain diet afterward.
"I got to eat whatever I wanted. If I'd had a bowl of ice cream every night before all this went down, at some point, Angela would've said, 'Alright, enough's enough.' But now, it's, 'Did you have a bowl of ice cream? Do you want another?'"
Angela, who works as a sales representative for Coton Colors, and James, who is a communications director for the Florida Retail Federation, give credit to their employers and coworkers for their compassion, generosity and support. Friends, too, have stepped in frequently to help.
For a long time, the Millers were the recipients of a home cooked meal, each night.
James' parents, the couple says, have also been invaluable: His mother, who lives within walking distance, takes CJ and Riley to and from school, and his father, who lives in Mount Dora, sends inspirational or funny cards, telephones daily and makes frequent visits to attend help out around the house and yard.
"I think we go through life and we don't appreciate our family and our friends, and we don't realize what we have," James says. "But when we go through something like this, we see how blessed we are."
"It has brought us closer to our family, to our faith and to each other," Angela says.
James agrees. "My appreciation for Angela has grown so much. You think your relationship's strong until you have to go through something like that. It really tests you, and you realize the importance of the different people in your life. The challenges we've had have made us stronger, without a doubt. I wouldn't trade them for the world."
Know the Facts about Colorectal Cancer (CRC)
Information courtesy of the American Cancer Society.
March is colorectal cancer awareness month, and to help you develop awareness about this form of cancer, here are a few important things to know:
Approximately 1 in 22 men and 1 in 24 women will be diagnosed with CRC in their lifetime.
Up to 30 percent of CRC patients have a family history of the disease.
The risk of CRC increases with age.
Symptoms of colorectal cancer include (but are not limited to) anemia, excessive fatigue, bleeding from the rectum, dark or black stools, discomfort or pain in the lower abdomen and having the urge to eliminate even when the bowel is empty.
You can find more information about detecting colorectal cancer here.