Andy Reiss: 40 Years With the Tallahassee Restaurateur
Restaurateur Andrew Reiss has presided over four decades of happy memories for Tallahasseeans.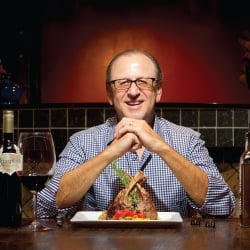 Restaurateur Andrew Reiss is surrounded by members of his senior staff, General Manager Jack Penrod (left) and Executive Chef David Straffolino. Photo by Scott Holstein
In the beginning, there was The Deli.
Which begat The Brass Rail, which begat Andrew's Second Act, which begat Maxin's, which begat Tutto Benne, which begat Epicurean Catering, which begat Andrew's Upstairs, which begat Andrew's North, which begat Trio, which begat Andrew's Capital Grill & Bar, which — finally — begat Andrew's 228. And it was all good.
And that, friends, is the genesis of Andrew Reiss, who this year celebrates his 40th anniversary as a restaurateur. At 63, Reiss isn't quite as old as Methuselah, but he does have the distinction of running Tallahassee's longest lived restaurant business in the same location on Adams Street in the shadow of the Capitol.
"Why am I still here? In my opinion, No. 1 is me — my kid calls me a lovable pain in the ass. I never give up. I'm dogged. I'm still fussing if that's not clean enough or that's not right. I'm determined," he explained. "No. 2 — location. Thank God for the Florida Legislature and what that brings to our community and that I have really been able to take advantage of it."
Local public relations guru Ron Sachs has known Reiss since their days at Miami Norland High and has "worked for food" promoting the restaurants ever since starting his communications firm in Tallahassee 17 years ago. In addition to having a "calm" personality, Sachs said he attributes his friend's business longevity to always being willing to improve and change.
"Forty years into this stellar career, he is as engaged in the business today as he was when he started," Sachs said. "Andy's secret is that he's never complacent. He's always proactive in looking ahead to what should the menu be, what should the service be, what should the ambience be. And that's why he's been willing to start from scratch and completely change the formats of the restaurants."
Andy Reiss is surrounded by his staff at Andrew's Capital Grill & Bar, a stone's throw from the Capitol. Almost 300 former employees have joined a Facebook page called, "At Some Point in My Life, I worked for Andrew Reiss." Photo by Scott Holstein
What Made the Man
Reiss always begins a discussion about the start of his career by going back — way back to the life of his late father, Hans Reiss. Hans grew up the only child of older parents in Vienna and was spirited out of the country when Hitler invaded Austria. In an adventure that sounds like the plot of a novel, Hans Reiss went on an odyssey between continents, married his German wife when they were refugees in China and ended up in the United States. An accomplished pianist, the elder Reiss made a living as an entertainer, splitting his time between Cleveland in the summer and Miami in the winter.
"My father was like Victor Borge. He could entertain people in German or in English, telling jokes for hours and playing the piano," Reiss recalled. When Andy and his brother were school aged, the family settled in Miami and Hans Reiss made a career as a maitre d' at the luxury Carillon Hotel in Miami Beach during its mid-century glory.
"By the time I was 7 (or) 8 … my father started dragging us to the hotel. He was running the nightclub and we started washing dishes and busing tables, and by the time we were old enough (worked as) front desk clerk and cabana boy and valet parker," Reiss recalled. "I was hanging out the in the kitchen all the time watching the chefs work. My grandma said I was going to be a chef one day."
In addition to being introduced to the hospitality industry at an early age, Reiss was also raised in a "continental" household where "food was big" and white wine was served with dinner. "My dad was always the kind of guy who wouldn't go to a restaurant that didn't have a white tablecloth," he said.
Even with his food-centric roots, Reiss initially attended the University of Florida with thoughts of becoming an accountant. That only lasted two years before he changed majors and transferred to the hospitality program at Florida State University.
But his time at UF wasn't a total bust. Two of his frat brothers at Tau Epsilon Phi have become lifelong friends — Sachs and attorney Steve Uhlfelder. "I pledged TEP … and we had a housemother that must have been 75 or 80 years old. And everybody complained about the food, including me," Reiss said. Uhlfelder, who was a senior and the fraternity president, "said 'I'm tired of you bitching, Reiss. If you think you can do better, why don't you do something about it?'" He put in a salad bar, at the time a novel concept, updated the menus and chalked up his first food service success. (When Reiss left, Sachs, who was a year behind him in school, took over his position as headwaiter).
At the time, he was dating Maxin Munchick, who he would convince to transfer with him to FSU and later wed after graduation. Reiss first espied his wife-to-be when they were both teenagers as she arrived at a North Carolina summer camp where both were counselors. "She came off the train, a bleached blonde with pigtails and a guitar on her back," Reiss recalled. "You know how you are at that age; everybody at the beginning of summer is looking for their summer fling." There were a few years of off-and-on dating — they went to different South Florida high schools — but that "fling" has lasted 45 years, including 42 years of marriage.
One of Andy Reiss' favorite pictures was taken in Salzburg, Austria, in the summer of 1971, when his father took the newlyweds on a tour of his homeland. Photo courtesy Andy Reiss
The Early Days
After Andy and Maxin (it's pronounced max-inn) were married, "we were hippie types … and used the money that we got for our wedding to go to Europe for a year." They worked at a restaurant in Switzerland to extend their stay. When they returned to the U.S. they moved to Aspen "to feel what being a ski bum was like" and then moved north of San Francisco.
While in California, Reiss got the call that would set him on his career path. A local businessman named Winn Simpson owned an Adams Street building and some of his tenants were moving "out to the suburbs," Reiss recalled. The state capital was staying put as construction began on a new Capitol building and Simpson told Reiss he would give him a start in the restaurant business if he would move back to Tallahassee.
Reiss said yes and knew just what kind of restaurant he was going to open. After sorely missing the foods he was used to as a Jewish kid from South Florida while an FSU student, he wanted to introduce the capital city to a true, New York-style delicatessen.
"We were Tallahassee's first corned beef sandwich, Tallahassee's first lox, bagel and cream cheese, we brought knishes and blintzes and all that kind of stuff to Tallahassee," Reiss said of The Deli, which opened in November 1972.
Reiss thought Tallahassee needed an introduction to continental fine dining and, when the lower floor of the building became vacant three years later, he opened Andrews 2nd Act, that white-tablecloth restaurant his father was so fond of.
In 1977 he took his business upstairs, opening the jazz bar Maxin's — another first locally — and two years later brought Northern Italian cuisine to town with Tutto Bene. In the early '80s, he started his catering business and for years was the contract caterer for the Leon County Civic Center.
"It was so easy to come up with new concepts for Tallahassee, because there weren't any concepts," Reiss said in a 2008 retrospective story in Tallahassee Magazine.
In that same story, Reiss said the secret to his success was evolving to meet changing tastes, including offering menus with lighter, less expensive entrees, and catering to a younger clientele that lives nearby rather than trying to lure patrons back to downtown from their homes in the northeast.
In 1986, he would revamp Maxin's and Tutto Benne into a 185-seat restaurant, Andrew's Upstairs, and add outdoor dining at his street-level restaurant.
Reiss did have two brief forays off of his downtown corner. He moved his restaurant to a location in the northeast part of town for a year in the mid '90s, while a top-to-bottom renovation of his downtown building was underway, and he opened a family-style restaurant called Trio in Market Street that lasted five years.
Reiss was operating Andrew's North during and after construction of the Interstate 10 flyover, in the same location as Lucy Ho's Chinese restaurant. "Construction was completely obliterating their road visibility, their curb appeal," recalled Sachs. "He hired a hydraulic lift gondola, invited Lucy Ho along and had himself lifted above flyover traffic … a big banner was hanging off the lift's basket that said 'Don't Fly Over Us. Andrew's North and Lucy Ho's' …. He's just not the guy who is ever going to take something lying down."
Reiss would return to downtown in 1998 with the newly revamped Andrew's Capital Grill and, after significant renovations, would open the former 2nd Act space as Andrew's 228.
In addition to promoting his restaurants, throughout the years Reiss has devoted much time and energy to promoting Tallahassee's downtown. He has served on the Downtown Improvement Authority since 1978, with several stints as chairman, and started the organization that has become Visit Tallahassee.
In 1997, he was instrumental in creation of the wildly popular Downtown Getdowns, which now attract 5,000 to 10,000 people during football game weekends. This year's Oct. 12 event is planned as a "Happy Birthday" party for his restaurants.
Getting Personal
Maxin and Andy Reiss are a mutual admiration society, and both have great admiration for their two daughters, Alyson, 33, and Dana, 28.
In the beginning, Maxin Reiss did work in Andy's restaurant. "I can recall the days when I was in graduate school and I was either going to classes or in schools being mentored in my field and then running to the restaurant over lunch and making pastrami sandwiches — which I didn't like at all," she said.
After receiving her Ph.D. in psychology, having children and starting her own business, Maxin's active role in the restaurant tapered off, but "that doesn't mean she doesn't play a big role because Max is a perfectionist and very sharp," said Andy Reiss. "She's my center. She's the person I bounce off big decisions. Her perspective is valuable."
In 1980, Maxin Reiss started her own business, Behavior Management Consultants, which provides applied behavior analysis to individuals, school districts and other institutions. It employs about 60 people and serves much of North Florida and parts of Georgia. "My wife runs a company as big or bigger than mine," he said. "She is a really quiet, low-profile person, but if you have a child with autism, you bless the ground she walks on. She's brilliant."
Both of their children worked in Reiss' restaurants as they were growing up, but neither is interested in inheriting the business. Aly Goldman is a doctor working with the Centers for Disease Control in Atlanta. She recently gave birth to the couple's first grandchild — and sends photos and videos of the baby daily. Dana Reiss did follow her father's footsteps in the hospitality business, although her career is on the hotel side of things. She's currently sales manager at the Gaylord National hotel in Washington, D.C.
"I don't know that you could be a better father than Andy," said Maxin Reiss. "He was a very engaged father, despite the fact that he was building a business, and always made time for them. He loved his time with them. He's much more of a game-player, let's-have-fun kind of dad than probably I am as a mom."
Friends and coworkers agree that Reiss' fatherly attributes are what make him a good boss to the estimated 7,000 people who have worked in his businesses over the years.
Jack Penrod, general manager of Reiss' restaurants who has worked with him for 12 years, calls his boss "firm but fair."
"He's got a very kind of cool way about him — but at the same time, he's very driven, tenaciously driven about details," said Penrod, who Reiss calls his "heir apparent." "He holds on to his ideals that make a restaurant successful and he pushes them over and over and over again. But at the same time, he's a very fair person and a very firm person. People respect that and listen to him."
Sachs agrees: "He's a very demanding boss, but I've known the guy a loooong time and I've never seen him raise his voice. He's one of the calmest people you'll ever meet in one of the most stressful of businesses … it almost seems counterintuitive, I think that's one of his secrets to success."
When pressed to name one bad thing about her husband, Maxin Reiss could only come up with one thing: "He's an abysmal driver."
On a typical day, Reiss goes to work in the morning, comes home after lunch and then returns to the restaurants in the early evening — a total of 12 shifts a week. During his afternoon down time, he's not taking it easy; every day includes time for exercise. "Parts of the year I swim, parts of the year I go to the gym, parts of the year I walk or take jogs," he said.  "I mix it up, but I do something every afternoon. It's kind of my time out."
While his career has spanned four decades, Reiss sees retirement in his not-to-distant future. "I think Max and I are good for three to five more years," he said as he knocked on the wooden tabletop. "I still enjoy it, but it's tiring, every day."
The couple invested in a fractional ownership condo in the 30A town of WaterColor, where they spent several weeks over the past three years. "We're like a normal couple there. We take bike rides, we play tennis, we hang out and read books," Reiss said.  They've bought some property in the nearby Seagrove community, and the future plan is to build a home where they can bring their dogs and go any time they please for as long as they please.
Success Secrets
Why did Reiss' restaurants succeed when other local icons such as the Silver Slipper and Chez Pierre fell by the wayside?
For starters, when the winds of change blew, Reiss changed with them. For example, when the Legislature enacted a law banning lobbyists from giving legislators any meals, trips or gifts, many local restaurants were decimated by the loss of business. To compensate, Reiss moved his catering division away from government jobs to more weddings and locally based work.
Reiss said buying the building that houses his restaurants after Simpson's untimely death in a car accident as well as a contiguous building when it became available, also gave him another advantage.
"In tough times in the late '70s and early '80s I think if I didn't own the building I would have folded it up," he said. "The restaurant business is a penny-pinching, fine-margin business." When you own the building housing your restaurant "instead of lease payments, you got mortgage payments, but so many years later you own it and you have something to go to a bank with and say 'I'm going through tough times, lend me some money.'"
While he is proud of his foresight throughout the years and success with different restaurants, Reiss grows wistful when he talks about what might have been.
"I think if I regret anything it's that I should have just stuck to one concept and gone to different markets with it," he said. Reiss had been in business more than 20 years when the Sorensen brothers started Firehouse Subs in Jacksonville in 1994, a restaurant business that has grown to a 500-unit franchise in 31 states.
"I make a mean sandwich. I think my biggest mistake in business was when I had The Deli and then I opened up the Second Act. I really wanted to be a Golden Spoon Award winner. And I accomplished that. And then two years later I opened up Maxin's and we were successful and then two years after that, I opened up Tutto Benne and we were successful. Had I put my energy (into one) instead of multiple different concepts, if I would have just taken my deli or my love of sandwiches, I could have been the guy … "
A New Role
In addition to his career as a restaurateur and service to the downtown community, Reiss has also taken a leadership role in the hospitality industry. He was instrumental in the decision to relocate the industry's trade association, the Florida Restaurant and Lodging Association, to Tallahassee.
In fact, the group partnered with Reiss, paying for needed upgrades to the building relating to fire safety and accessibility, and their offices now occupy the floors above Reiss' restaurants. In January, Reiss will be inducted as chairman of the statewide association during an event at Miami Beach's renowned Fountainebleau Hotel.
"There is no question that Andy is an industry icon, not only for the exceptional food and service he brings to the table, but also his community involvement and association leadership throughout our great state," said Carol Dover, president and CEO of the FRLA.
"He has been an active member of our association for decades and that is truly unparalleled among other independent operators. To me, Andy is so much more than a board member and future chairman, he is a personal friend," said Dover. "We have shared memories in watching our children grow, and I really look to him as a mentor. I am so proud of Andy for reaching such an incredible anniversary, and I am thankful to have been able to experience so much of it with him."
Reiss will be the first independent restaurant owner to lead the association, a position usually held by organizations with a high profile statewide. But Reiss said he has no doubts he'll be an effective advocate. "I don't want to say this in an obnoxious way, but there is no restaurateur or hotelier that's on a first-name basis with every governor since Reubin Askew. I've known all the senators and all the representatives for 30 years. I don't have to go (to the Capitol) and lobby. I lobby when they come to lunch."
He plans on being surrounded by family — including his 90-year-old mother — for the event and views it as a homecoming of sorts as well as a tribute to his father, who died 23 years ago.
When Hans Reiss worked there, as a "professional courtesy," staffs of the Miami Beach hotels would host each other for nights out. "My dad would get us all dressed up and we would see Frank Sinatra and Judy Garland. I have unbelievably great memories … gorgeous women, gorgeous gowns, dripping jewelry … and now I'm going to be at the Fountainebleau accepting this position. It's going to be really touching. It's going to be awesome."
Winner in a Landslide
No Recount Required, Politicians Agree Andrew's is a Dining Favorite
In these polarized political times, it's nice to know there's something partisans can reach across the aisle and agree on: eating at Andy Reiss' restaurants.
Proximity makes his Adams Street corner "probably the most coveted location in this region to have a restaurant," said public relations heavyweight Ron Sachs. "He's pretty much a paper airplane flight away from the Capitol, City Hall, the county courthouse and all these downtown associations, law firms and lobbying firms. He picked exactly the right place to be."
And meeting up with the high flyers as they break bread on neutral turf can also make Sachs' job a little easier. "I can remember more than one time during Jeb Bush's years seeing he and (Lt. Gov.) Toni Jennings lunching together," he said. "And while you would be reticent to approach them at the Capitol if they were having a private meeting, sitting in Andrew's they're just another patron and people would go by and say 'hello' to them."
Bob Graham, former U.S. senator and Florida governor from 1979 to 1987, commented on the value of Reiss and his eateries.
"Andy has been a stable, consistent leader-by-example of the importance of the downtown in Florida's capital city. He has provided a place where people interested in state government could come together in a non-partisan environment to try to understand each other," Graham said. "One of my concerns with Washington is that it doesn't have enough places like Andy's, so Republicans and Democrats have few opportunities to get to know each other on a personal basis — and that has contributed to the dysfunction of Congress."
A longtime tradition at Andrew's Capital Bar & Grill has been the naming of sandwiches and salads — sometimes using tortuous puns — in honor of politicos and local VIPs. It's an open secret that Sachs helps Reiss with names such as Jackie "Super Pons" Pittsburgh Pastrami or Mayor Marks' Pesto Chicken and that there is intense lobbying for a spot on the lunch menu. But, said Sachs, the final decision about who makes the cut is Andy Reiss.
"They love it. I can't even believe they love it so much," said Reiss. "And boy, they get mad at me when they're not reelected and I pull them off the menu. I thought it was a really great idea years ago, now I have some misgivings. It's like I'm taking something away from them. I'm sorry; you lost!"
Although long gone from their governorships, the "Graham" Burger and "Jeb" Burger live on, on the menu at Andrew's.
Jeb Bush, who served as Florida's governor from 1999 to 2007, recalled meals at Andrew's two restaurants. "I enjoyed both eateries; Andrews for lunch was the best. I think I ordered the Graham Burger rather than the Jeb Burger, but I didn't take offense," he said. (A version of Bush's burger without the bun was named for Tom Gallagher, who served in Florida's cabinet at the time.) "Andrews was a wholesome meeting place, unlike its neighbor to the North," said Bush, referring to Clyde's & Costello's, the rowdier bar located next door.
As for Bush's comment about eating more Graham burgers than the sandwich that bore his name, Graham couldn't resist a quip: "It's perfectly understandable that Andy would have made a better burger for me than Jeb. It's nice that Jeb validated that!"
---
Famous Faces
Almost 300 former employees have signed up for a Facebook group called "At Some Point in My Life, I worked for Andrew Reiss" and many of them listed some of the luminaries they served while working for Reiss' restaurants and catering business. They include:
» Jared (the Subway guy)
» Shaquille O'Neal
» Rue McClanahan
» Liberace
» Andy Williams
» Carl Yastrzemski
» Brent Musburger
» Morley Safer
» Bill Clinton
» Jessie Jackson
» Alan Arkin
» Emmitt Smith
» Howie Long
» Janet Reno
» Jethro Tull
» Bob Seger
» Reba McEntire
» Conway Twitty
» Heart
» Kirstie Alley
» Kelly Preston
» Loverboy
» Margot Kidder
Andrews in the News
Reviews, Raves and Recaps from 40 Years in Business
Andrew's 2nd Act, Tutto Bene, Maxin's and Brass Rail were cited in an issue of Gourmet magazine for "the best eating in Tallahassee."
Dec. 14, 1975 The Tallahassee Democrat announces the opening of two new downtown restaurants, Sun and Moon and Andrew's 2nd Act, both open for lunch and dinner.
Jan. 11, 1976 Democrat reporter Lorrie Guttman writes, "Downtown now has an international flavor, thanks to restaurateur Andrew Reiss, who recently opened Andrew's 2nd Act. Chef James Larry is helping Reiss put life into the previously fading inner city with a restaurant many say is reminiscent of New York or Europe."
August 1978 Andrew's 2nd Act is named Best in the Northwest by Florida Trend.
1979 A story by UPI reporter Barbara Frye quotes the press secretary of newly elected Gov. Bob Graham:  "He doesn't feel uncomfortable about walking to work, stopping to talk to the garbage man and eating at
the Deli."
Sept. 9, 1979 In a Tallahassee Democrat story about downtown, Reiss pointed out two major problems that would continue to plague the area for years afterward — limited parking and a lack of attractions to keep people downtown after working hours.
1980 Andrew's 2nd Act earns a Florida Trend Golden Spoon Award for "Best in the Northwest" and is named one of Robert Tolf's Top 100 Florida restaurants. He calls it "the class act, the place in the capital for civilized dining."
1980 The Eat Beat's Lorrie Guttman gives Andrew's 2nd Act four forks for food and five for ambience. On the menu was Steak Diane and Grouper Diablo.
April 27, 1981 Miami Herald columnist Michael Putney reports Gov. Bob Graham has a standing order for corned beef on rye, while Senate President Dempsey Barron, D-Panama City, always orders a Caesar salad (prepared only by the head waiter) and a steak.
Feb. 19, 1981 The Eat Beat gives The Deli four-and-a-half forks for food, four for service and four for ambience, even after given the worst seat in the house. Dinner for two was $17.80.
June 1981 Reiss is featured as one of The Achievers in Florida Trend magazine, which reported that his four restaurants generated about $1.2 million each year, employed about 100 people and drew between 800 and 1,200 people a day to Tallahassee's downtown.
Aug. 16, 1984 The Brass Rail gets a four-hat review from Ashby Stiff, who praises the Shrimp and Crab Martinique and authentic key lime pie, but is not impressed by the "medication-sized" gin-and-tonics.
March 21, 1985 The Northern Italian food at Tutto Bene garners a four-hat review.
High points, according to Stiff, included the plum and gray décor, the marinara sauce, Veal Scallopine Marsala and Pollo Fiorentina.
Dec. 12, 1985 Andrew's 2nd Act garnered a four-and-a-half hat review from Stiff, who described it — in his own, grandiloquent style — as "celebrat(ing) a decade of creative, Greenwich Village-chic foodmanship on the Adams Street Commons."
Nov. 16, 1986 Reiss embarks on a $250,000 renovation project that created sidewalk dining at his street-level restaurant and an 185-seat restaurant, Andrew's Upstairs.
April 3, 1987 Four-hat review for Andrew's Upstairs, housed in what was formerly Tutto Bene and Maxin's. After a dozen years in business, Ashby Stiff calls Reiss "the dean of downtown restaurateurs … food intuitive, trend sensitive and long on creative energy."
Spring 1987 On the final night of the 1987 session, legislators were supposed to adjourn across the street to Andrew's. But when it became clear that they might be at it all night, Reiss brought the party to them, laying out a spread in the Capitol outside the House and Senate chambers, the St. Petersburg Times reported.
July 26, 1987 Kathy McCord's "Around Town" column praises Andrew's Upstairs as "the late-night place of choice for Tallahassee's baby-boom generation." There was a standing-room only crowd for the band Riverbreeze, which included former Allman Brothers Band member Butch Trucks. Later in the evening, popular local chanteuse Pam Laws sang "I Heard It Through the Grapevine."
Nov. 9, 1988 The Democrat's Business Wednesday reports "Reiss' restaurants still rolling after 15 years." His restaurant and catering company grossed $2 million a year, the story said.
May 7, 1989 Craig Crawford and Donna Blanton of The Orlando Sentinel report that Arkansas Gov. Bill Clinton "lived up to his reputation as a party animal" with an after-midnight jam playing saxophone with the Herb Harris Quartet. "Clinton, a Democrat, has been frequently mentioned as a potential candidate for president," the writers noted.
March 9, 1990 After six years and two reviews, Andrew's 2nd Act gets a five-hat review from Ashby Stiff. Here's how he describes the menu staple Tournedos St. Laurent: "The dish featured an 8-ounce filet mignon topped with asparagus in a butter sauce containing garlic, scallions and parsley."
Dec. 14, 1990 Stiff suggests three restaurants that serve a great brunch. Bascom's at the Wedge and Wineglass and Charley Mac's are long gone, only Andrew's survives.
Dec. 28, 1990 Stiff's four-hat review of Trio in The Gallery at Market Street mentions the restaurant is smoke-free, "throw(ing) a cost-free bone to the health cult" and the noise that "reminds us of a coach-class restaurant in a Scandinavian train station." The new restaurant features an $18,000 imported oven and a noontime buffet.
May 10, 1991 With a menu trending toward Mexican dishes, Andrew's Upstairs gets a three-and-a-half hat review. "It is a refreshing (and increasingly a rarity) to dine where servers pride themselves on the professional quality of their work."
June 14, 1992 In her column, McCord reports that, for the seventh year, Andy Reiss has donated "all the fixings" for a celebrity waiter dinner to benefit the Dick Howser Center.
Jan. 25, 1994 Reiss wins a Leadership and Achievement award from Tallahassee's Downtown Improvement Authority.
April 25, 1997 After 11 months and a $4 million remodeling investment, Reiss opens his homage to "sports and politics," Andrew's Capital Grill & Bar. During remodeling, he moved his 40 employees to Andrew's North, a restaurant in the Oak Lake Plaza.
Feb. 4, 1999 Ashby Stiff gives a five-hat review to Andrew's 2nd Act. "Andrew's gets better as Andrew's gets older," he says.
Dec. 13, 2000 A USA Today story about the U.S. Supreme Court's final ruling on the Bush-Gore election case sets the scene with a description of the politicos watching the event as it played out on television sets at Andrew's. In the story, local sources estimated that the dispute benefited the city to the tune of $1 to $2 million per week.
Feb. 7, 2003 Calling the subterranean reincarnation of Andrew's 2nd Act "a knockout," reviewer Stiff gives Andrew's 228 five hats. He describes the "Urban Tuscan Villa" design of the restaurant with seating areas that are loud and energetic as well as quiet and classic. Stiff also tells of a bar with a menu of 200 martinis.
Sept. 5, 2003 Political columnist Nancy Cook Lauer announces the newest batch of movers and shakers to get a dish named for them at Andrew's Capital Grill & Bar. They include Rep. Loranne Ausley's "Lorrane's Linguini with Plum Tomato Sauce," the "Jeb Burger" and "Crinkle Fries to Sine Die For."
Oct. 17, 2003 Andrew's Capital Grill & Bar gets a four-hat review, with praise for Cedar Plank Salmon and T.K.'s Meatloaf with Brown Mushroom Sauce.
October 2003 Reiss is celebrated in the Tallahassee Democrat's business section for 30 years in business as "Mr. Downtown."
March 7, 2004 A photo of the lunchtime crowd on the patio at Andrew's is played large in a feature story about lobbying in the St. Petersburg Times by investigative reporter Lucy Morgan.
March 7, 2005 The Miami Herald's Business Monday section says Andrew's Capital Grill & Bar "may give new meaning to the term power lunch. It's the place to rub shoulders, literally with the state's chief financial officer, legislators and well-known lobbyists like Van Poole or Al Cardenas." Reiss was quoted, saying, "the session for me is what Christmas is for the malls."
Nov. 3, 2007 The legislative gift ban imposed on lobbyists costs downtown Tallahassee businesses $500,000 a week during the 2007 session, according to a study released by the Tourist Development Council.
February 2009 Menu includes Akin's "Akinyummy" Hot Roast Beef, T.K. Homemade Meatloaf and John Dailey's Daily Soup and Salad.
January 2011 At the 16th menu unveiling at Andrew's Capital Grill & Bar, the "Let's Get to Work" salad bar is named after Gov. Rick Scott. Other items include the "Marco Rubio Cuban Sandwich" and the "Haridopolos Metropolis Gorgonzola Burger."