Andy Ball has Danced with a Star, Met Foreign Royalty and Followed a Dream That Has Led Him Around the Globe
A World of Work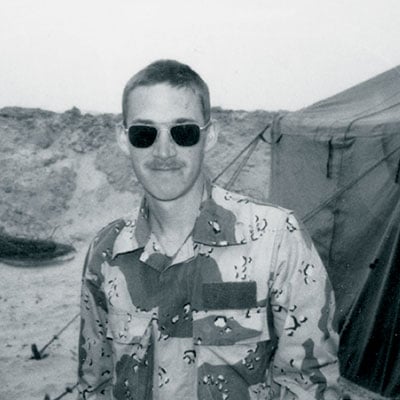 Photos Courtesy of Andy Hall
The year is 1990. The Marine Corps Band is playing in the Grand Foyer of the White House and guests are gathering, dressed to the nines in elegant evening gowns and tuxedos. The gentle hum of music and conversation fills the air. Then there is a sudden hush. Queen Elizabeth II is descending the staircase, accompanied by President George H.W. Bush and first lady Barbara Bush.
"As soon as the queen set foot on the Grand Foyer, you could hear a pin drop," recalls former White House social aide and Tallahassee native Andy Ball. "There was total silence. The band stopped, all heads turned. You could almost hear yourself breathe. It was an amazing moment."
It was the only time Ball says he really felt starstruck during his four years as a White House social aide. Ball, 43, says he always had butterflies in his stomach before White House events, but it was always just enough of an adrenaline rush to ensure that he was on top of his game and ready to do his job to the fullest.
Ball grew up in Tallahassee and graduated from Leon High School in 1983, then attended Vanderbilt University in Nashville, Tenn., on an Air Force scholarship. He graduated with a degree in engineering and became an interrogation officer, interviewing captured enemy prisoners of war in Operation Desert Storm in the Persian Gulf and Operation Just Cause in Panama. In 1990, when Ball was stationed in Washington, D.C., he began serving as a White House social aide after going through a rigorous selection process that involved interviews with everyone from a committee of current and former social aides to the White House social secretary.
The social aide program takes up to eight men from each of the five branches of the armed services — Army, Navy, Marine Corps, Air Force and Coast Guard — and trains them to support the president and first lady during social functions. They must be unmarried and be officers of certain ranks.
"A state dinner has at least 100 people, and there's no way that the president and first lady can be with everybody all the time, so the social aides are there to have conversation and make sure people are feeling comfortable," Ball says. "The other part of our duties is providing actual protocol service, like setting up the receiving line and introducing people to the president, and then having a whisper aide to whisper the name of the person in the receiving line to the first lady so she can introduce the person . . . to her spouse."
Queen Elizabeth II's visit to the White House was a memorable one for Ball, but so was the visit of King Hassan of Morocco in 1991.
"When the king of Morocco came, he had an entourage assisting him with their little fez caps on," Ball says. "And he brought his own food and drink. He didn't consume anything provided at the event. (He brought) even his own serving pieces — his own silverware and his own glasses."
Ball says he's not sure why the king felt the need to bring his own food but thinks it must have been due either to a dietary or security concern. Other monarchs, including Emperor Akihito of Japan, ate the food provided by the White House.
One of the most nerve-wracking experiences Ball had at the White House was at the Israeli-Palestinian treaty signing during President Clinton's tenure. Ball was in charge of making sure that then-Secretary of State Warren Christopher and the foreign secretaries from Israel, Palestine Authority and Russia stood in the right place on the stage. So Ball took them aside and briefed them, and they all nodded as if they understood everything he was saying. But when the foreign ministers got on stage, it became apparent that they had not understood, because they were standing in the wrong place.
Ball was starting to get nervous, because he could see the dignitaries walking toward him. The problem was that he had been given strict instructions not to get on the stage under any circumstances.
"I can see that President Clinton is walking down with Yassir Arafat and the Israeli president, and it's probably a minute and a half before they're going to climb on stage," Ball remembers. "And so, anyway, at the last minute, I decide, 'OK, this might be the last thing that I do at the White House, but I've got to get them into the right place.' So I climbed up on stage and spoke to Warren Christopher, who was the only person I knew for certain would understand my directions. And I said, 'Sir, you all need to move to the opposite end of the stage and be in position there for the president.' And he nodded and said, 'Thank you,' and he collected his peers and they moved, and it looked perfect."
They ended up standing in their proper places just as President Clinton, Palestinian leader Arafat and the Israeli Prime Minister Yitzhak Rabin were ascending the stairs, so everything worked out just as it should have. Of course, Ball spent the rest of the afternoon nervously waiting for someone to tell him, "OK, thank you, Andy, for your service, but we don't need you for any more events."
"But nobody said a word," he recalls. "Maybe that don't-climb-on-stage rule was just something somebody said — an offhand comment."
Not quite as nerve-wracking, but definitely memorable, was the time Ball danced with actress and singer Olivia Newton-John at one of the White House state dinners.
"The Marine Band was playing," he remembers. It was standard, he says, after the dinner and the formal entertainment were done, to have about 30 to 45 minutes of dancing in the Grand Foyer before people departed. The former U.S. ambassador to the Czech Republic and his wife were standing there, urging him to invite Newton-John to dance.
"That is part of our duties, to make sure people are enjoying themselves," Ball says. "So I asked her if she wanted to dance, and she said yes. The song was 'Georgia on My Mind,' so we talked about Georgia and the South for a little bit. It was really memorable."
Of course, it helped that Ball is an accomplished dancer, says his father, Jim Ball.
After his days as a White House aide came to a close in 1994, Andy Ball left the Air Force and went to work as a legislative aide for then-U.S. Rep. Pete Peterson of Marianna. Ball left that position in 1995, then took a six-month backpacking trip in Asia with his partner, Agustin Paculdar, whom he met in Washington in 1992. Ball then returned to the United States and served as a translator at the 1996 Olympic Games in Atlanta. He also spent a brief stint working as an election observer in Bosnia for the Organization for Security and Cooperation in Europe, an independent organization that encourages the development of democracy in Eastern Europe. Afterward, he moved to Los Angeles to work in the Civil Rights Office of the Los Angeles Gay and Lesbian Center.
A former U.S. ambassador he had met during his time as an election observer in Bosnia encouraged Ball to apply for a job with the State Department, so he took the Foreign Service exam, passed it and began working for the State Department in 2003. Ball's first post was in the Philippine capital of Manila, as a consular officer, checking up on Americans who had been jailed for offenses committed abroad. His responsibility was to make sure they were being treated appropriately. Ball also interviewed Filipinos who wanted to become American citizens.
His next State Department post was in Mexico City. While he was there, then-President George W. Bush came to visit the embassy, as well as former presidents George H.W. Bush, Bill Clinton and Jimmy Carter.
"(One) big role that management officers have is planning and support for visits of U.S. officials to that country," he says. "So I do feel like my social aide work helped prepare me for that role."
Ball spent a few years in Washington after that and now is preparing to head to Sydney, Australia, where he will be posted for three years.
His parents are, of course, thrilled with his success. Asked whether they're proud of him, his father, Jim Ball, smiles and responds, "Oh yeah. We have to restrain ourselves."
Jim and Kitty Ball say Andy had some exposure to other countries and cultures growing up. They remember one summer that he went off to a boys' camp in North Carolina, Camp Arrowhead, and stayed in a cabin with a group of boys from Venezuela, as well as a Japanese boy named Toyahisa, whose father was working for the Mitsubishi Company in Mexico.
"This boy spoke Japanese and Spanish," Kitty Ball says. "And Andy, in order to converse with these boys, had to use his Spanish, but he picked up some Japanese from Toyahisa. That was the guy's name, but they called him 'Toyota.'"
Ball's parents love hearing about his experiences, both in the United States and abroad.
"We've enjoyed his things vicariously," Kitty Ball says. "We will have to visit Australia. We've not been there."
As for Andy, he says he is happy with his current position.
"I feel like I would like to continue with this for the foreseeable future," he says. "Not that I wasn't content with the other work. Leaving each job has been difficult, but there was always something else I wanted to accomplish, and now I feel very content with this job."