An Ode to My Hair
Once It Was Long. Now It's Long Gone.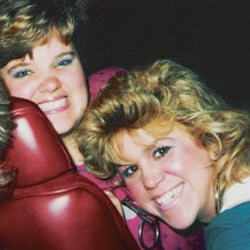 Courtesy Zandra Wolfgram
Author Zandra Wolfgram is the chick on the right rocking the highlights and '80s bangs. Right, a few different 'dos from throughout the years.
The long and short of it is, you've been there through thick and thin. When I was young, you hung in there. A little dirty, as blondes go, still, even through the worst of pulls you didn't split, you were there to face it all with me.
I was in kindergarten when I took things into my own hands. Though I was hoping to channel Cindy from the Brady Brunch with her flaxen ringlets, when my reflection greeted me, it wasn't a chic short coif a la today's Natalie Portman, Emma Watson or even Twiggy circa 1960s. It was 1971, and all I could think of was: "I look just like Carol Burnett!" A handsome woman to be sure, but not a good look for a 5-year-old. Perhaps it was then that the trusty "bob," became my standby 'do. Despite my failed frenetic attempt at fashionable fringe, you were there.
When summertime brought liberal amounts of Sun-In, lemon juice, vinegar rinses and other mysterious beauty concoctions made from the side door of the refrigerator, you simply shined. When I couldn't dislodge the metal barrette on picture day, when the stuck teasing comb wasn't funny, when someone mistook you for a bubble gum wrapper, you weren't harried at all. And even when infestations of "rats" plagued us upon occasion, we combed through it all until we were back on the straight and narrow.
I clearly exercised a woman's most coveted prerogative: changing of the mind. Trends certainly caught my eye over the years: Hamill's bowl, Farrah's feathers, Rachel's shag — you allowed me to experiment and … eventually … grow through the experience.
Now, perhaps I'll remember this as the G.I. Jane phase. When the tough get going, sometimes the hair gets going, too. It's been a close shave, but we're going to pull through.
Like a diamond, I underappreciated your cut, color, luster and, yes, strength. I simply tossed you aside all too often. Oh, to have you back, running down my back. To twist, curl and pin you up. You were such a doll to work with. Bring on the humidity most women hate; you just rolled with it.
So, "hairs" to you, my favorite frame through which to view the world. Though it seems slow "growing," I know you'll be back, maybe even better and stronger than before. Until then, I'll try to enjoy having a blank pate to reflect on what is to come. And like Princess Rapunzel, dream of living happily ever after — one joyous bad hair day at a time.
Our author completed her chemotherapy and radiation treatment for breast cancer in May. We wish her a speedy re-growth!