An Inside Look into World War II From Those Who Served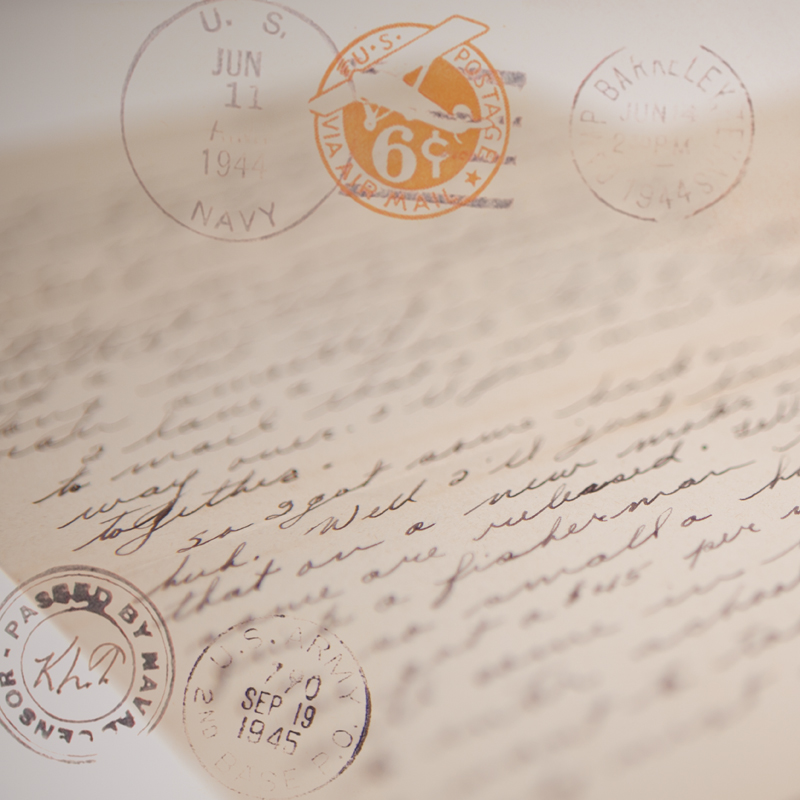 Wayne Coloney has a family military history dating back to the Revolutionary War, when his great-great-great-grandfather served on George Washington's staff.
In more recent history, the family men — including his father, his uncle and one of his grandfathers — had served in the Navy. So, no surprise that when Coloney graduated from high school in 1943 his plan was to join the Navy. But it was not to be. He went to war as an Army private.
"The Navy wouldn't have me because my eyes were so bad," said Coloney. Then, with a chuckle, he added, "So the Army took me and made me a tank commander!"
At the same time his tank was helping lead Gen. George Patton's armored strike into the heart of Germany, Coloney's father was serving in the Pacific, landing in places like Okinawa. Both wrote frequent letters home and to each other — and Coloney's mother saved every one.
Today those letters live on in binders preserved for posterity by The Institute on World War II and the Human Experience, housed in the Department of History at Florida State University.
Established in 1997, the Institute began acquiring collections of personal letters, diaries, manuscripts, military documents, unit histories, oral histories, photo books and more from war veterans and their families. In the beginning years the collection grew by 500 a year but that has slowed to about 100 annual donations. Now there are about 6,700 collections — making the Institute one of the largest non-federally funded repositories on the social and military history of the era.
The collection becomes even more important as the population of U.S. World War II veterans dwindles more each year. Now in their twilight years, they are dying at a rate of approximately 555 a day, according to The National WWII Museum. Most are in or close to their 90s, men and women who joined up as teens, many of them drafted just as they graduated from high school. Of the 16 million who served, a little more than 1 million are still alive today — including 96,967 in Florida. The Veterans Administration predicts none will be left by 2036.
Next year, 2015, marks the 70th anniversary of the end of World War II. In honor of that major milestone, and the annual recognition of Veterans Day on Nov. 11, Tallahassee Magazine spoke with a handful of veterans who still live in our area, read transcripts of interviews they gave for the Reichelt Oral History project and reviewed the letters they donated to the Institute on WWII. They served in Europe, the Pacific and Washington, D.C., on Liberty Ships, in tanks, on foot and in offices. Each one contributed his or her share to the victory that was earned by what we have come to know as the Greatest Generation.
---
Harold Odum
Born in Bainbridge, Georgia, in 1926, Harold Odum was 2 years old when he moved to Tallahassee. He graduated from Leon High School in 1943 and immediately enlisted in the U.S. Merchant Marine. He was 17 ½ years old, and his parents had to give their approval for him to serve.
"I was flag-waving and young and looking forward to some adventure, so I joined the Merchant Marine," he said in a Reichelt Oral History recorded in 1999.
On his first voyage, to Italy, his ship carried 8,000 tons of bombs and ammunition in the hold and a deck filled with vehicles for the Air Force. Out of his 75-ship convoy, one was lost.
"When the convoys would go through the Straits of Gibraltar all those Spanish fishing ships would be out … and they were doing a little bit more than fishing," he said in the oral history interview. "They'd size up the convoys, the number of ships, the escorts … and get in touch with the Germans. And the next night we could always count on an air raid going through there."
Odum counts himself lucky he never lost a ship — one of every 24 merchant mariners died. A constant fear of submarine attack kept crews on edge, and for good reason. According to the U.S. Maritime Administration, 733 cargo ships and 8,651 crewmen were lost during the war.
By Dec. 1, 1944, Odum wrote to his mother, "Your son is no longer a boy, Mom. Maybe in age, but that's all." And in another letter, "I feel so old and tired I can't seem to get rested up."
During the war, Odum's ships delivered material for the military. When it was done, they helped shuttle the war-weary troops back home.
Today, at the age of 88, Odum remembers his service as "scary sometimes, exciting sometimes and boring sometimes." He sailed across the Atlantic, the Mediterranean and the Pacific, where he remembers seeing one Irving Berlin "This is the Army" USO show. When "White Christmas" was sung, "there wasn't a dry eye in the place."
Odum returned to Tallahassee after the war and opened an architectural firm. "I was lucky," he says now. "I got in toward the end of the situation. Otherwise I don't know if I'd be talking to you today."
Janet Wells
After graduating from Florida State College for Women with a degree in physical education, Janet Wells decided it was time to enlist. She signed up with the Navy and reported for duty in January 1944.
"It seemed like the thing to do," the 93-year-old said recently from her Tallahassee home. "I didn't tell my family. But when my mother learned, she said, 'Oh, I'm so glad you did. I thought you were a slacker.' "
Wells said she joined the Navy in part because she didn't like the uniform worn by Army WACs but also that their reputation was "a little rough." She was ultimately sent to Arlington Farms, in Northern Virginia, where there were barracks for military personnel working at the nearby Pentagon. She was attached to the Naval barracks as a recreational and personnel officer and was a drill officer for her group, although admittedly not very experienced at it.
In her Reichelt Oral History interview, Wells recalled one incident where her drill skills failed her.
"I was company commander and not very experienced at drilling, and we had gone to a lecture and my commanding officer … was late getting back. So I had to march the company out and I distinguished myself by marching it out backwards," she said. "You may know that the small ones are supposed to be at the front and the big ones at the back when you march. Mine came out the big end forward."
When asked what the Navy taught her, the Palatka-born Wells said, "The world is different than it is in the South. When I came to school (in Tallahassee) we were all middle class, nice girls. A lot of people live differently. That was good for me to learn."
After leaving the Navy in 1946, Wells taught at the University of Florida and then Florida State University. She was also a physical education supervisor for Alachua County Schools before coming back to FSU. She retired in 1989.
Wayne Coloney
Less than two months after graduating from Leon High School, 19-year-old Wayne Coloney was in the Army. He chose armored over infantry, joking that, "I would much rather ride."
From one of his training camps, Coloney wrote home about learning hand-to-hand combat.
"Learned today how to break four types of holds in which your assailant is choking you and at the same time (you) kill (your) attacker. We are taught no holds here, only means and blow for killing and maiming the enemy."
Arriving in France in November 1944, he saw his first combat one month later. By January 1945 he had been jumped from private to sergeant and was given command of a tank.
Coloney was a member of the 12th Armored "Hellcat" Division, which helped seal the Colmar pocket and ended German resistance in the Alsace region of France before driving north to join Patton's thrust toward the Rhine and deep into Germany.
All told, he had three Sherman tanks under his command — the average combat life for each tank was 50 days.
"You really didn't have time to think," Coloney said recently. "Once we got to France and saw our first combat, we had only one period of R and R (rest and relaxation), just over a week. In five months we had just one shower. It was constant."
From March 18 to March 25, the Hellcats captured dozens of towns and more than 6,000 prisoners.
On March 27, 1945, Coloney wrote home. "My birthday came, and I didn't realize I was 20 until the next day we were so busy," he penned. "I wish I could tell you where I was and what I was doing, but I can't. I can say tho (sic) that was one day I will never forget and that it was the most exciting birthday I've ever had."
The minute he could get out of the Army, Coloney did. He went to Georgia Tech to get an engineering degree and then eventually came back to Tallahassee, where he formed an architectural firm.
Asked what he learned in the Army, Coloney said, "Determination. Stay with it. Don't give up. Doesn't matter how bad things look. One night I could look out my periscope and see 13 tanks burning at one time. But you don't give up."
George Langford
"When I look back now … my attitude at that time was that … everybody wanted to be a part of that war. It was not like other wars that we've been in where we had no common denominator," George Langford said in the interview he gave to the Reichelt Oral History program.
All four Langford children joined the military. Two brothers were in the Army, one brother and his sister were in the Navy. In fact, people in their hometown of Thomasville were suspicious of those who didn't go into the service.
George Langford turned down a chance to go to Officer Candidate School and an opportunity to go into the infantry, "for obvious reasons. I didn't want to push my luck."
As a sergeant in the Corp of Engineers, he landed in Europe late in the war and recalled with joy how his unit helped destroy German vehicles by dumping them into the Rhine.
"We would drive these jeeps and German military vehicles and put it in gear and jump out of it and dump it in the river," he told the interviewer. "Which was a great joy."
When the war in Europe ended, instead of heading home for a family reunion with his siblings, Langford found himself on a ship headed for the Pacific. But on the way, the announcement came that the U.S. had dropped the first atomic bomb on the Japanese homeland. His ship turned around and headed back toward Norfolk, Virginia.
George Langford made it to the reunion, along with his sister and one brother, who both served in the Navy. But his brother Bill, a 25-year-old infantry captain in the Philippines who commanded a mortar platoon, didn't make it. He was killed 10 days before the Japanese surrendered on August 14, 1945, because his return home had been delayed.
In his last letter home from Mindanao, dated July 9, 1945, Bill Langford wrote his mother: "I was all in hope I would get home in the next month or so but it is very doubtful now. I had been told that I would go home (with) the first bunch but … they sent only one officer. I would not be so mad and discouraged if they had not told me I was going home right away."
Only a month earlier he had told his mom, "I am glad that I could be given a chance to fight and would take nothing for the experience I have had, but I would not go back in for any amount of money."
Bill Langford was killed by a grenade thrown by Japanese soldiers who had snuck into the camp where he and several other officers had been waiting to catch a plane ride home.
When George Langford came home, he went to college, earning his law degree at the University of Virginia. In 1951, he founded the Municipal Code Corporation, a legal publishing firm and largest U.S. codifier of municipal codes, in Tallahassee.
"I came out a whole person, physically sound of mind and body, with an aggressive outlook on life," he said. "And I've enjoyed everything since."
Peter Durland
Life is good for Peter Durland, who celebrated his 92nd birthday in October. He still plays tennis several mornings a week (weather permitting) and enjoys life to the fullest.
"Enjoy it and participate in it and, when the time comes, go with a smile," says the one-time combat infantryman who has been a lawyer and an FBI agent (for 27 years) and ran the state law enforcement academy in Gadsden County for several years.
Born in Norfolk, Nebraska, in 1922, Durland was drafted for service in 1943. He went to Officer Candidate School in Fort Benning and in August 1944 got his orders to ship overseas. It came as no surprise. He figured the Army would need more second lieutenants in the aftermath of the Normandy landings on D-Day, June 6, 1944.
In his Reichelt Oral History interview, Durland recalled a vivid memory from the week he was given to go home before leaving for Europe.
"I was scared, but I was proud," he said. "I was also naïve. I didn't quite know what was going on … Mother cooked all my favorite meals … I can close my eyes still and picture the faces of my mother and father as I got on the train to go. They knew what was going on. That memory is always going to be with me."
Durland was assigned to the 29th Infantry Division out of Virginia (also known as "Blue and Gray") and, on arrival, was put in the replacement pool with four captains and four second lieutenants. On the first day, six were sent up front. Two were killed and one lost his leg.
When he got up to the front, Durland told the interviewer, "Capt. Rabbit, our company commander, told me no rah-rah talk. He just said, 'The lieutenant before you had his foot blown off by a mine.' I was either the seventh or eighth (lieutenant) for that platoon."
He led his troops during the breakthrough of the Siegfried Line, earning a Silver Star when his platoon ended up capturing about 60 German prisoners.
"We went in with grazing fire," he said recently. "You don't think you're going to make it, but you get tired and punchy and kinda dirty and thirsty. You aren't heroic. You get the order, you gotta go."
One of the prisoners, a German corporal who had been a schoolteacher before the war, told Durland the Americans were poor soldiers. They follow the leader, don't spread out and should all have been killed, the German told him. Durland's reaction? "I wanted to punch him in the nose."
As the war began to wind down, Durland found himself an aide to Brig. Gen. Leroy Watson, who later became commander of the International Military Tribunal Command for the Nuremburg trials. Watson had requested a combat officer as his aide.
Looking back today, Durland insists he was no hero.
"I was lucky to just be alive and to be in one piece," he says. All his combat pals have since passed away but, "I came out fine. The percentage of that was very low. It was just a matter of luck. I had good luck."
---
Tallahassee Magazine would like to thank the Institute on World War II and the Human Experience for access to its files. Much of the information in this article came from letters donated to the Institute by veterans and their families and from interviews conducted by the Reichelt Oral History Program. The Institute and the oral history program are located at Florida State University. Further information on the Institute can be found online at ww2.fsu.edu. The website for the Reichelt Oral History Program is ohp.fsu.edu.