An Incomparable Pair of Pickers
Opening Nights welcomes banjo masters Béla Fleck and Abigail Washburn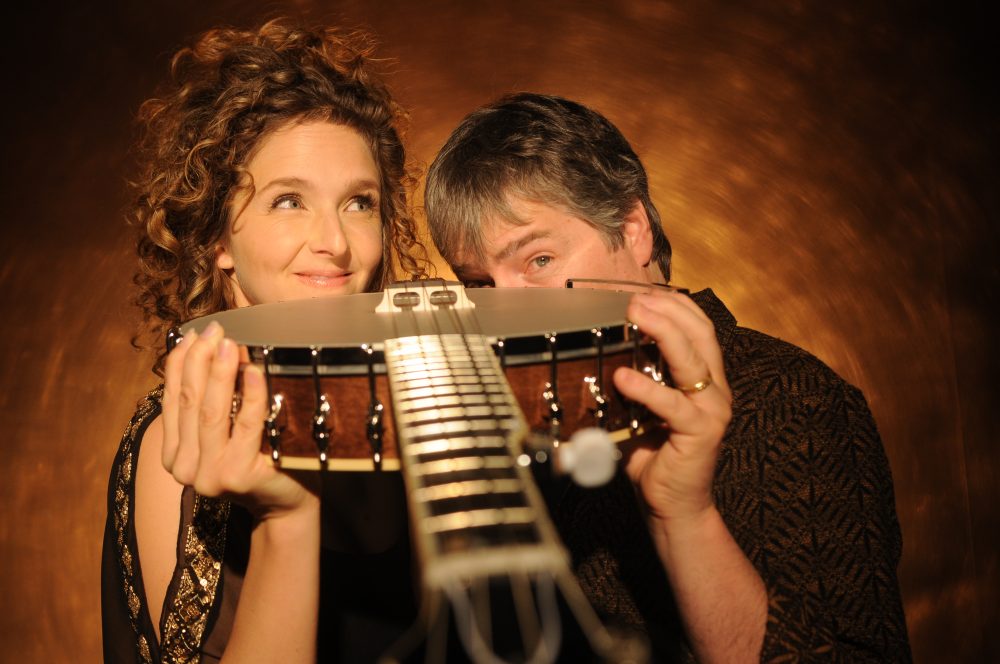 No, it's true: Béla Fleck and Abigail Washburn, whose coronation as the "king and queen of banjo" would come courtesy of Paste magazine, met at a square dance.
From there, the celebrated pickers began to collaborate, musically and otherwise, married, and became a Grammy-winning duo.
Together, they have demonstrated that the banjo is a whole lot more versatile and adaptable than most people would think or even they knew. That discovery came about naturally.
"I was a child of the 1960s when exploration was a required part of even pop music," Fleck said. "It seemed obvious to me that I should look for new paths, right from the start."
Washburn, he said, was at one time planning on a law career in China and used the banjo as an instrument for introducing Chinese friends to American culture. As a singer-songwriter and musician, she has combined her clawhammer banjo with the culture and sounds of the Far East.
Fleck has stretched his bluegrass roots to include jazz, classical music and other genres. Before pairing up with Washburn, he established the musically progressive ensemble, Béla Fleck and the Flecktones.
Fleck and Washburn, then, are both experimenters, but they converge more often than they collide.
"Generally, if we have creative differences, we find peaceable consensus," Fleck said. "We each have our areas of leadership. I may take more charge in instrumental areas and Abby in vocal ones, but we discuss and contribute equally over all. Whenever there is doubt, I say, 'Let her decide!'"
Fleck has strong ties to Tallahassee.
"I have great memories of the early days playing in Tallahassee in clubs and in theaters with The Flecktones," Fleck said.
"More recently, I had the immense honor and pleasure to record and tour with the Marcus Roberts Trio, and we recorded in Tallahassee. Playing there with The Knights orchestra was a blast a few years back, and now I finally get so do something more traditional with Abigail, who is a wonderful musician and performer."
That "something" is an Opening Nights performance scheduled for Monday, Jan. 14, at the Ruby Diamond Concert Hall. Fleck and Washburn will treat their Tallahassee audience to pieces from their Grammy-winning self-titled debut album and their second record, "Echo in the Valley."
While Washburn is from Evanston, Illinois, and Fleck is a New Yorker, much of their music pays homage to Appalachia, extols its virtues and speaks to its pain.
In "Come All You Coal Miners," the coal industry goes down as a dirty, exploitive capitalist system.
"One of my first pro gigs was playing banjo with Hazel Dickens at the premiere of 'Harlan County USA,' which is an incredible documentary about the injustices of the coal companies," Fleck pointed out.
"It put that world on my radar quite early. The recent unexpected huge jumps in black lung disease are heartbreaking. It's a tough industry."
In "Take Me to Harlan," a tiny Kentucky town exerts a strong pull on someone who has tried to leave Appalachia behind.
"A lot of great music comes from that region, and as a bluegrass player, I've seen it come up regularly in songs and discussion," Fleck reflected.
"It's a beautiful, but often sad, place with an amazing history, but sometimes limited opportunities. It's easy to imagine the love-hate relationship one can have with a place you've come from, but needed to leave. I feel the same way about New York City, where I come from."
Fleck is a 15-time Grammy winner regarded by many as the world's greatest banjo player. Washburn was named a TED Fellow in 2012 and more recently became the first U.S.-China Fellow at Vanderbilt University. She is the Carolina Performing Arts/Andrew W. Mellon Foundation's DisTil Fellow for 2018-2020.
As accomplished as they are as individuals, Fleck and Washburn, it can fairly be said, are in combination a picking partnership unlike any other on the planet.
Want to see Bela Fleck and Abigail Washburn in concert?
Their performance is scheduled for Monday, Jan. 14, at 7:30 p.m. at the Ruby Diamond Concert Hall. Tickets are priced from $25–$65; $12-$32 for students. To get yours, visit openingnights.fsu.edu or call (850) 644-6500.
For information on other performances, visit openingnights.fsu.edu/events.