An Ephemeral French Enclave
Every two weeks, café welcomes Francophiles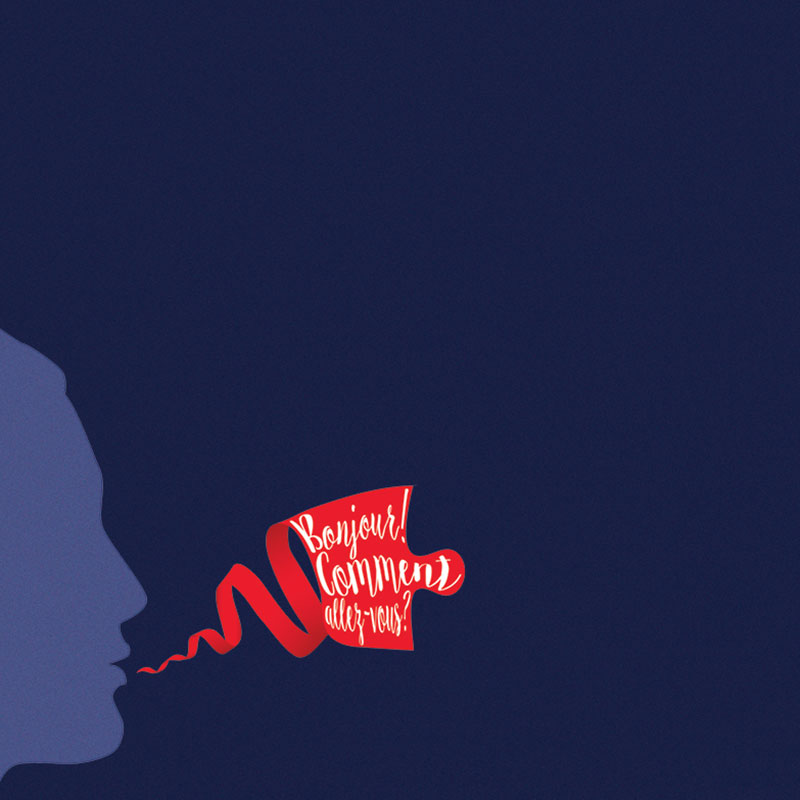 It's important to Mary Bradford to establish connections to other cultures by learning their languages and history, a belief stemming from her repeated trips to France, a nation she has come to love. One Friday evening in June, that sentiment brought Bradford to the Black Dog Café at Lake Ella for a French conversation hour hosted by the Alliance Française de Tallahassee (AFT) every two weeks.
As president of AFT, Bradford was among the first to show up. Three tables were put together to make room for others at the tranquil café, a place that sparks thoughtful conversations — French ones in this case — among its patrons.
After people introduced themselves and overcame their initial apprehension, the conversation flowed in a diverse group of adults and students, some of whom had not met before. From the outset, a community spirit took hold, with rigid formalities yielding to informality of a sort that exists among friends and neighbors. Proficient speakers helped newcomers navigate a Romance language well-known — or notorious, depending on your point of view — for its linguistic complexities.
Conversations encompassed the mundane — "Comment allez-vous" or how are you doing? — and inquiries about particular words or phrases. Towards the hour's conclusion, the amiable moods of the assembled people conveyed a newfound intimacy. The cautiousness in their voices, if not greatly reduced, had disappeared entirely.
"Salut, mes amis! À la prochaine," many said as they headed home.
In English: "Bye, my friends! Until next time."
As a social organization that fosters appreciation of France through its conversation hours, regular language lessons, French movie screenings and other events, the AFT is a tight-knit group devoted to opening a gateway to French culture for Tallahassee residents.
"France has been the crossroads of Europe going back to Charlemagne (in the 9th century). To me, it's really the heart of European culture," Bradford says. "And there's so much history and so many things to explore, learn and appreciate about France."
Spanning the Globe, Strengthening Minds and Creating Bonds
The AFT, however, is only part of a greater whole. Dating to its founding by a group of eminent Frenchmen such as famed author Jules Verne and scientist Louis Pasteur in 1883, the Alliance Française (AF) is an international organization dedicated to the dissemination of the French language. According to its own estimates, over six million people worldwide attend its cultural activities every year.
With 850 centers in 137 countries, the AF has an unmatched global reach. In the United States, there are 111 AF chapters in 45 states, with six of them in Florida: Orlando, Bonita Springs, Gainesville, Jacksonville, Sarasota and here in Tallahassee.
For many adults, young and old, however, learning a foreign language can be an uphill battle. Over the years, studies have shown that a younger brain, especially during early childhood, is more geared to absorb a new language, as it has fewer skills to memorize. Despite that, Bradford says that learning a culture's language is key to understanding it — and can be helpful with strengthening cognitive ability as one ages.
"The best way to understand a culture is through its language. Learning one is a discipline in itself, like learning how to play music," Bradford says. "As people get older, they always try to stay sharp. With learning a language, there's been research showing it's very helpful in keeping your mind active — you have to use it."
In addition to the cognitive benefits, Bradford says, learning a second language can provide a respite from the stresses of modern life. With many struggling to balance their personal and work lives, the AFT provides an outlet for people to pursue their goal of speaking another language in a welcoming environment.
"A lot of people have dreams of speaking another language, and they're important for people. With an organization like the Alliance Française, there's an opportunity to create a new community and be among friends," Bradford says.
In that sense, the AFT binds people together in the best of times and the worst of times. After the terror attacks that shook France to its core in November 2015, the group organized a candlelight vigil at Lake Ella for the 130 victims killed in Paris. Over 100 people turned out and lighted candles in remembrance of the victims as they hugged, cried and sang "La Marseillaise," the French national anthem.
People may come and go as the years go by, but the AFT reliably attracts new members — the lifeblood of the group. Adam Ravain, a 26-year-old graduate student studying music at Florida State University, joined the group in April, seeing it as a stepping stone to becoming able to "think in French" someday and connect to his family's French heritage.
Though he's passionate about the culture, Ravain's exposure to French has been limited. In his spare time, he listens to the Radio France Internationale program "Française Facile," an educational podcast aimed at teaching novice speakers on the go.
Still, Ravain struggles to speak French, especially when he's put to the test at the conversation hour. But he takes pleasure in hearing the language spoken and practicing it with fellow French enthusiasts.
"It's tough. I often have ideas of what I want to say and I'm not sure how they translate into French," Ravain says. "Still, I like the experience since I get to hear other people and see where they are. I'll get more out of it when I understand the language as it comes into my ear."
For other AFT members like Nadia Wildrick, who teaches AFT-sponsored French classes for children, speaking the language is second nature — as she grew up in the small countryside town of Vernon in the Normandy region of France.
She moved to Tallahassee in 2000, and the city provided her with her first taste of the United States. Though she initially "felt lost," she grew accustomed to the slower pace of life in Tallahassee over the years.
In 2009, Wildrick became a teacher for the AFT, where she now teaches several times a week. For a Frenchwoman like her, Wildrick says the AFT provides an avenue to share her culture with Americans and for French people to share their immigrant experiences in the United States.
"We keep it close, and I'm lucky to have it. (There are) a lot of things in America I never understood, so thank goodness for Alliance Française. With them I could joke about culture shock and learn things," Wildrick says. "The Alliance Française has a lot of positives for the American and French side."
Having been a member of the AFT for seven years, Wildrick has many cherished memories. Most are from the group's Fête de Noël annual Christmas parties, which she says are "so typically French" that they bring back memories of her earlier life in France.
For Wildrick, however, the French way of life does not end when she heads for the café door. At home, she speaks her mother tongue to her young children, in an effort to bring France and the best of its culture into their lives.
"I want them to be connected to their French side, to embrace who they are," Wildrick says. "I still buy cheese from my hometown and teach them this is how I eat, this is why I drink, this is how we cook in Normandy. Each town is different in France and I want them to feel special about this culture."
A Growing Footprint at Home
Since the AFT's founding in 2006 and official recognition by the Alliance Française as a chapter five years later, the group has been steadily growing in size and ambition.
More classes are being offered year-round to accommodate different levels of French proficiency. As an all-volunteer group, the group is funded only by membership dues and profits from their popular language classes.
They are expanding their footprint around town, as well. During the summer, the AFT set up a one-day French marketplace in downtown Tallahassee, where people strolled around and bought baked goods and T-shirts — the atmosphere enhanced by live music whirling through the farmer's market.
The AFT held a Monet 5K Run/Walk at the FSU campus in November with proceeds going toward funding the group's continued cultural activities. According to Bradford, a long-term goal for the AFT is to eventually raise enough money to lease a location they can call home.
"We need to do a big fundraising campaign since it'd be great to have enough of an endowment to have a permanent location, a building of our own. That'd be a real dream," Bradford says. "We're grateful to have our office, but it's a teeny-tiny space."
For now, they make do with movie screenings at Westminster Oaks retirement home and conversation hours at Black Dog Café or Au Péché Mignon, a local boulangerie. However, a commitment and shared bond over a love of France promises to ensure the group's continued growth in the years ahead.
"You seriously do get attached to the people in Alliance Française. I get attached to my students, I get attached to the teachers and the group," Wildrick says. "The Alliance Française, it is a big, powerful, little something."
---
About the Alliance Française de Tallahassee
Annual membership fees range from $5 for high school students to $200 for a business sponsorship. Individual membership costs $40, while college students pay $15.

The AFT organizes annual events to celebrate uniquely French holidays like Bastille Day as well as cultural celebrations like Mardi Gras.

Classes are offered for French-speakers at all levels, from beginning to intermediate.
---